Some movies are etched into the minds of the audience because of its stunning visuals apart from being hit, or maybe not.
Here are top 10 visually stunning Bollywood movies.
...
"Mughal-E-Azam" (1960)
Mughal-E-Azam is Aan epic film starring heavyweights like ' Madhubala Madhubala is regarded as the Venus of Indian cinem >> Read More... ', Dilip Kumar Muhammad Yusuf Khan was born on the 11th of Decemb >> Read More... , and Prithviraj Kapoor One of the most notable names in the Indian film i >> Read More... . The film showcases the love affair and has a cult status in Bollywood. The film has lavish sets, and no one can easily forget the Sheesh Mahal. Such beautiful setup is what makes this movie more attractive.
...
"Dil Se" (1998)
...
The Chaiyya Chaiyya song is one which cannot be easily forgotten. The steam engine train running along the beauty of the Nilgiris with Malaika Arora Khan and Shah Rukh Khan Shah Rukh Khan or also known as SRK is a prominent >> Read More... dancing on top of the train is still remembered to this date. Apart from this, there were also deserts capes, beautiful mountain tops, etc. Therefore, in short, this movie has it all regarding visuals.
...
"Gaja Gamini" (2000)
...
The iconic painter, MF Hussain, made his directorial debut with this movie and was in some way a tribute to Madhuri Dixit Madhuri Dixit is not just known as the also a smil >> Read More... . Madhuri Dixit herself starred in the movie along with Shah Rukh Khan and Naseeruddin Shah Naseeruddin Shah is an experimental actor and asso >> Read More... . The artistic imagination of MF Hussain was evident in the movie with rich looks and awesome backdrops.
...
" Mission Kashmir Click to look into! >> Read More... " (2000)
...
Vidhu Vinod Chopra Vidhu Vinod Chopra is a classic filmmaker, who h >> Read More... truly knows the meaning of visuals. He brings another visually stunning movie starring Sanjay Dutt July 29, 1959, was the day when the two legends of >> Read More... and Hrithik Roshan Hrithik Roshan with his unimaginable dance moves i >> Read More... along with Preity Zinta Preity, also known as Preity Zinta is a famous Act >> Read More... . People are well aware of the stunning beauty of Dal Lake, and it was presented in the movie with other stunning natural beauty of Kashmir. Also for the action lovers, this movie also shows us a tense terrorist warfare with spellbinding visuals.
"Lagaan" (2001)
Nominated for the Oscars in the Best Foreign Language Film category, Lagaan is a famous Indian epic drama film. The film stars Aamir Khan Aamir Khan or Mohammed Aamir Hussain Khan is Bolly >> Read More... with various actors along with some British actors, notably, Paul Blackthorne He is a British Actor, who works in films and tele >> Read More... and Rachel Shelley Rachel Shelley is a Hollywood actress and a model. >> Read More... . The director of this film also recreated an entire village. The film took us back to the time of British rule and the rural life of the country as it was set in 1893. The film received praises for its landscapes.
" The Legend Of Bhagat Singh Click to look into! >> Read More... " (2002)
This movie is an Indian historical movie based on the freedom fighter, "Shaheed" Bhagat Singh. The film showcased a revolution, resistance and an urge for freedom led by Bhagat Singh. The character of Bhagat Singh was portrayed by Ajay Devgn, which won him a National Award for Best Actor. The film also has a National Award for Best Regional Film. The film recreated the colonial India and the British rule. This was the film's prime feature. Director, Rajkumar Santoshi Rajkumar Santoshi is an Indian filmmaker who shot >> Read More... was praised a lot for this.
" Paheli Click to look into! >> Read More... " (2005)
Directed by Amol Palekar Amol Palekar was born on 24th November, 1944 in Mu >> Read More... , Paheli, was a great movie. A lovely golden Rajasthani desert setting, glimpses of the Rajasthani culture, a tad of magic and everything else was agglomerated together to produce this stunning movie. The movie was a remake of 1973 Bollywood movie, Duvidha. One can truly say that this movie brought 'Amar Chitra Katha' to life.
" The Blue Umbrella Click to look into! >> Read More... " (2005)
The director of this movie admitted that this was the toughest film he has ever worked on. The movie is based on a novel by Ruskin Bond Ruskin Bond is a famous contemporary Indian writer >> Read More... . The picturesque storytelling and the landscape was a gem for the audience. The white snowy climes of the Darjeeling hills as well as the bright blue umbrella are worth it. Credit must be given to the cinematographer of the movie, Sachin Krishn, to bring out the best and present it before us.
"Eklavya: The Royal Guard" (2007)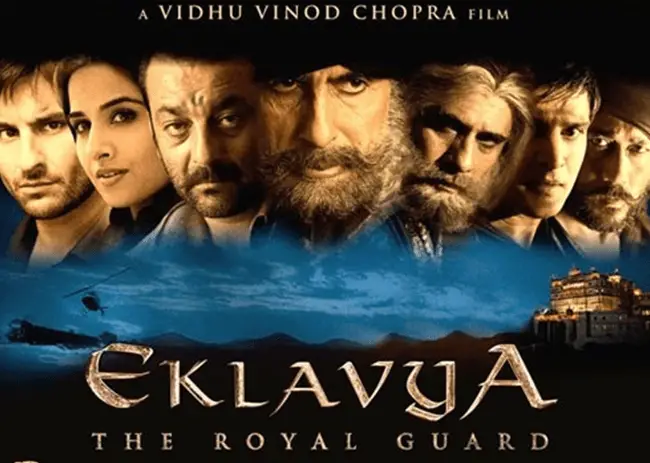 This movie can be watched for the cinematographer, 'Natarajan Subramanian' stunning camera work. The droplets of water, sweat and blood were beautifully captured. The scenes of the movie were set up in pitch darkness and still it was wonderfully carried out. This film was chosen by India for the Oscar's.
"Detective Byomkesh Bakshy!" (2015)
This crime mystery film is set in Calcutta during the period of World War II World War II is a Malayalam information TV show on >> Read More... . There is a feel of Calcutta in each scene as the movie progresses. Everything is brilliantly carried out in the film. The movie is directed by Dibakar Banerjee Dibakar Bannerjee is a director and screenwriter a >> Read More... and is based on a Bengali fictional detective created by Sharadindu Bandyopadhyay Sharadindu Bandyopadhyay was primarily a Bengali w >> Read More... . Sushant Singh Rajput Sushant Singh Rajput is one of the famous Indian t >> Read More... plays the protagonist as Byomkesh Bakshy.