Birthdays are a special occasion. Whether it's your friend or lover, you always feel like he/she feels extra-special on their important days. Leaving behind the public, if you check celebrities' birthday parties,  you will be surprised to see how much creativity and out-of-the-box thinking goes into crafting such a cake. From the theme of the party to the décor to the food and the guest list, everything is outdated and it's like living a dream. Apart from many things that excite us on our birthdays, one of the most awaited moments has to be cutting the cake. A gorgeous and equally tasty cake, some unfulfilled wishes and your friends around the table, that is the perfect birthday. While chocolate cakes and black forest are all-time winners, however, customised cakes have our hearts. And, celebrities from Bollywood seem to agree with us. So, let us check out some awesome celebrity birthday cakes which have been in the city's conversation for quite some time.
We all know the popular Bollywood girl gang - Kareena Kapoor Khan Kareena Kapoor is a super hit actress working in I >> Read More... , Karisma Kapoor Karisma Kapoor is a well known face from the famil >> Read More... , and her sister Amrita Arora. She had a special boho-themed birthday celebration in Goa. Her friends got her a lustful cake, which displayed a huge phallus with her sister Malaika Arora screaming "deepthroat" in the background.
According to a report in Pinkvilla, The Desi girl cut a beautiful 5-tier chocolate and vanilla cake on her 37th birthday that cost Rs 3.5 lakhs (USD 5,000). The chocolate and vanilla cake was decorated in intricate, ornate gold designs over a royal red cover of fondant. The actress-producer spent some quality time with family and friends at a quiet weekend getaway in London, United Kingdom.
Bhai's 50th birthday was a giant three-tiered anti-gravity cube cake, customized by his sister Arpita Khan Adorable and forever loving sister of Salman Khan >> Read More... . Salman Khan cut a Being Human-themed cake that made us go wow! This three-tiered customized cake cost 1 lacs to Arpita Khan, but the cake was worth the cost. The star was appreciated for the lavish party by those who were fortunate to attend it. Salman's loving family had planned out the entire evening to ring Salman's birthday at their Panvel farmhouse a few days ago.
...
The Dreamgirl of Bollywood, Hema Malini celebrated her 70th birthday with a gorgeously designed peacock-themed cake, which was no less than a dream itself and we are sure, it was as delicious as it looked. The cake of the event came from Deliciae Cakes in Mumbai and it looked as dreamy as the ' Dream Girl Dream Girl is a drama based Indian show that runs >> Read More... ' herself. The bakery also shared a picture of the beautifully detailed cake on their Instagram page and we got a close-up of the cake
...
Little did we know that Nia's birthday cake would offend netizens. Just like Amrita Arora's cake, Nia also received a dirty cake on her 30th birthday. Responding to trolls, Nia posted a video cutting more cakes, with the caption, "Whacky weird or whatever. Keep Calm and Move on. Har din birthday nahi aata." Our thoughts exactly! So don't shy away from getting your bestie the best on their birthday!
...
The Dream Girl Actor celebrated his 36th birthday with a beautiful cake that was made by a 13-year-old girl. It was a rich chocolate cake, covered in white chocolate ganache with golden sprinkles over it. Tahira Kashyap, his wife posted a picture of the cake with the caption, "Devoured half of this amazing cake made by 13-year-old Saanvi! @payalg you have a little prodigy at home! (sic)" That extra love from the little ones always makes occasions worth it!
...
Ranveer Singh's rainbow-themed birthday cake by wifey Deepika Padukone Deepika Padukone is an Indian actress and model. S >> Read More... amazed the netizens. Matching up to his colourful personality she got her hubby a bright delightful rainbow frosted cake. "Sometimes, you can have your cake & eat it too!!! #BirthdayBoysBirthdayCake.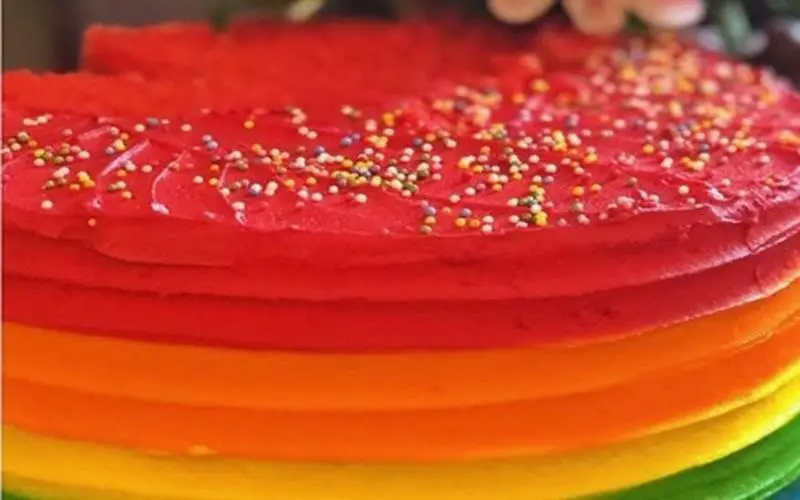 ...
8. Anand Ahuja
Sonam is Bollywood true blue fashionista, and it looks like her brilliant choices extend to the cake as well. If you follow Anand Ahuja, you're most likely to know about his passion for basketball. And of all the birthday cakes, this basketball-themed cake on his 35th birthday has all our attention and it was bought by her stunning wife Sonam.
...
9. Malaika Arora
Malaika Arora picked up the call of their 45th birthday in Milan this year. On her birthday, chef Kelvin Cheung, who is every Bollywood celebrity's favourite these days, shared a picture of Malaika cutting a cake baked by him. These messy nude cakes are gaining a lot of popularity because of their 'not-so-perfect' look and great taste.
Shilpa Shetty also celebrated her birthday with a #KelCake which is the patent design of chef Kelvin Cheung. These cakes are nude layered cakes topped with caramel sauce and other toppings laid in a mess.