Here's a tribute to comedy films and may we have more directors coming up with newer ideas to keep the standard of comedy high.
1. Half ticket
Kishore Kumar Kishore Kumar is an Indian playback singer, who ha >> Read More... was a great and leading actor of his time. His presence in the movie was enough to make the crowd go crazy and he is successful entertaining his audience. Half Ticket was a comedy movie and the acting conveyed a lot, encompassing each spectator on a rollercoaster ride of laughter.
...
2. Padosan
Padosan is another great blockbuster comedy movie of that time. The actors did a great job and put up a great show for the audiences. Director, Jyoti Swaroop Bio coming soon... >> Read More... proved his intelligence and creativity in this humor-based film that even today, is a flagship for Bollywood comedies. The movie can be watched more than once and still not make the viewer feel bored but fills them with the same enthusiasm. The song 'Çhatur Naar' from the movie, added to its beauty.
...
3. Bombay to Goa
...
Bombay to Goa, a great cinema that has immense rerun value for its bundle of laughter moments and seems as entertaining if watched the second time too. Big B proves his mark where a situation characterized by instability and emotions of funny characters is engraved against the backdrop of a bus trip.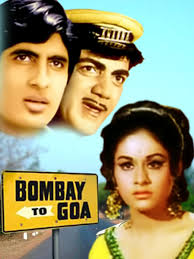 4. Chupke Chupke With serials like Kuldeepak which has been recentl >> Read More...
...
Veteran Director Hrishikesh Mukherjee's film Chupke Chupke in the year 1975, is a work of great creativity and art. This film shows his creative side, a simple tale presented to us with so much inventiveness. Dialogues that cannot be forgotten, exchanged in refined Hindi between the two leading actors but so magical. Do not miss this movie if you haven't watched it yet.
...
5. Golmaal
Golmaal (1979), is an outstanding artistry under the wand of Hrishi da. 1979 was the year Bollywood ruled with angry young man movies but Golmaal broke the trend. The movie was an inspiration to several film-makers and the work by Amol Palekar Amol Palekar was born on 24th November, 1944 in Mu >> Read More... was amazing. The movie was more fun due to its very significant star cast.
...
6. Angoor
...
One of the favorites is Gulzar's Angoor (1982). The movie did not receive any negative comments and had a million amusing moments. A Indian version of ''Comedy of Errors'' and a must watch.
7. Chashme Buddoor
An excellent story-teller, Sai Paranjpe made films in different genres. One among them was Chashme Buddoor, 1981. Beautiful dialogues made the movie a beauty on its own. This film scored on its simplicity with which the story was revealed. This movie was an inspiration for the Chasme Buddoor sequel which came out in the late 20's.
8. Andaz Apna Apna Click to look into! >> Read More...
Director ' Rajkumar Santoshi Rajkumar Santoshi is an Indian filmmaker who shot >> Read More... ' especially known for making action films has done something out of his domain with Andaz Apna Apna in 1994. The presence of two Khans, Amir and Salman added glitter to this gem of a movie. The movie was filled with fun and comedic scenes, that makes us roll on the floor.
9. Hera Pheri Hera Pheri is a comedy based TV show which came on >> Read More...
Movie by the director, Priyadarshan which was filled with hilarious dialoguess and scenes which brought out the hidden talent of the lead actors. Paresh Rawal The Padma Shri award winner who shot to fame with >> Read More... was already the king of comedy and in this film, his character proved his description of being a comedy king. All the crazy scenes in the movie are entertaining and through this movie we get to see going out of his mastered area, action.
10. 3 Idiots
Rajkumar Hirani Rajkumar Hirani is one of the ace director, screen >> Read More... came up with the movie, 3 Idiots and it crossed all records. The movie left its mark in Bollywood and the audience don't mind watching the movie as many times as possible. The amazing cast, cinematography, the dialogues, the locations and the whole story made the movie a masterpiece. It did not just focus on comedy but it explored the loopholes of education system. The message from the movie was worth to be followed in each and everyone's life.