1. Punjab Transformation:
Though ' Dangal' reflects the society of Haryana, Punjab has proved out to be the favored choice of Director Nitesh Tiwari. He has filmed the whole movie in Punjab at the villages near Ludhiana by introducing some 'Haryanvi' transformations. Dangon–the ancestral village of the 'He-Man' of Indian cinema- Dharmendra Singh has been part of this Biopic too.
2. Inviting Hand of Disney:
Siddharth Roy Kapur- a member of Disney Production narrated the inspiring account of Mahaveer Singh Phogat to Nitesh Tiwari in just two lines. Stung by the inspirational quotient of the story, Nitesh Tiwari decided to make it up in his own style. Indeed from the public response, it can be said that he succeeded in creating unique yet successful biopic of all times.
3. Debut with Gold:
Even being not brought into much limelight, Aamir khan's nephew Pablo has been the luckiest of the whole cast by getting his debut as an assistant director in 300 crore movie. Call it as the perk of being born with a silver spoon or something else, but Pablo indeed got the chance which is the dream for many struggling Film Makers.
4. Childhood Charm still intact:
Remember the adorable little girl who played Kamal Haasan and ' Tabu's daughter in the movie " Chachi 420"? Well, that little girl who exhibited magnetizing cuteness was none other than Fatima Sana Sheikh who played the role of Geeta Phogat in Dangal. The actress has mesmerizingly traveled a journey of transformation from a cute kid to the ravishing lady to an impressionable artist.
5. 'Real' coach disappointed by his ' Reel' image:
P R Sondhi – the coach of Phogat sisters Geeta and Babita as well as the 2008 Beijing Games bronze medal winning side, claimed that the role of the coach in 'Dangal' is hampering his public image. He is planning to sue 'Dangal' makers.
6. Perfection at next level: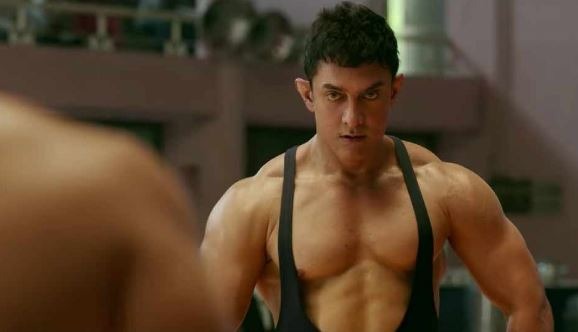 If there is a sphere of perfection then Aamir Khan is such actor of Indian Cinema who has succeeded in reaching to its core. To do full justice to his character he has really learned Indian form of Wrestling. Many viewers have also remarked that Aamir's body was looking even better than Bollywood's ' Bhai'- Salman Khan.
7. 'Akhada' different tale:
In his autobiograpgy 'Akhada' Mahaveer Singh mentioned that his wife was disappointed by having a girl as her first child, which contradicts with the movie. We can say that the 'Fictional' Mahaveer's realization 'Gold to gold hota hai. Chhora laave ya chhori.'- Gold remains gold, either it is won by man or woman; was always 'Real' Mahaveer's open-sesame.
8. Indian Masala a necessity: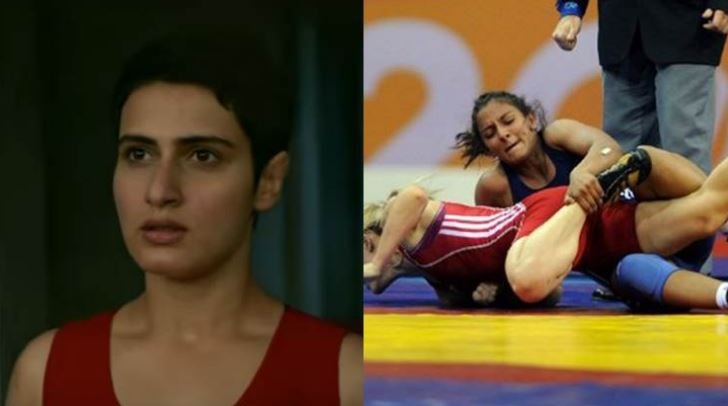 A rough victory of Geeta Phogat shown in Dangal in 2010 Commonwealth Games has proved out to be just a 'spice-up' factor for audience as in reality Geeta simply won that match by 1-0, 7-0.
9. Short hairs a myth:
While movie covers the part where Geeta enlightens her sportsmanship by cutting off her hair before Commonwealth match, in actual she has fought it by having them at their whole length.
10. Weight Lose-Weight Gain:
Some actors push up their limit because it has been Director's demand, but in Dangal even though Director Nitesh Tiwari did suggest Aamir Khan to go for Artificial fattening for middle-aged father portrayal but Aamir khan insisted on attaining that transformation in reality. He gained 98kgs and after completing the shoot of old Mahaveer Singh Phogat he again lost 30 kgs for portraying younger wrestler.