Everybody is aware of Bollywood stars wealth and stardom. We get excited to know how much a celebrity charge for his performance. Bollywood actors/actresses luxuries and wealth lure us. Many stars of our Bollywood industry don't have a rich and wealthy background. They made their way into Bollywood through their talent and undying will. Here is the list of ten celebrities who rose to fame through their dedication and passion.
1. Rajinikanth
...
Tallaiva of every film industry started his earning career as a bus conductor. He belongs to a Marathi family. His mother was a housewife and father a police constable. He has performed various stage plays initially before making it big in Bollywood industry. His first movie was a Tamil film named Apoorva Raagangal.
2. Nawazuddin Siddiqui Nawazuddin Siddiqui was born in Budhana in Muzaffa >> Read More...
...
Nawazuddin Siddiqui hails from a small town Budhana, Muzaffarnagar. His first profession was a chemist at Vadodara in Gujarat. He also worked as a watchman for many years. He begged a small role in the movie Sarfarosh. He caught everyone attention by his performance in Gangs of Wasseypur. From there he is constantly amazing us with his thrilling performance.
3. Rakesh Om Prakash Mehra
...
Rakesh Om Prakash Mehra directed Bhaag Milkha Bhaag Click to look into! >> Read More... , Rang De Basanti Click to look into! >> Read More... , Delhi 6, etc. He is an alumnus of SRCC. Initially, he was a vacuum cleaner salesman. He was also a tea boy on the film sets.
4.
...
His original name is Rajeev Hari Om Bhatia. He is well known by the name of Khiladi Kumar due to his love of performing dangerous stunts by himself. Akshay worked as a dishwasher, waiter, and chef at a hotel in Bangkok. Saugandh (1991) marked the beginning of Akshay as an actor. He grabbed everyone attention through his Khiladi series.
...
5. Boman Irani Boman Irani is a well known name today in the Bol >> Read More...
...
Dr. Asthana of Munna Bhai MBBS aka BomanIrani entered Bollywood at the age of 42. He worked as a hotel staff at Taj Palace before making it big. He is a talented actor who made us laugh, amazed through his comic and serious performances.
6. Johnny Walker Johnny Walker is a comedian of Bollywood. His orig >> Read More...
...
Badruddin Jamaluddin Kazi is an Indian Comedian who amused everyone through his thin mustaches, funny faces, and hilarious performance. He was a bus conductor in Mumbai before entering into Bollywood. His famous movies include Chori Chori, Pyaasa.
7. Mehmood Ali Mehmood Ali is one of our greatest comedian actors >> Read More...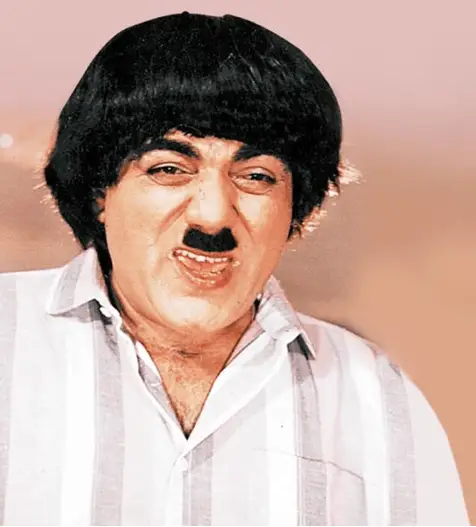 Mehmood made his debut as a child in Kismet. But his child acting didn't help him directly entering into Bollywood. He worked as a driver, in a poultry farm. He was table tennis teacher of Meena Kumari Meena Kumari is a popular TV and film actress. She >> Read More... .
8. Smriti Irani
Indian Bahu Tulsi worked as a waitress initially for carrying out her expenses. She participated in Miss India Miss India was a TV serial that was aired on Doord >> Read More... (1998) and became the finalist. She first appeared in an album song "Boliyaan".
9. Arshad Warsi Arshad Warsi is most popular for his role as Circu >> Read More...
Choreographer, Actor Arshad Warsi is known for his role as Circuit in Munna bhai MBBS and Lageraho Munna bhai. He worked as the salesman who went door to door for selling lipstick and other cosmetics products.
10. Dev Anand Dev Anand would be nostalgically remembered by fil >> Read More...
Dev Anand is one of the legends of Indian film industry. Actor and director Dev Anand worked as a clerk at one point of time.