There are some Bollywood movies are there that influenced the generation. Here is the list of the top 10 Bollywood movies that influenced a generation.
...
1. Rocket Singh
According to the 2018 entrepreneur survey, 40 to 45 percent of people left their job to start their own businesses. It is a funny and inspirational movie. This movie shows how a commerce graduate left his job to start his own business. And at last, he becomes a successful businessman.
2. A Wednesday
When everyone thought that Bollywood only made romantic movies. A Wednesday movie made an entry. And this is one best films in the Bollywood industry. This movie earns 50 crores.
...
We think that everyone will agree with me that The Lunchbox is one best blockbuster movies in Bollywood. This film shows the beautiful bond between the father and the daughter. This film also conveys a beautiful message.
...
4. Lagaan
Lagaan is another blockbuster film in the Bollywood industry. It shows the fight between the agricultural people and the British. How did the poor people fight against the British people? It is a very inspiring movie to watch with everyone.
...
We think every Indian has watched the movie Hera Pheri. The three legends in this movie are , Paresh Rawal The Padma Shri award winner who shot to fame with >> Read More... , and Suniel Shetty Suniel Shetty, a renowned Bollywood actor, was bo >> Read More... . Their acting skill in this movie is up to mark. No Indian will say no to rewatching this movie.
...
6. Swadesh
Swadesh is one of the best movies by Bollywood. Here it shows how an Indian who worked under NASA came back to India to see what is the condition of her motherland. We think it's the best movie for our generation to watch. 
...
7. Dangal
Dangal is all time favorite for every Indian. We all love that dialogue, Hamari chori choro sae kaam hai kya. This show how a father pushed and trained her two daughters to win a gold medal in boxing. And they did it. It is a true story.
...
8. Gang of Wasseypur
This single movie earned 18.5 crores. It is another blockbuster movie in Bollywood. We think everyone has seen this superhit movie. If you haven't then, whom are you waiting for?
9.  Andhadun
Andhadun is another superhit film. Here it shows how a woman falls in love with a blind man. We think every young generation should watch this movie. Andhadhun movie is a very romantic comedy movie also.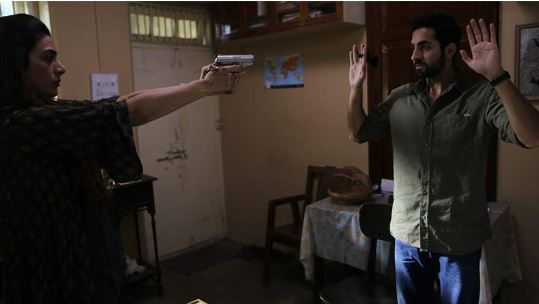 10. Drishyam
Another superhit film by Bollywood is the Drishyam movie. We think fewer people have watched this movie. We suggest you watch this movie. It's a blockbuster movie.