Fitness freak Shilpa has always promoted and supported healthy living. She is an expert in Yoga and praises Baba Ramdev for his initiative in promoting Yoga all over the world. She has made many public appearances with Ramdev. He appeared in a children's dance reality show where, Shilpa was a Judge.
2. Sanjay Dutt
Sanju Baba and her Wife were spotted with Baba Ramdev. Sanjay was wearing a pure white Kurta, and Baba was wearing his usual orange clothes. Sanju has completed his prison punishment. A film on his life is coming in which, Ranbir will be seen in his character.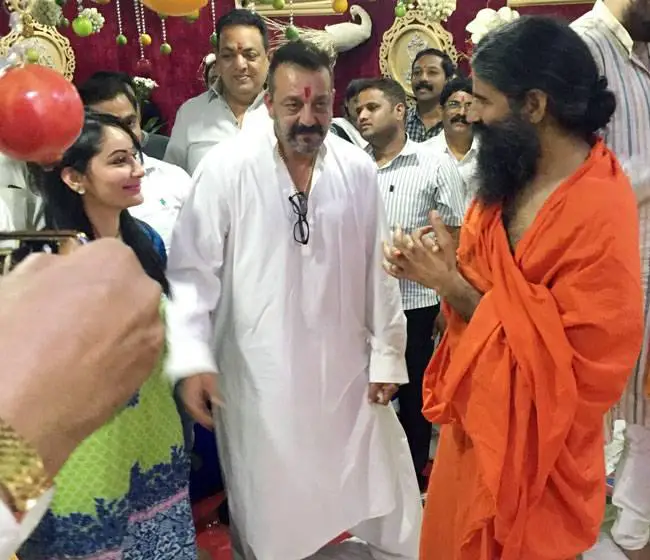 Nineties popular actress Raveena Tandon shared small screen with Baba Ramdev on a reality show Sabse Bada Kalakar. He performed his Yoga Asanas and was seen having fun with the contestant and host Jay Bhanushali.
Recently, In a couple's dance reality show " Nach Baliye", Sonakshi was spotted with Yogi Baba Ramdev. He made all the three judges to do Yoga with him on the stage. Also, he gifted Patanjali gift hampers to the show contestants. Sona and other Judges had a great time with Baba.
5. Vivek Oberoi
In an event Vivek Oberoi was sharing the stage with his Dad and Baba Ramdev. Vivek wore a pair of jeans with a white t-shirt and a shirt over it. His dad came along with him in the event. They both seemed to be happy attending the event. Mr. Oberoi is coming in the movie Bank Chor in the role of a Cop.
In an event organized by NDTV, Ranveer Singh, and Baba Ramdev were spotted together. Ranveer copied Ramdev when he was doing different Yoga poses. He was very fast and copied all the postures. Baba picked Mr. Singh on his shoulders. Everybody in the audience enjoyed all this. The video of both got viral on the social media. Ranveer is soon coming in the film Padmavati opposite Deepika Padukone.
7. Kapil Sharma
Actor and Comedian Kapil Sharma invited Baba Ramdev to his show Comedy Nights With Kapil on the channel Sony Entertainment Television. Ramdev answered to all the questions asked by the audience in the show. Kapil has done a movie Kis Kis Ko Pyar Karu.
Baba Ramdev and Manisha Koirala were together at a Conclave organized by the news channel. She was on the stage after a long time at an event. She promoted Yoga and its benefits with Ramdev. They both were seen talking about the benefits of Yoga in one's life.
The football session with Ranbir Kapoor, was in the news when Baba joined him on the football field. He played football with Ranbir and started the match by hitting hard the football. Media was all set to capture both the celebs in their camera.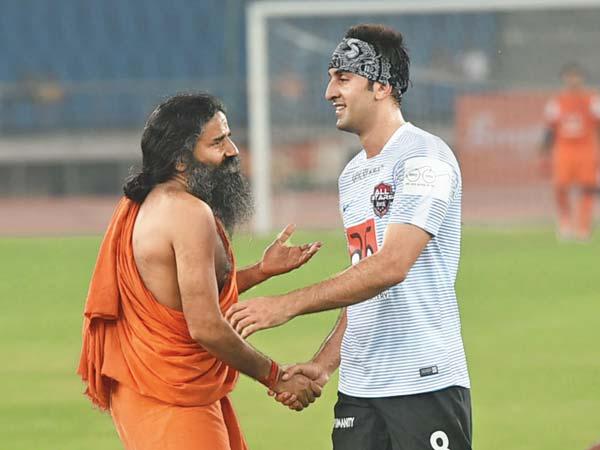 10. Sunny Deol
The Picture below shows two strong and tough persons together. Sunny is famous for his unique acting and Baba Ramdev for his Yoga and Patanjali Products. He claims that Patanjali products are free from any harmful chemicals.