Bollywood doesn't always produce the most inspirational movies, but it never fails to draw inspiration from other cultures. They've typically resorted to picking popular western films and altering them scene by scene. Here is the list of the Top 10 best remakes in Bollywood.
1.   Zinda:
Sanjay Gupta Sanjay Gupta is an Indian filmmaker who has even p >> Read More... adapted Park Chan-2003 Wook's South Korean thriller, although he downplayed the violence and pornographic content. Sanjay Dutt July 29, 1959, was the day when the two legends of >> Read More... provided the greatest performance of his career, and Gupta did a great job of portraying that sense of dread and impending doom.
...
2.   Kaante:
Again Sanjay Gupta based his adaptation of Quentin Tarantino's Reservoir Dogs on a group of Indian immigrants to America plotting to rob a bank. One of the few instances when Gupta's film outperformed the original, was the Bollywood conclusion, in which the main protagonists engage in a Mexican standoff.
3.   Sarkar:
Ram Gopal Varma Ram Gopal Varma is a famed Indian film director an >> Read More... had remained rational. He expertly brought the father-son acting team of Amitabh and Abhishek Bachchan Abhishek Bachchan, or Abhishek Srivastava, is a ve >> Read More... from real life to the big screen in Copolla's tale of a criminal family set in Maharashtra. Abhishek Bachchan had the assistance of actors like Kay Kay Menon Kay Kay Menon or K.K. Menon or Krishan Kumar Menon >> Read More... and Zakir Hussain, gave a standout performance that was quite reminiscent of Al Pacino's Michael.
...
4.   Baazigar:
The Hollywood adaptation of this 1956 classic American noir was the source of Abbas-1993 Mustan's smash song. The film established Shah Rukh Khan as an actor unlike any of his colleagues of the era, paving the way for the new heroines Shilpa Shetty and Kajol. Bollywood also created a background to explain the villain's nefarious deeds.
...
5.   Sholay:
An Indian version of the 1960 American film is called Sholay. There are several storyline variances, such as the fact that Sholay is about a pair hired to apprehend a bandit rather than having seven characters. The film did well at the box office and continues to rank among the highest-grossing Indian movies. It has received several accolades and has firmly rooted itself in Indian culture.
...
6.   Munna Bhai M.B.B.S.:
Patch Adams' Indian adaptation, Munna Bhai M.B.B.S., was released in 2003. Despite numerous differences from Patch Adams, it also tells the tale of a medical student who treats his patients with humour and care. Patch Adams was not nearly regarded as Munna Bhai M.B.B.S, which led to sequels and several accolades.
...
7.   Ghajini:
A. R. Murugadoss wrote and directed the 2008 action-thriller movie Ghajini, which Allu Aravind Allu Aravind is a film producer in Andhra Pradesh >> Read More... , Tagore Madhu Tagore Madhu is a producer, well recognized for hi >> Read More... , and co-produced. The movie stars Aamir Khan Aamir Khan or Mohammed Aamir Hussain Khan is Bolly >> Read More... , Jiah Khan Jiah Khan was a British-American actress, singer >> Read More... , Pradeep Rawat Pradeep Rawat, is known for his villainous roles >> Read More... , and Asin Thottumkal Asin Thottumkal more famously known as Asin, is a >> Read More... repeating their original roles in her Hindi film debut, a remake of Murugadoss' own 2005 Tamil film of the same name, which was itself inspired by the 2000 film Memento.
...
8.   Ghulam:
Again Aamir Khan. Aamir devised a brand-new street-slacker identity who trains as a boxer, drawing influence from the legendary performance of Marlon Brando Born on April 3, 1924, in Nebraska, U. S, Marlon B >> Read More... . The conclusion, when the underdog takes on the big bad guy, works incredibly well in the Vikram Bhatt-directed Bollywood version. This superb remake was only made better by Jatin-excellent Lalit's score.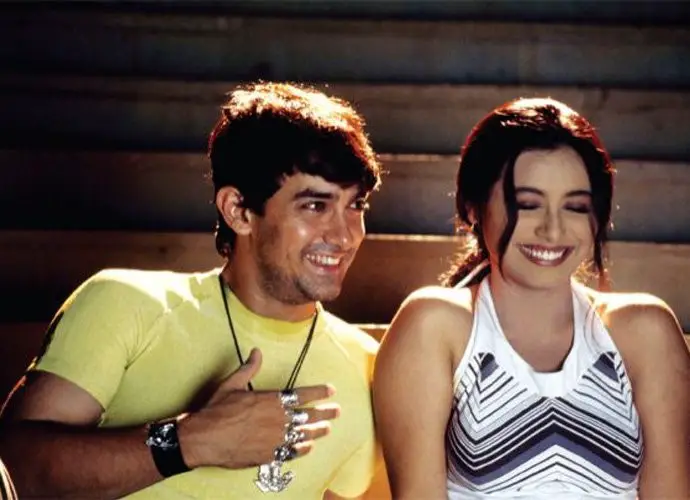 ...
9.   Josh:
With his three remakes, Mansoor Khan Mansoor Khan is an Indian film director and produc >> Read More... adapted this Hollywood classic to contemporary Goa, where two rival gangs known as Eagle and Bichhoo existed. Chandrachur Singh Chandrachur Singh had a very promising start to hi >> Read More... and Aishwarya Rai sang along to Anu Malik's tunes in the love song that served as the story's central theme.
10.  Shaurya:
Samar Khan's Shaurya was never going to measure up to Sorkin's machine-gun language and succeed. But taking away Rahul Bose and Javed Jaaferri's weak acting, Deepak Dobriyal's understated elegance and an explosive Kay Kay Menon save the movie. By surpassing Nicholson's incredible act, Menon pulls off the inconceivable.