1. John Abraham Like some of our sexy stars, John Abraham has had >> Read More... & Abhishek Bachchan Abhishek Bachchan, or Abhishek Srivastava, is a ve >> Read More...
Abhishek would have never thought that the guy he was chasing in Dhoom will become his best buddy one day. The friendship of John and Abhishek began in Dhoom. They rocked again in Dostana, and they are returning with a bang in Dostana 2.
...
2. Jacqueline Fernandez Jacqueline Fernandez is one of the top actresses i >> Read More... & Sonam Kapoor Sonam Kapoor, Daughter of Anil Kapoor and model Su >> Read More...
One of the most stylish and well-dressed ladies in the industry is Sonam Kapoor. And to have a friend who shares the same fashion quotient is all she would have expected, and Sonam got it in the form of Jacqueline. They have even admitted to taking fashion tips from each other quite often. Jacqueline has even stated that Sonam is her 3 a.m. friend.
...
3. Ranbir Kapoor Ranbir Kapoor is a noted Indian film actor. He was >> Read More... & Ayan Mukherjee
...
Wake Up Sid Click to look into! >> Read More... saw the beginning of a friendship that became the best buddies, Ranbir Kapoor and Ayan Mukherjee. Often seen together numerous times, the actor-director duo combo has two super hits to their name, and the good news is that the third one is in the making. Ranbir stated that he even take some personal advice from Ayan. Well, we also want to see you both together forever.
4. Ajay Devgan Ajay Devgn is an Indian film actor. He is perhaps >> Read More... & Rohit Shetty Rohit Shetty is a famous Director in Bollywood who >> Read More...
...
True friendship never sees fame or fame. We can easily apply this to the combination of Rohit Shetty and Ajay Devgan. They became friends when Rohit was hardly even known by anyone. Rohit made his directorial debut with Ajay Devgan in Zameen, and the rest is history. With Golmaal and Singham on the list, we are definitely counting on you for few more super hit series.
5. Aamir Khan Aamir Khan or Mohammed Aamir Hussain Khan is Bolly >> Read More... & Salman Khan Salman Khan is a very famous Indian actor and a pr >> Read More...
...
Aamir Khan and Salman Khan are the faces of Bollywood today, but hardly anyone knew of this when they first met on the sets of Andaz Apna Apna Click to look into! >> Read More... . The friendship started there and has remained until today. Often spotted together at various movies, they even promote each other's movies on their social media accounts.
...
6. Arjun Kapoor Arjun Kapoor is a Bollywood star. He was born on 2 >> Read More... & Ranveer Singh Ranveer Singh Bhavnani is an Indian movie actor wh >> Read More...
...
The most beloved bros of Bollywood. Their bromance initiated on the sets of Gunday, and since then, they are often together at parties and shows. None of them leave a chance to show their love for each other, be it at parties or TV at reality shows and award functions. They are the cutest and funniest duo in the Indian film industry. And, we hope you didn't forget the AIB roast.
7. Kareena Kapoor & Amrita Arora Amrita Arora was born on 31st January 1981 in Chem >> Read More...
Bebo and Amrita are undoubtedly some of the gorgeous besties of Bollywood. They first became friends when Kareena was much in the limelight. But, the friends that become when you are struggling are the real ones. Now, they can be seen regularly shopping together.
8. Shah Rukh Khan Shah Rukh Khan or also known as SRK is a prominent >> Read More... & Juhi Chawla Juhi Chawla is a renowned Indian actress and produ >> Read More...
SRK and Juhi form one of the cutest couples on-screen and off-screen; the Jodi keeps that cuteness in their friendship. Their friendship did face some troubles and went through a rough patch due to business issues, but they are back together as good friends.
9. Salman Khan & Sanjay Dutt July 29, 1959, was the day when the two legends of >> Read More...
The coolest and strongest friendship that the film industry has ever seen is Sanju baba and Sallu Bhai. The friendship started in teenage years only and has remained the same till now, maybe because they both have gone through a lot and have seen multiple phases of life that not everyone in the industry has experienced. They have acted together in multiple Bollywood movies and have also hosted a season of Big Boss.
10. Karan Johar Karan Johar is one among the top ten celebrities i >> Read More... & Shah Rukh Khan
When pioneers sit together, chances are more that they will share and connect more than anyone else. The bond of Shah Rukh Khan and Karan Johar justifies it. Their friendship has stayed for as long as twenty-five years and is still counting.
Some more best friends in Bollywood are here:
Alia Bhatt Alia Bhatt is a trendsetting actress from Mumbai, >> Read More... – Parineeti Chopra The bubbly actress, born on 22nd October 1988, lan >> Read More... – Shraddha Kapoor Shraddha Kapoor, born on March 3rd, 1989, is a you >> Read More...
Most of the heroines don't share a great bonding, but just a Hi and Bye friendship. This trio, Alia, Parineeti, and Shraddha, is not one among those usual people. They roam together, leg pull, and share a great bonding.
Gayatri Joshi Gayatri Joshi is known for her portrayal of an Ind >> Read More... – – Sonali Bendre Sonali Bendre, the epitome of beauty and grace was >> Read More...
Gayatri Joshi, who shared the screen space with Shah Rukh Khan in Swades, had been the best friend for actress Sonali Bendre and Sussanne Khan, the ex-wife of Hrithik Roshan Hrithik Roshan with his unimaginable dance moves i >> Read More... . They chill out together, share a good bonding. They had been friends for a decade+.
Shahid Kapoor Shahid Kapoor also identifies as the name Shahid K >> Read More... And Ahmed Khan Ahmed Khan is a multi talented personality of the >> Read More...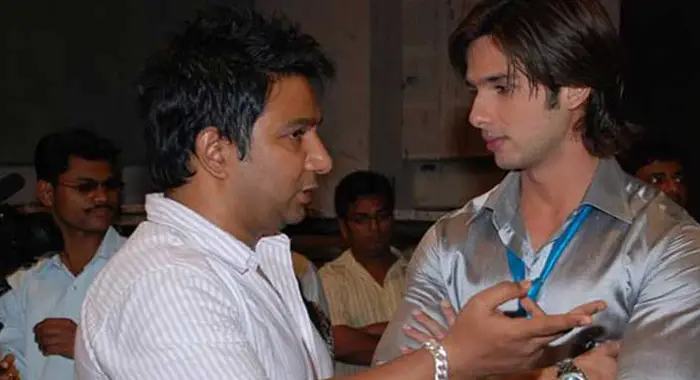 Shahid Kapoor, the smart actor, shared a good bonding with Ahmed Khan, the renowned choreographer. Although small issues brewed between them, they are still good friends. Ahmed directed Shahid in a couple of films and had choreographed songs for Shahid.