Bollywood films are known to hold a package of interlocution that are worth remembering forever. Here, we gathered the most badass head-to-head fromthis collection of the kickass performances given by our mind-boggling Bollywood stars.
1. Dangal
...
The best dialogue challenging the societal norms for women holds the top most place in everyone else's heart as well. For the love of Godnow,when will that era come where we can totally and completely remove this gender-based discrimination from our society..? Aamir Khan Aamir Khan or Mohammed Aamir Hussain Khan is Bolly >> Read More... with the help of the Phogat sisters has successfully contributed his bit in making all those "Goddess worshippers" realize that women, not only do they demand gold from men, but they are equally capable of earning it for themselves as well as for their country.
2. Sultan
...
We all are well aware of how greatly this movie has done on box office and ever since, it has ruled our hearts as well. Nobody could be as Badass as Sultan, shown through this remark which says that only one person can defeat Sultan and that person is Sultan himself! A powerful message is given by it which asks everyone of us to simply believe in ourselves as both our success and failure depends solely on us,and every other person only acts as an outside source to either motivate or demotivate us. Concluding, I would like to say that Sultan believes in himself. Nobody can defeat Sultan. Sultan pays no heed to what others have to say about him. Be like Sultan!
3. Sala Khadoos
...
The story of a small town girl, Madhi chirked up the fanatic in us the moment she confessed her love for her 'khadoos' boxing trainer. Above all, are girls any less audacious than boys? Ofcourse NOT! But soon she realized that love is not her inclination but boxing is, and promptly she put her saucy mannerism towards achieving her only love of life(by the way which is not Adi but boxing).
4.Fitoor
This movie might not have done amazingly well on box office but it sure is a package of some 'fiercely romantic' discourse. The madly in love but poor Noor( Aditya Roy Kapur Aditya Roy Kapur, a young and successful actor wa >> Read More... ) made us fall for his passionate desire to be with Firdaus(). Showing his absolute fearlessness towards all odds that hindered his journey of love, he came up as an influencing character for all lovers as well as aspiring artists. His seriousness of character has won quite a bit of appreciation(besides Katrina's red hair locks). Well, no matter how hard things were for them, the lovers ultimately reconciled in the end.
5. Ae Dil Hai Mushkil
Now is the turn of the queen of seduction for the year 2016 who can do it merely by speaking her heart out-Aishwarya a.k.a Saba for this 'one- sided' love story. The individualistic aspect of her character grabbed the audience's attention very well(who could not have got enough of her appealing personality). Ranbir's character in the movie, incapable of reciprocating her feelings, made her move away as, well we all know it by now that she wanted to be someone's desire not merely their need.
6. Bollywood Diaries Click to look into! >> Read More...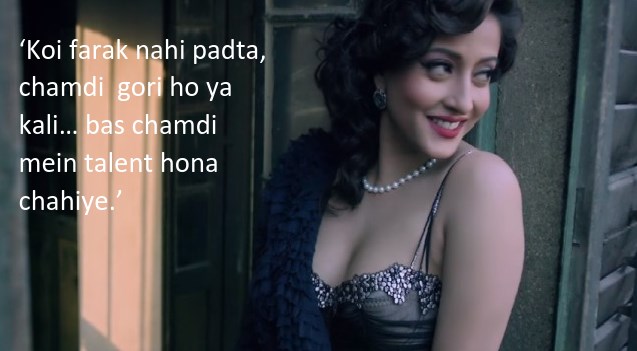 And…could our research for these best dialogues reach to its conclusion in the absence of a stout critique on the very talked about, the issue of Racism. Fittingly, here we bring to you this emboldened comment on how most Indians are high-handed towards the Blacks and tend to ignore their talent easily enough, while they are in no position to judge anyone by their color or capabilities. Seriously, how difficult could it be to focus on and appreciate someone's potential rather than criticizing them for how black they are, which shouldn't matter as a person must be recognized by what he does and not by what color he has!
7. Banjo
Rightly said! Mumbai is THE CITY OF DREAMS where dreams aren't only restricted to the sights of those multi-story buildings but to those of even residing in them. Banjo, as you might find it, isn't much of your 'time-worthy' film but this particular argument, since it deals with the very lifestyle of the people living here, sure makes us realize of the day-to-day struggle of these particular people. Nonetheless, anyone and everyone has the right to dream big and no doubt, if you have the will to achieve it, sooner or later you will!
8. MSG: The Messenger
No matter how hard one tries to eradicate these social evils from our society, some people will always stand against him only to make everyone realize that there exists these block-headed Indians who just can't watch their country rising to development and advancement. However, the ones who stand rigidly to bring about a change will always remain a "one man army" and fight everyone who comes in between their path of cleansing impurities from their very own nation and Guru ji (Gurmeet Ram Rahim Singh) unquestionably leads this battle like a father who alone can fight anyone for his children.
9. Udta Punjab Click to look into! >> Read More...
You should become a good human being before becoming anything else! Couldn't have agreed more with it. Tommy Singh ( Shahid Kapoor Shahid Kapoor also identifies as the name Shahid K >> Read More... ) who is doing adeptly in his singing career as well as with drugs m otivated everyone (in the film) to be a drug addict just like him! Soon he becomes well aware of his worsened situation but why doesn't anyone get inspired by him now??? (we only do the things we want to do.. right?) You don't have to be a VIP or any other great personality to serve the noble cause. All that you need is to be human enough to understand what's going around you and how you can change it appropriately.
10. Dongari Ka Raja
Ronit Roy Ronit Roy (Ronit Bose Roy) was born on 11th Octobe >> Read More... might not have acted in many movies, but in the ones he had, audience was glad to watch him act apart from t.v serials. This "love story" of the underworld Raja of Dongari (Bollywood does have a lot of love elements to it!) brings to you the policy and operating of the underworld.Without any surprise, their proposed actions are meant tounspare anyone who causes any loss to them, irrespective of their caste, creed, color and type!