" If you could not be a good loser then there is no way you could be a good winner "
The road to stardom wasn't a cake walk for all celebrities. Lucky few become overnight famous. But many of our favorite stars had a humble background. Invariably from Hollywood to Kollywood, there were celebrities who strived hard to reach their stardom. Their hard work and devotion helped them reached the heights of superstardom. Let's find out in the world of showbiz, how these stars made it big by themselves.
Halle Berry She was known for her short - hair styles, from a >> Read More... :
...
Halle Berry is one of the highest paid actress in Hollywood. The first African-American to win the Oscar for best actress (Monster's Ball -2001). Halle Berry
...
:
...
The Oscar winner and the most handsome heartthrob of Hollywood was once driving limousine for strippers and dressed like a big chicken when working for a restaurant El Pollo Loco. On his pursuit to reach the stardom he appeared in many supporting roles and TV series.
: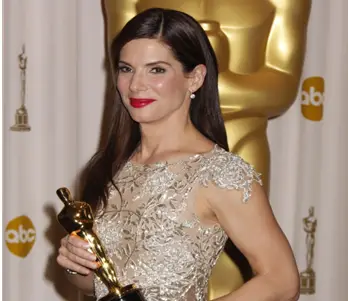 ...
The Academy Award winner and America's one of the highly paid actresses Sandra Bullock once worked as a waitress and bartender in New York. She got her recognition after her successful movies ' The Blind Side Click to look into! >> Read More... '.
Priyanka Chopra Born on 18 July 1982, Priyanka Chopra is an establ >> Read More... :
...
...
The international Diva Priyanka Chopra (Pee Cee), a high profile celebrity. She was the highest paid actress in Bollywood. She hails from an ordinary Punjabi family. She has been bullied for being dusky. But her confidence and attitude made her to be the titleholder of Miss world pageant of 2000. After several failures, she established herself as a successful actress in Bollywood. She is now in the lead role of the America's famous TV series Quantico.
Shah Rukh Khan Shah Rukh Khan or also known as SRK is a prominent >> Read More... :
...
The Badshah of Bollywood Shah Rukh Khan, one of the richest actor of the world. With the hope to become an actor, he came to Mumbai where he had no place to stay now he stays in a six storey bungalow in Mumbai. He struggled a lot to reach up to this stardom. His passion and hard work made him bigger in life.
Rajinikanth, the Superstar of Kollywood, one of the highest paid actor of South Indian, was once a Bus Conductor Click to look into! >> Read More... in Bangalore Transport service. He started his acting career through dramas and then he played anti-hero roles. Later he established himself as a Superstar in the south Indian film industry.
Kangana Ranaut:
Kangana Ranaut, a well-known Bollywood actress, established a career in Bollywood from a very normal background. To pursue her passion she relocated to Delhi at the age of sixteen without any financial support from her parents which is quite impossible for an Indian girl. She entered the modeling industry. Later her focus shifted to acting. During that period, she struggled with her meager earnings. She revealed in her interviews that She couldn't speak fluently in English and people made fun of her when she was struggling to make her career.
:
Akshay Kumar, a well-established actor of Bollywood, was once a waiter in Bangkok. He was also a martial art instructor. He began his journey as a model because of his good look and physique. Later he entered into films, but his first few films weren't successful. But he was noticed for his stunt and dance style. His hit 'Khiladi' brought him recognition and the journey made him a well-established actor in Bollywood.
Ajith Kumar Ajith Kumar is a prominent Tamil film actor, model >> Read More... :
Ajith Kumar, a well known South Indian actor, sweetly called as 'Thala' by his fans of Tamil movie industry, hails from a normal middle-class family. He was a high school dropout. He started appearing in TV commercials and some supporting roles in the movie. After his success movie ' Aasai' he got his recognition. He had to face lots of failures to reach up to this level. Apart from holding the honor as an actor he is also a car racer. He participated in formula three seasons and was ranked third best motor car driver in India.
Shilpa Shetty A model turned actress, producer, entrepreneur and >> Read More... :
Shilpa Shetty is a successful Bollywood actress and an Entrepreneur. She made all the heads turn towards her after winning the international reality TV series Big Brother Click to look into! >> Read More... . She started her career as a model in Limca TV commercials and struggled hard to reach up this stardom.