King Khan is the undeniable Baadshah of Romance. His films like " Dilwale Dulhania Le Jayenge Click to look into! >> Read More... ", " Kuch Kuch Hota Hai Click to look into! >> Read More... " and "Kabhi Kushi Kabhie Gham" are considered as classics in the bollywood Film industry. SRK does have undeniable swagger and to highlight this point; we bring to you the top 10 times Shah Rukh Khan Shah Rukh Khan or also known as SRK is a prominent >> Read More... showed everyone who the boss was!
1. WHEN HE TOOK A FLIGHT BACK HOME
...
Many people believe that if you're a superstar you can avoid unavoidable things like traffic! Shah Rukh Khan proved this right when he went home after filming a movie or work by flight. Guess he is just too cool for the roads!
...
2. WHEN HE PLAYED BADMINTON WITH SAINA NEHWAL
...
If you are as rich and famous as SRK is, you don't play sports with just anyone. Only the gold medallist like Saina Nehwal Badminton World Federation has marked her with the >> Read More... is good enough for you. Now, how can that be complete without quoting retro songs in which people were playing badminton? Khan-1, Everyone-0.
3. WHEN HE HAD TIM COOK OVER FOR DINNER
...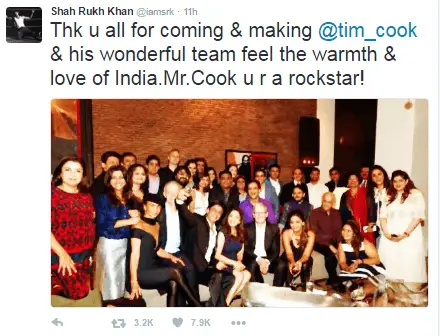 Doesn't matter if you're the Prime Minister or President of India but the first person in India that 'Tim Cook', CEO of Apple, wanted to meet was King Khan, who willingly threw a big dinner party for some of the famous stars of Bollywood like Aishwarya Rai Bachchan Aishwarya Rai Bachchan is a popular Indian actress >> Read More... and and his foreign fans.
...
4. WHEN HE GOT FREE GOODIES FROM APPLE
...
It's ironic that the second richest actor in the world gets free stuff from Apple. He can afford to buy it himself! And if this wasn't it all, he called them goodies! Well, if you are the kind of person that makes over a million a day, you can call them anything you want.
...
5. WHEN HE POSTED CUTE PICTURES OF HIMSELF ON SET WITH ROHIT SHETTY.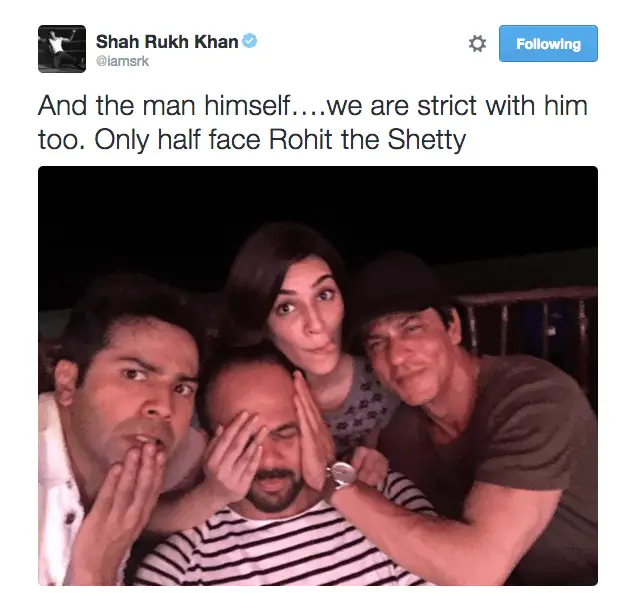 This picture is taken from the sets of " Dilwale Click to look into! >> Read More... " with ' Kriti Sanon Kriti Sanon is a model-turned-actress who made her >> Read More... ' and ' Varun Dhawan Varun Dhawan, a new comer entered Bollywood with h >> Read More... ' with the director, ' Rohit Shetty Rohit Shetty is a famous Director in Bollywood who >> Read More... ' alongside SRK himself. Even though the film didn't fare well at the Box-Office, it didn't stop King Khan from posting adorable pictures after pack-up.
6. WHEN HE WRESTLE-HUGGED SALMAN KHAN
After rekindling his friendship with ' Salman Khan Salman Khan is a very famous Indian actor and a pr >> Read More... ', SRK posted a picture of them wrestle-hugging each other. Though their respective films, " Raees Click to look into! >> Read More... ", and " Sultan Click to look into! >> Read More... ", were ready to clash at the box office on Eid, SRK, in the spirit of their newfound friendship, has postponed his movie release till January 2017.
7. WHEN HE DISCUSSED MEDICAL ISSUES WITH AMITABH BACHCHAN
Being a superstar doesn't mean you stop aging. Once, SRK attended the HT Fashion Awards where he won the most fashionable icon (male) award, he also sat there and discussed his bone aches and pains with Mr. 'Amitabh Bachchan' himself!
8. WHEN HE FLEW IN A CHARTERED PLANE WITH FARAH KHAN, BOMAN IRANI AND ABHISHEK BACHCHAN.
After the filming of the Dubai schedule of " Happy New Year Click to look into! >> Read More... ", Shah Rukh Khan flew back to India with his film crew, Boman Irani Boman Irani is a well known name today in the Bol >> Read More... , Farah Khan Farah Khan is an Indian film actress, producer, di >> Read More... and Abhishek Bachchan Abhishek Bachchan, or Abhishek Srivastava, is a ve >> Read More... in a chartered plane. If this wasn't cool enough, he had to go and add a leather jacket and sunglasses. You are killing us SRK!
9. WHEN HE WAS THE ONLY GUY WITH TEN GIRLS, ONE OF WHICH WAS ALIA BHATT.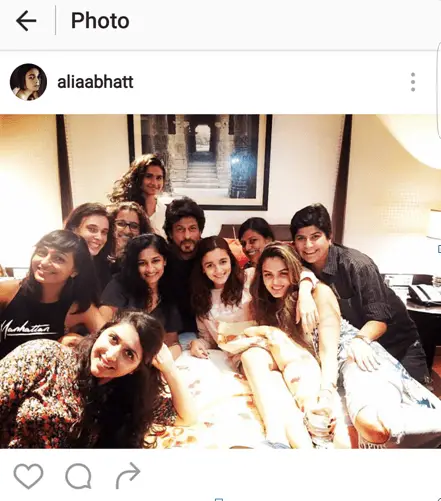 This snap was taken and posted by Alia Bhatt Alia Bhatt is a trendsetting actress from Mumbai, >> Read More... during the shooting of ' Gauri Shinde Gauri Shinde is an Indian feature films and ad-fil >> Read More... 's next untitled film, which stars her and Shah Rukh as the lead actors. The remaining girls in the picture are also part of the film crew.
10. WHEN HE SHOWED EVERYONE THAT HE WAS A GOOD DAD.
Shah Rukh Khan proved that he was a good father in every sense in this picture uploaded by his wife, Gauri Khan Born on Ocotber 8 1970, Gauri Khan (originally kno >> Read More... , in which he is seen carrying his three-year-old son, AbRam.