Pakistan Entertainment is a big industry, where celebrities showcase their talent and skills of acting. Here are some celebrities who are not just talented actors but also make sure to be perfect in their own life, be it a love or arranged marriage in their life.
1. Atif Aslam Named Muhammad Atif Aslam when he was born, he is >> Read More... and Sara Bharwana
These two were deeply in love with each other for more than seven years. They finally got married on 28 March, 2013 in Lahore Club. Atif Aslam is the Pakistani singer, and Sara Bharwana is a schoolmistress.
...
2. Sanam Saeed Sanam Saeed is a British - Pakistani actress who i >> Read More... and Farhan Hassan
Sanam Saeed is a well-known model and actress, married her childhood friend Farhan Hassan and had a wonderful chemistry and a strong bond with each other. The wedding was on 2 January and the ceremony took place in Karachi. Sanam looked stunning in bridal wear by the designer Zara Shahjahan. Farhan wore off-white sherwani that matched with Sanam's dress.
...
3. Soniya Hussain Soniya Hussain was born on July 15, 1991. She was >> Read More... and Wasif Muhammad
...
Pakistan's beautiful actress and model Soniya Hussain tied knot in her wedding ceremony with the Pakistan handsome model Wasif Muhammad in Karachi on August 10, 2014. In Nikkah event, Wasif and Sonya's relative, friends, and a close friend participated in the event. The bride wore a pink frock that made her look like Princess, Wasif too was looking handsome, and they looked perfect together.
4. Fawad Afzal Khan Fawad Khan hails from Lahore, Pakistan originally >> Read More... and Sadaf Aftab
...
The high pay actor Fawad Afzal and Sadaf worked for clothing business which was known as silk; he had fallen in love when he was in his teens and loved his wife Sadaf Aftab unconditionally. They both got married at a young age. Sadaf could not live without his wife, and Sadaf says that he is a lucky person to have her in his life. They got married on 11th November 2005, in Lahore. The couple still blushes when asked about their love story.
...
5. Sarwat Gilani Sarwat Gilani is a Pakistani model, singer, and a >> Read More... and Fahad Miraz
Sarwat is an actress as well as the model. She married Omar Saleem in 2005, but soon in 2008, they parted. After many years she found her true love Fahad Mirza Fahad Mirza is a prominent Pakistani model and act >> Read More... , a TV actor on Independence Day Click to look into! >> Read More... , 2014. In an interview, she revealed that they dated when they were in college and then got separated due to educational purposes but then they got back, and tied the knot in a grand ceremony.
...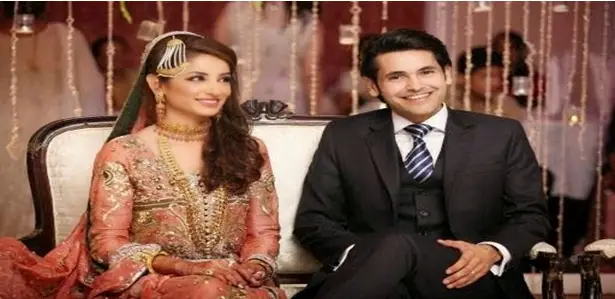 6. Ali Zafar Ali Zafar is a multifaceted personality, though he >> Read More... and Ayesha Fazli Ayesha Fazli is the beautiful and ravishing wife o >> Read More...
...
Ali was happily married to the happening Ayesha Fazil in 2009. Ali cannot express his words towards his wife because she is understanding, trust, and support system for him throughout his life. Ali Zafar makes sure that he spends time with his family and balances his work life with family life.
7. Urwa Hocane Urwa Hocane is a Pakistani actress, VJ and a model >> Read More... and Farhan Saeed The dashing and handsome Farhan Saeed is a Pakista >> Read More...
The most stunning actress and model, Urwa Hocane and Farhan, dated each other for two years, before their marriage. Farhan is renowned singer. After many years of dating, they finally decided to marry on 16th December 2016.
8. Syra Yousuf and
Syra Yousuf is well known for acting, modeling, and Video Jockey. She married Shehroz Sabzwari on 21st October, 2012, in Karachi.
9. Ayeza Khan Ayeza Khan was born on January 15, 1991 in Karachi >> Read More... and Danish Taimoor Danish Taimoor is a Pakistani model and TV actor. >> Read More...
Ayeza Khan is an all rounder actress in Pakistan and Fashion Industry. On 8th August, she marries a dashing and famous actor of the industry, Danish Taimoor, and before they were in relation from 2007. In 2014, the couple married and lived a happy life in work space as well at home with families. The whole industry was invited to their ceremony.
10. and Feroz Khan Feroz Khan is a legendary Indian film actor, edito >> Read More...
Sajal Ali is a TV actor and also a Pakistan Celebrity. She is engaged to a celebrity actor Feroz Khan. The media remake rumors about the couple that Feroz Khan is taking advantage of her, but later the reality was different, where the engagement pictures were viral all over. He made it clear that it's too early to get married and that he wants to focus on his career for better future.