We have loved the Bollywood industry for all the skills and drama we see through the movies. But there is some more drama behind the scenes too,  which is not known to us. So here are some actresses who are enemies forever.
1. ANUSHKA SHARMA
...
Anushka Sharma Born in an army family to Col. Ajay Kumar and Ashi >> Read More... is Popularly known as the wife of Kohli. She has done many films in the Bollywood industry. She was introduced to Bollywood by Shah Rukh Khan Shah Rukh Khan or also known as SRK is a prominent >> Read More... . Ranveer Singh's first movie was with Anushka Sharma, which was Band Baja Baarat. After they made this film, they fell in love with each other. They were dating for several months, but later on Ranveer got interested in Deepika Padukone Deepika Padukone is an Indian actress and model. S >> Read More... and decided to ditch Anushka Sharma for her. Because of this incident, she is not in good ties with both of them.
2. RANI MUKERJI
...
Rani Mukerji Rani Mukerji is one of the most celebrated Indian >> Read More... is a famous Bollywood actor. She was born on the 21st of March 1978. She has ruled the Bollywood industry. Her biggest rival is Preity Zinta Preity, also known as Preity Zinta is a famous Act >> Read More... because they made super hits films at the same time.
3. MADHURI DIXIT
...
Madhuri Dixit Madhuri Dixit is not just known as the also a smil >> Read More... is a notable actor cum dancer in the Bollywood industry. She was one of the top actresses in the 80s. She had a lot of competitors. ' Sridevi Sridevi is an Indian an actress renowned for her w >> Read More... ' was one of them. Both were very good at dancing and acting too. They tried their level best to be the number one actress in the Bollywood industry. And just because of this competition they were jealous of each other.
4. KANGNA RANAUT
...
is a very Bold personality in the Bollywood industry. She never shies and speaks her mind up. She has blown many people's minds by giving them their taste of medicine. She often expresses her thoughts in public, because of which she is hated by many actors and actresses. Her biggest rival is Deepika Padukone. Kangana taunted Deepika about all negativity and jealousy she has for her.
...
5. ALIA BHATT
...
Alia Bhatt Alia Bhatt is a trendsetting actress from Mumbai, >> Read More... is an actress and also a singer. Alia Bhatt started her career when she was just 17 years old. Her first movie was Student Of The Year by Karan Johar Karan Johar is one among the top ten celebrities i >> Read More... . Her biggest competition is Shraddha Kapoor Shraddha Kapoor, born on March 3rd, 1989, is a you >> Read More... . Both are finest actors of Bollywood. Both have done a number of hit films.
6. BIPASHA BASU
...
Bipasha Basu Bipasha Basu, born in January 7,1979 in Delhi, is >> Read More... is one of the successful actresses in the Bollywood industry. She has done many hit films with famous superstars. There was a catfight between Kareena Kapoor Khan Kareena Kapoor is a super hit actress working in I >> Read More... and Bipasha Basu on the flight when they were traveling for the shoot of the movie Ajnabee. This fight had gone viral. This fight got very ugly when Kareena slapped Bipasha and also called her kali Billi.
7. SARA ALI KHAN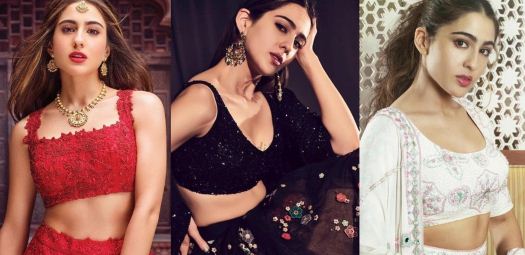 Sara Ali Khan Sara Ali Khan is the daughter of the Bollywood act >> Read More... is one of the most hardworking actresses in the Bollywood industry. We all know her Life transformation story. She was a chubby child during her teen, but later on, she gave her 100% and became fit. Now she is one of the fittest actors in B-town. She is a rival of Jhanvi Kapoor. The reason behind it is that they both are very much confident with their work.
8. PRIYANKA CHOPRA
Miss World, Priyanka Chopra Born on 18 July 1982, Priyanka Chopra is an establ >> Read More... has got a huge lot of fame in B-town. She has done a fabulous performance in all her movies. She is not only a Bollywood actress but, she is also an official international actress. She is also an amazing singer. After she was seen in Koffee with Karan with Kareena Kapoor Khan, there was a conflict between them.
9. SONAM KAPOOR
Sonam Kapoor Sonam Kapoor, Daughter of Anil Kapoor and model Su >> Read More... came into the Bollywood industry because of her Family Background. She has done a few movies in B-town. Some were hit, and some were a flop. She is also known for speaking without any thought in the press and interviews. In one of the episodes, she mentioned Aishwarya Rai Bachchan Aishwarya Rai Bachchan is a popular Indian actress >> Read More... as Aunty from other generation's point of view. Because of this, she is not in the good books of Aishwarya Rai.
10. KATRINA KAIF
is Bollywood''s most popular and beautiful actress. She has done tons of films in B-town. She was introduced in Bollywood by none other than Salman Khan Salman Khan is a very famous Indian actor and a pr >> Read More... . She was dating Ranbir Kapoor Ranbir Kapoor is a noted Indian film actor. He was >> Read More... after Deepika Padukone. It was known that Ranbir Kapoor ditched Deepika for her beloved Katrina Kaif. Because of this incident, she became the enemy of Deepika Padukone.