The film industry has so many female leads who have given an unmatchable performance, but some actresses came and imprinted their characters on us. Bollywood follows the male dominance rule, but now the girls in the industry are taking a toll and outshining the male character in the movies. The females have made their dialogue so strong that it is impossible to miss out their role in the movies. Some of the examples of such incidents are given below:
1. Naina (Yeh Jawani Hai Deewani)
Here Deepika Padukone is playing Naina, the nerdy Naina who is love with Bunny ( Ranbir Kapoor Ranbir Kapoor is a noted Indian film actor. He was >> Read More... ) but could not confess it. Then she transforms herself into fun Naina, yet she is unable to confess her feelings for Bunny because she knows that he loves his passion. That is why she indirectly gives him hints.
2. Rehana (Lipstick Under My Burkha)
Plabita here is seen as Rehana, a Muslim girl who is clutched by the rules and regulations of the society. The girl wants to enjoy her life but is unable to do under the constant fear of what her parents or society will think. After she is exposed, she gives a strong statement which enlightens all.
3. Simran (Gangster)
This was the debut movie of Kangana Ranaut National award winner Kangana Ranaut... >> Read More... , and she made sure that people remember her for her role. Out of all the dialogs in the movie, the dialog about one's inner self is my favourite as this makes us come face to face, and question who we actually are.
4. Geet ( Jab We Met Click to look into! >> Read More... )
This bubbly girl Geet was played by Kareena Kapoor, and she sure did her work right. This dialog of her reminds us that we all should put our self as a priority first that anyone in the world because in the end, it is our inner self we have to answer.
5. Kaira ( Dear Zindagi Click to look into! >> Read More... )
This girl was so much stressed in her life, just like us, and the audience could very well connect with her. Alia Bhatt Alia Bhatt is a trendsetting actress from Mumbai, >> Read More... played her role as she should, and gave a wonderful performance. She tells that one should understand oneself so well that it shouldn't bother what others would say.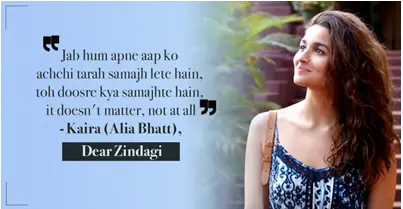 6. Farah Ali ( Dil Dhadakne Do Click to look into! >> Read More... )
This girl on the cruse who rocked the whole cruise from her moves has the power to face all the difficulties with a smile. Anushka Sharma Born in an army family to Col. Ajay Kumar and Ashi >> Read More... here tells how to be wise in taking decisions, and not let your brain have much stress.
7. Silk Smitha Silk Smitha is an unforgettable personality in the >> Read More... (Dirty Picture)
Vidya Balan Vidya Balan is an award winning Bollywood actress >> Read More... has earned so much respect because of this role as this was the best performance of her life. The dialogs, the acting, and the expressions were on point. This dialog tells how free going the character was.
8. Laila (Zindagi Na Milegi Dobara)
This movie has surely motivated many youngsters to have an open mind, and feel blissful of the life they have. Katrina Kaif Latest Videos of Katrina Kaif >> Read More... here is a diving instructor who is fun loving and easy to go. This dialog of her gives us some serious life goals.
9. Mary Kom Click to look into! >> Read More... (Mary Kom)
Priyanka Chopra Born on 18 July 1982, Priyanka Chopra is an establ >> Read More... here did a fabulous job of adapting to the life of Mary Kom, the famous boxer India has. The movie was a great hit, and showed the struggles she had to face while following her passion.
10. Mandira Khan (My Name Is Khan)
This movie was again an eye opener, and made us all cry. Kajol here played the role of Mandira who is a divorced mother, and in love with a Muslim man. She has many dialogs, but this one was the most inspiring one.