1. 'Good Will Hunting'
The movie revolves around a mathematician who can solve all difficult mathematics problems. He was a normal labourer, initially. He solves the problems in a unique manner, most of the time he lives alone where he thinks about new things related to mathematics; in reality also we have to relax our mind to think properly to get mastery.
...
2. ' 3 Idiots Click to look into! >> Read More... '
A movie which shows that knowledge is always necessary and long lasting, not the marks scores. The story represents the life of engineering students. The film also tells that parents should not force their child to become an engineer, doctor or whatever they want to become, they should give their child the chance to be what he/she wants to be.
...
3. ' Rocky Click to look into! >> Read More... '
...
Rocky is an ordinary boxer who lives in an apartment in Philadelphia. Rocky subsists by collecting debts for a high loan. Rocky boxes every time to keep his boxing skills intense and his ex-trainer, Mickey, believes he can be at the top if he is willing to work for it. After a lot of training and hard work, he is finally able to fight at such a high level.
4. ' The Pursuit Of Happyness Click to look into! >> Read More... '
...
Chris Gardner has proved that he is an acute man. His financial condition is not fine. He has formulated all his assets on a mobile bone density analyser, which he promotes to a specialist. In spite of being a better product than x-rays analyser, they are also very expensive, thus they are an unnecessary luxury for some physician. He has to sell more scanners; he wants a steady job of a stockbroker, and to get a proper job he has to cover six months training without any pay.
5. 'Braveheart'
...
William Wallace leads his people in a revolution against the dictatorship of the English King, who has given English majesty 'Prima Donna' - a rule to take all new wives for the night on their wedding day. Wallace makes a legend of himself, and with great struggle and hard work attacks the English.
...
6. ' Remember The Titans Click to look into! >> Read More... '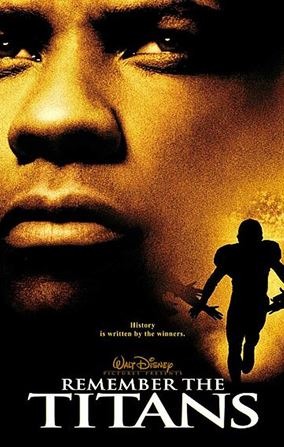 ...
An African American coach substitutes the European American coach, and now players of different nationalities are constrained together on the same football team. But as the progress goes on, the team becomes perfect, everyone trusts one another, and a strong team with players of different races is formed.
7. ' The Shawshank Redemption Click to look into! >> Read More... '
The story of a banker Andrew Dufresne who discovers himself to be an inmate at the Shawshank prison for an offence he says he didn't execute (the murder of his wife). His strong determination leads us into a place full of imagination, one filled with fearlessness and hope.
8. ' Life Is Beautiful Click to look into! >> Read More... '
The breezy and playful Guido comes to a town. He works as a waiter. Guido falls in love with Dora on the first sight, a school teacher, whom he calls "princess". She dumps her fiance to choose Guido. Dora and Guido have a child, Giosue. But during World War 2, Germans take away Guido Giosue to a labour camp. Guido's primary goal is to keep Giosue safe at any cost, thus he makes a plan to bring his family out of the barracks and retain the Germans aside from learning what he is doing with Giosue.
9. ' Forrest Gump Click to look into! >> Read More... '
Forrest Gump is a common person, with good intentions. He has only one friend in his childhood, Jenny. He has average IQ. Forrest Gump, a man who won challenges and who proved that determination and courage, are dominating factors than ability. Forrest joins the army for work in Vietnam; he wins medals, motivates people to jog, contributes to people and approaches the president several times. However, this is insubstantial to Forrest who can only remember of his teenage love Jenny, who has strived her life.
10. ' Life Of Pi Click to look into! >> Read More... '
This is the narrative of a kid and a tiger on a boat. After surviving a ship destruct on his path from India to Canada with his family, and animals, the boy discovers to hold on to life. In the process he also comes to care deeply for the tiger. The story teaches us a great thing to learn which is love and friendship.