The most renowned and well-known literature in our nation is Marathi Sahitya or Marathi literature. Our Marathi writers, whose works span several decades, are to be credited for Maharashtra's culture and traditions being so wonderfully captured and eventually adored by the entire nation. The socio-political climate in our state has changed thanks to these authors, poets, and writers. Our writings inspired the masses to unite, especially during the period just before independence. They have created a significant legacy by defining and reinventing the storytelling genre. And even though the subject is too broad to focus on only ten authors, these individuals should nonetheless be recognized and honored.
1. Shivaji Sawant
As the author of the well-known Marathi novel Mrutyunjay, Shivaji Sawant is referred to as Mrutyunjaykaar (literally, the author of Mrutyunjay). In 1994, he became the first author in Marathi to get the Moortidevi Award. Karna, one of the main figures in the epic Mahabharat, served as the inspiration for the book Mrutyunjay that he wrote. Several honors and awards were received for this novel, which was also translated into Hindi (1974), English (1989), Kannada (1990), Gujarati (1991), and Malayalam (1995).
...
2. Kusumagraj
The Marathi poet, playwright, novelist, and short-story writer Vishnu Vāman Shirwādkar, better known by his pen name Kusumagraj, wrote about freedom, justice, and the emancipation of the oppressed. He published sixteen editions of poems, three novels, eight volumes of short stories, seven volumes of essays, 18 plays, and six one-act dramas throughout a career that lasted five decades and began in India's pre-independence era.
3. Vasant Purushottam Kale
Marathi author Vasant Purushottam Kale, also known as Va-Pu, produced more than sixty books. " Partner Click to look into! >> Read More... ," "Vapurza," "Hi Waat Ekatichi," and "Thikri" are a few of his famous compositions. He was a renowned storyteller with more than 1600 theater productions. His several story collections, such as "Sakhi," "Taptapadi," and "One for the Road," have earned recognition from readers for being realistic.
...
4. Anand Yadav
A Marathi author from Maharashtra, India, named Anand Ratan Yadav, wrote his book "Zombi" in 1990 and got a Sahitya Akademi Award. One of the first authors of the Marathi Gramin Sahitya was Yadav. His book served as the inspiration for the lesson in the Maharashtra State Board of Secondary and Higher Secondary Education's Marathi textbook titled Gaavachi Sanskruti he Gaavache Vyaktimatva.
...
The first Marathi author to get the acclaimed Jnanpith Award was Vishnu Sakharam Khandekar, a writer from Maharashtra, India. Khandekar's writing career formally started in 1919 with the release of his first book, Shrimat Kalipuranam. It flourished until 1974, the year when his book Yayati was published.
...
Ranjit Desai is a well-known Marathi novelist who was born in Kolhapur in Maharashtra's Kowad Taluka in 1928. Swami and Shriman Yogi, two of his historical writings, are highly known. In 1964, he received the Sahitya Akademi Award, and in 1973, he received the Padma Shri Award.
...
7. Nagnath S. Inamdar
The Indian Marathi novelist Nagnath S. Inamdar had an almost five-decade-long literary career. He came from a lowly background to become one of India's top writers. He was a significant figure in Marathi literature. The Indian historical epic film Bajirao Mastani, which was directed by Sanjay Leela Bhansali in 2015, was based on Inamdar's novel Rau. Inamdar has published sixteen historical novels.
...
8. Vinda Karandikar
Govind Vinayak Karandikar, best known by his pen name Vind, was an Indian poet, author, literary critic, and Marathi-language translator. The greatest literary honor in India, the 39th Jnanpith Award, was given to Karandikar in 2006. For his writing, Karandikar also won the Keshavasut Prize, the Soviet Land Nehru Literary Award, the Kabir Samman, and the Sahitya Akademi Fellowship in 1996.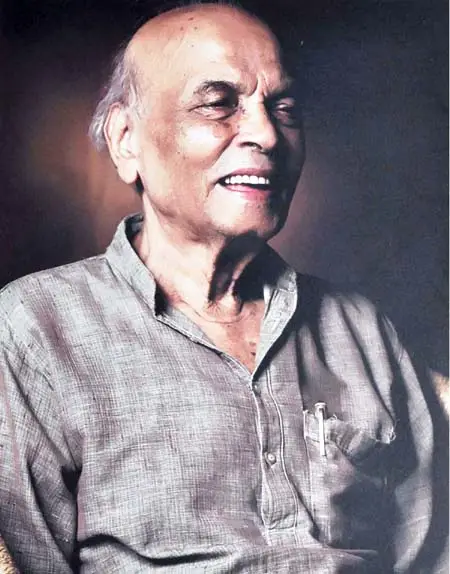 ...
Keshav Prahlad Atre, often referred to as Acharya Atre, was a well-known Marathi author, poet, and educator. Editor-in-chief of four Marathi publications, Atre founded them all. Two of them had brief lives, but Maratha and (weekly) Navayug continued for many years and had a sizable readership. He got the 1954 National Film Award for Best Feature Film for his Marathi film Shyamchi Aai.
10. Durga Bhagwat
Durga Narayan Bhagwat, an Indian scholar, communist, and author, was also known by his pen name, Durga Bhagwat. She spent time in the Madhya Pradesh jungles researching tribal life in addition to studying Sanskrit and Buddhist literature. She was one of the well-known authors who criticized "The Emergency" (India). She also refrained from collecting awards from organizations and individuals like the Jnanapeeth and the Padma Shree.