To win over the public or dominate the market, an actor must take on a variety of roles. Depending on the demands of the script, he occasionally assumes the role of a police officer, a villain, or even a serial killer. There have been several occasions in the Bollywood industry where an actor has accepted the task of playing a female role in a film. Some of them excelled in the part with a lovely voice and delicate body language, but others were unable to conceal their masculinity.
Nettv4u presents to you a list of 10 men who excelled in the role of a woman on the big screen:
In the 2020 film "Ludo," Rajkummar Rao plays a once low-level gangster who now owns a modest eatery. He had a crush on Pinky (Fatima Sana Sheikh) since he was a young boy. Rajkummar still has feelings for Fatima, although she recently had a baby with a respectable man. In a sequence from the film called Ram Leela, which was originally written without any fighting, Rao may be seen dressed as a woman.
...
Shreyas is one of those actors who is perfect in any scenario involving a female avatar. He is intellectual and professional due to the devotion and enthusiasm with which he has performed his roles. He demonstrated his mastery of the feminine look in performances in films like " Paying Guest Paying guest serial belongs to the old 90s show. I >> Read More... " and "Golmaal 2," respectively.
...
3. Ayushmann Khurana
Ayushmann Khurana has been able to successfully carve out a special place for himself in the industry. He played various roles throughout his career, from college student to police officer, but the most recognizable was when he pretended to be a girl to keep his job in the 2019 film, Dream Girl Dream Girl is a drama based Indian show that runs >> Read More... .
...
4.
Amitabh Bachchan typically played the part of an irate man in films. But Big B eventually donned a woman's outfit for the popular song "Mere Angane Mein, Tumhara Kya Kaam Hai" from the movie "Lawaaris," though. Amitabh's performance and attractive feminine appearance contributed to the song sequence's success.
The song "Dole Dole Dil" from the film " Baazi Story soon >> Read More... " had Aamir Khan dressed as a woman. Amir has also appeared in numerous television commercials for brands like Godrej, Coco-Cola, and Tata Sky while posing as a woman. The fact that handsome male characters, like Amir, dress up as women and make us all giggle a lot is well acknowledged. It gives the film an additional layer of enjoyable content.
...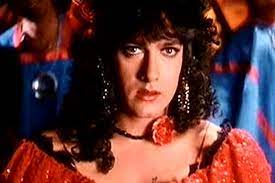 ...
Kamal Hassan is highly known for his excellent work as a woman in the film "Chachi 420." It was the first time Kamal Hassan's appearance had been so convincingly faked that others were unable to recognize him. Additionally, he gave a fantastic performance in the film that had the audience howling with amusement.
...
7. Govinda
Govinda was unquestionably a superstar in his era. He excels in every character he takes on, and the majority of his films are box office smashes. Govinda has demonstrated his ability to perform flawlessly in any character, including a female one. Fans will never forget him from "Aunty No. 1." The comic king cheerfully switched into a hilarious queen.
...
The concept that Salman Khan, who is always attractive, played a feminine role in the film "Jaan-e-Mann" is difficult to accept. He wore a pink dress with a halter neck and a blonde wig for his look. But despite all this, he was still unable to cover up his masculine body type.
9.
The most marketable and adaptable performer in Bollywood is Akshay Kumar. In the famous film Khiladi, Akshay Kumar dazzled us in a stunning black dress adorned with accessories. This is true even when the actor plays the character of a woman and does it with incredible ease. For his new film, Laxmi Bomb, the actor will once more appear as a woman.
10. Ram Kapoor , Ritesh Deshmukh,
A humorous touch is added when the three heroes of the film Humshakals are presented by female Avatars. While Ritesh Deshmukh has previously played a female role, Saif and television personality Ram Kapoor are sporting the female look on the silver screen for the first time.