1. Disha Patani Disha is an India based model turned actress. She >> Read More... in Black Bikini
Disha Patani increased the temperature with her hotness when she was seen in a black bikini for the magazine "Cosmopolitan" Cover Page shoot. She wore a black sexy bikini and a masaba jacket on it which was just on her right hand. A long golden neckpiece added beauty to her look. Her clean and sleek hairstyle with that killer smile stole the heart of boys dreaming of her.
2. Disha in Black Dress
Disha was in a sensational black dress which made news not only of her sexy avatar but also because at the Filmfare event, the guy sitting beside her was spotted rolling her eyes through her dress into her cleavage. Disha is such a sexy fantasy for every boy.
3. Disha Patani in Green Satin Gown
Disha once again stole heart with her charm and bold look. She mesmerized everyone with her fashion sense when she arrived at the launch of her app. She wore a green satin gown with a curly hairstyle which made her style perfect.
4. Disha Goes Topless
Disha grabbed everyone's attention and became every man's fantasy when she went topless for the famous Bollywood photographer Dabbu Ratnani's Fashion Calender Shoot. She wore black boots and black panty with open hair.
5. Disha in White Lined Shirt and Grey Skirt At Reliance event
Disha was spotted in a grey skirt and v-neck white lined shirt in Delhi. She had a messy hairdo with a simple clean makeup. Her makeup and hair was done by MarcPedroza and styling by Aastha Sharma One of the topmost and leading stylists of India, >> Read More... .
6. Disha in Golden Avatar
At IPL 2017 opening Disha showcased her dancing skills. She was seen in a beautiful glittery golden dress and curled up hair. Songs "Laila Mai Laila," "Kar Gayi Chull," " Befikre Click to look into! >> Read More... " were chosen for Disha's performance.
7. Disha Patani in White Jump Suit
Purity and calmness was seen on Disha's face when she wore White Jumpsuit for Komal Nahta's interview. She carried straight hairs and pink shade of lipstick. Disha has done a movie M.S. Dhoni: The Untold Story, where she played the role of lover of M.S. Dhoni who dies in a road accident.
8. Disha in Maroon Strapless Gown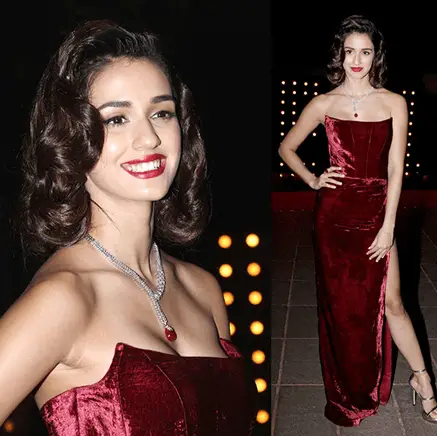 At Hello Hall of Fame Awards, the Vintage look of Patani grabbed the attention of every person present at the event. She wore a maroon strapless gown by Swapnil Shinde and jewellery by Jet gets, shoes by Tresmode and her makeup was done by Flavia Giuliodori. She showed how confident and beautiful she could be at every stage of life.
9. Disha in Light Lavender and White Pants
Beauty is when you see Disha Patani in offshoulder and White Pants. She was promoting KungFu Yoga in India which was initiated by Jackie Chain. Her styling was done by Leepakshi Ellawadi and her makeup and hair by MarcePedrozo.
10. Disha in T-shirt and Jeans for Justin Bieber India Tour Promotions Event
Disha rocked her simple yet stylish look in a grey t-shirt and blue jeans. She was involved in promoting "Only" brand's clothing specially designed for Indian fans of the Bieber due to Justin's tour in India.