Bollywood is where Hindi films were first created. The world's oldest film industry, with a net worth of $2.83 billion, is complete with lovely people. We can all agree that age is only a number for these stunning hunks as they don't fit into any age category. These dashing Bollywood actors will no doubt satiate your carnal wants if you wish to gaze over some seductive faces and immerse yourself in your fantasy world. Not only do these actors have the most attractive looks in the Hindi cinema business, but they also put on fantastic performances. As a result, many of these heartthrobs possess the rare qualities of both brains and beauty. Without further ado, lets us show you the top 10 handsome hunks of Bollywood -
Indian actor Hrithik Roshan is well-known for his roles in Bollywood movies. He is one of India's highest-paid performers with six Filmfare awards, including four for Best Actor and won for Best Debut and Best Actor. Beginning in 2012, he started to feature in Forbes India's Celebrity 100 based on his income and popularity. His image as a bonus was assessed by Duff & Phelps in 2016 to be worth $34.1 million, placing him eighth among Indian celebrities.
...
Since John Abraham won the title of "Sexiest Asian Man" in 2008, we can all agree that he is one of the most attractive Indian actors. He doesn't show any symptoms of ageing, and because of his stunning physical features, his workout routine is growing hotter. He stands out as a Youth Icon due to his passion for superbikes. Since his modelling days, his followers have been mesmerised by his dapper and macho appearance. As a result, he is remembered as one of the most alluring Bollywood actors of his age.
The Hindi-speaking actor Jai Hemant's " Tiger Click to look into! >> Read More... " Shroff is most recognised for his roles in action movies. He completed his acting debut in the 2014 action movie Heropanti. He is the son of producer Ayesha Dutt Ayesha Dutt is a well-known Indian actress, former >> Read More... and on-screen actor, Jackie Shroff Intro: Jackie Shroff is a well known Bollywood act >> Read More... . Later, Shroff appeared in the financially lucrative action movies Baaghi (2016), Baaghi 2 (2018), and War (2019). In 2018 and 2019, Forbes India put him on its Celebrity 100 list. In 2017, Shroff was appointed Bengaluru Tigers co-owner and brand ambassador by 8K Miles Media Group.
...
4. Vidyut-Jamwal
One of the attractive Indian actors who excel in action scenes is . He began orienting in martial arts when he was three, including gymnastics, Kalaripayattu, and Ju-Jitsu. In addition, Vidyut is a gym enthusiast with a lean body. The covers of several fashion magazines in India and worldwide have featured this poster boy. He is considered the generation's fittest Bollywood actor. We swoon over his wavy hair and eyes, which have a peculiar charm.
...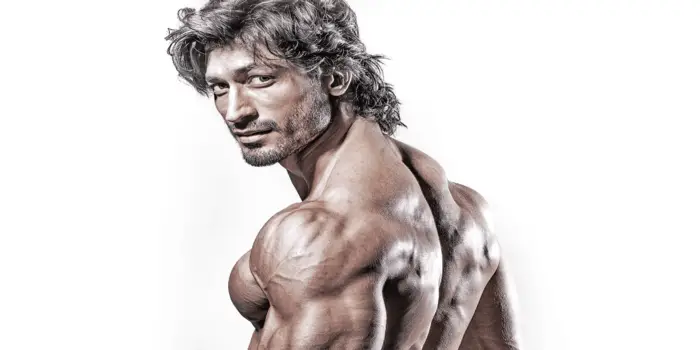 5. Akshay-Kumar
Looking at old photos of him, you can understand why is regarded as one of the most seductive Bollywood actors of all time. But he's still as gorgeous as he was twenty years ago, demonstrating that this martial arts champion doesn't care about his age. Additionally, Akki is a black belt in Taekwondo, perhaps the key to his Bollywood male star's physical condition. Akshay Kumar has remained at the top of the list despite B-town having seen numerous hot guys over the years because of his alluring sex appeal and muscular physique.
...
Indian actor Shahid Kapoor is well-known for his roles in Hindi movies. one of the media's picks for the most attractive Indian celebs. He made his debut in a major motion picture with the romantic comedy Ishq Vishk, a surprise hit for which he won the Filmfare Award for Best Male Debut. Kapoor received a Filmfare Award nomination for Best Actor. The historical epic Padmaavat (2018) and the heartfelt dramatisation of Kabir Singh were Kapoor's highest-grossing films (2019).
...
Shah Rukh Khan, often known as SRK, is an Indian actor, filmmaker, and television personality. He frequently moderates TV shows and performs on stage. He is commonly recognised as one of the Indian culture's most influential figures in 2008. Time magazine listed him as one of the top fifty figures in the world.
...
8. Siddharth Malhotra
Siddharth Malhotra was ranked ninth on TC Candler's 2016 Annual Independent Critics List of the Sexiest Men in the World. A true inspiration for many aspiring Bollywood heroes, Sid is a tall, beautiful man with a seductive demeanour. In the current Hindi film industry, he stands out due to his pale skin, black hair, and brown eyes. He quickly made the list of the most attractive Bollywood actors, so we are not surprised by this.
...
Indian actor Varun Dhawan had a successful career. He has been among India's most lavishly compensated superstars on Forbes India's Celebrity 100 list since 2014. He made his acting debut in the adolescent drama Student of the Year by director Johar (2012). After playing in the lighthearted comedies Main Tera Hero Click to look into! >> Read More... (2014), Humpty Sharma Ki Dulhania (2014), and Badrinath Ki Dulhania Click to look into! >> Read More... , he rose to stardom (2014). (2017).
Ranveer Singh holds to be on the list of the most attractive Bollywood actors because he is friendly, has a beautiful body, is intelligent, and consistently gives us enormous fashion aspirations. Apart from being one of the most well-known performers in Bollywood, he has been spotted wearing daring clothes, surprising both his fans and critics. Ranveer has a silly smile that emphasises his flirty demeanour even more. His most recent Vogue image with Victoria's Secret model Sara Sampaio gave us sexual goosebumps. His lighthearted nature has also earned him a particular place in the hearts of his followers.