Bollywood is something that has inspired us for many decades now. Whatever we learn, a major part of that comes from the movies we watch, the characters we fall in love with or the characters we look up to. Below, I have made a list of top ten life lessons that I have personally learned from Bollywood. I have incorporated most of them in my lives and I hope you too do the same!
1)Queen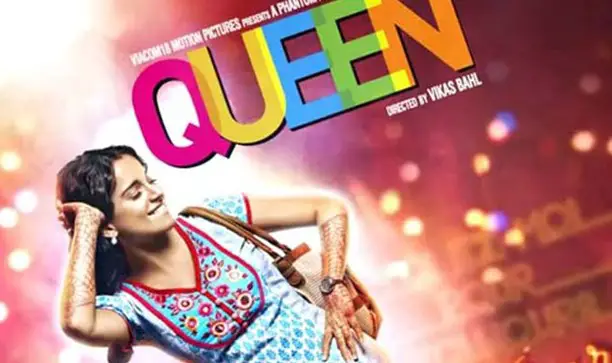 Queen has proved to be remarkable film for KanganaRanaut as she has established a new place for herself in the industry by playing the character of Rani Mehra successfully. Her character was that of a bubbly girl who had a broken marriage and still manages to go on a honeymoon all by herself! Love yourself the most and start enjoying your own company and no one will ever be to steal your smile!
2) Ishaqzaade
Though, Ishaqzaade was only her debut movie, Parineeti managed to win hearts with the sweet character of Zoya Qureshi that she portrayed. She played a politician- daughter and fought for her love with Arjun Kapoor. Stand up for yourself because no one else is ever going to fight for your happiness, only you have to.
3) 3 Idiots
Mr. Perfectionist makes it a point to make all his movies outstanding and to takes it to such a level that no other actor can portray the roles better than him. The movie taught us that despite all the problems and consequences one should always work for whatever he or she likes, only then can you be completely satisfied. And also this movie also taught us another cruciallesson that 'Suicide is not the solution to any problem in our life.'
4)Hum Saath Saath Hai
Being Indians, the family values and the traditions we grow up in, make the very base of what kind of person we become. Hum SaathSaath Hai has depicted all the aspects and problems that a joint family could have and also how family members sacrifice their own happiness to make the others happy and try to keep the family united.
Friendship! This is one of the most beautiful aspects shown in the movie. The flick also goes on to mention that the friends you make in college and the uncountable memories you make with them will never be lost!
6) Yeh Jawani Hai Deewani
Wow! What a great movie! Isn't it? The one thing that I learned from this film is that one should follow your dreams. Ranbir Kapoor has excellently essayed the role of 'Bunny,' who was crazy about his aspirations and was ready to do anything that it takes. This is something all of us should do!
7) Zindagi Na Milegi Dobara
Aah! What do I say about this movie? There is just one thing that I can say about it. If you live your entire life in the same way as said by the movie, you will die really happy. It just focuses on one simple truth of life, that is it is just this one life. Would you still waste it?
8)Sholay
Sholay is considered as one of the biggest milestones of the Bollywood Industry. Just not because it starred a lot of superstars like Hema Malini, Amitabh Bachchan, and others but because it has taught us ancrucial lesson. That one lesson is that 'if you have a pure and sincere heart filled with good intentions for one and all, you are definitely going to win!'
9) Bodyguard
This movie has beautifully crafted the love story between a Bodyguard and his mistress. Though, the story is beautifully depicted, one lesson that I have learned is to always be good. People can ditch you at times, and by people I mean anyone. Even your best friend. But one thing you should keep in mind that, never let these negative people make you bitter in anyway. Be yourself, be kind and the person who wronged you will realize it sooner or later.
10) Dangal
A simple story of a father and his daughters with a not-so-simple life. This movie has broken the stereotype that women are just made to cook food, get married, give birth to kids and then keep raising them for the rest of her life. Aamir has perfectly essayed the role of a father who would protect his daughters and would fight the world for them!