Get over the big fat Indian weddings, eloping is the new trend now. Our celebrities no longer believe in showing off their money or calling end number of stars to their weddings. They want peace and quiet. Although we are not complaining, we could use some gossip and pictures. In all, we are happy that they found each other from their busy schedules and are going strong. So, we bring you our top 10 secret weddings-
1. Rani Mukherji and Aditya Chopra Aditya Chopra is an Indian film director, scriptwr >> Read More...
...
Now officially, Mrs Rani Chopra, they both kept their relationship a secret. The news of their wedding broke out after the ceremony was over in Italy. Since then they haven't been seen together and have kept away from the shutterbugs. Rani's pregnancy too was hidden for a long time.
2. Preity Zinta Preity, also known as Preity Zinta is a famous Act >> Read More... and Gene Goodenough
...
Preity married Gene in a private Hindu ceremony in Los Angeles. We knew Preity was dating someone but didn't know it was serious; even their closest friends thought the relationship didn't have a future. They reportedly dated for five years before tying the knot. A year has passed still, we don't know much about Gene.
3. Amrita Rao Amrita Rao was born on June 7, 1981 in Mumbai, Mah >> Read More... with Anmol
...
The petite Vivah actress, Amrita tied the knot with Anmol, a radio jockey. After several years of dating, the got married privately and broke the news through Anmol's Facebook account. They met each other at an interview and since have been in awe of each other. Amrita currently stars in a TV show, 'Meri Awaaz He Pehchaan Hai.'
4. Urmila Matondkar Urmila Matondkar is an Indian actress born on 4th >> Read More... and Mohsin Akhtar
Mohsin who is ten years younger to Urmila is a model turned businessman based in Kashmir. They met at designer Manish Malhotra's niece's wedding and couldn't keep their eyes off each other. The Rangeela actress reportedly had to be convinced several times before saying yes to Mohsin. They both have been known to keep away from the public eye, and to stay true to their image; their marriage was a small affair with only a few friends and family.
5. John Abraham Like some of our sexy stars, John Abraham has had >> Read More... and Priya Abraham
It wasn't long after John-Bipasha split that rumours of John dating investment banker Priya Runchal started doing the rounds. They both got married in a private ceremony. Although not many pictures are available online, we are sure it was a beautiful wedding. Rumours of their separation have also started surfacing, but John went on record to deny these.
6. Aftab Shivdasani Aftab Shivdasani is an actor and producer of Indi >> Read More... and Nin Dusanj
Aftab kept his marriage under the wraps for quite some time. When asked why he said that it's due to a series of failed relationships. His friends said that Nin has restored his belief in the institution of marriage. Nin is the younger sister of Kabir Bedi's wife, and it was Kabir who first broke the news of their wedding.
7. Jennifer Aniston She became a household name in 1994 as she appeare >> Read More... and Justin Theroux Born in Washington, D.C., Justin is an American ac >> Read More...
After Jennifer's high profile relationship with leading to separation, she started keeping her relationships away from the media. Although they revealed that they were dating, they did a good job in keeping their wedding a secret. Jimmy Kimmel James Christian Kimmel is a comedian, American tel >> Read More... ordained the ceremony in Malibu, and then the couple took off for their honeymoon. It was a small affair with close friends and family.
8. Vrajesh Hirjee Known for his comic timing and comic roles, Vrajes >> Read More... and Rohini Banerjee Rohini Banerjee is an Indian actress and model bor >> Read More...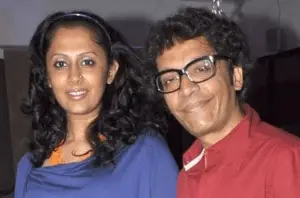 The Golmaal fame actor married his long- time girlfriend and kept it a secret affair. Rohini is a TV actress, and they got married in a traditional Maharashtrian way. Vrajesh sister couldn't contain her happiness and broke the news. He is known for his comic timing and amazing acting skills.
9. Bobby Simha The transformation of Bobby Jayasimha of remote K >> Read More... and Reshmi Menon Reshmi Menon is a promising Indian actress hailing >> Read More...
Bobby best known for his work in the Tamil movie, Jigarthanda got married to actress Rashmi Menon in a private affair at Tirupati. Earlier he denied all rumours of dating the actress and said they were just good friends. Their wedding came as a surprise to media. Guess they are good at hiding their love.
10. Mila Kunis Mila Kunis was born in Chernivtsi, Ukraine in a re >> Read More... and Ashton Kutcher Ashton Kutcher is a prominent American model turne >> Read More...
Their wedding came as a surprise even to the celebrities. Although both of them keep in touch after 'that 70s show,' but they didn't have any feelings for each other. It was at Kutcher's party that both of them just couldn't resist the physical tension and since then started dating. One thing they didn't keep secret was Mila's pregnancy and their daughter's love for dancing.