The favorite season of every Indian is not the winter season, it is the wedding season. We are never more excited about any other season than this. Obviously, we have so much to do in this season. How can it be not our favourite? We wait for dressing up, posing for snaps, eating, boozing, and dancing. We wait for all these every year. Dressing up well and dancing are very common in every wedding. Since we are talking about dancing and dressing up, we bring in here top Bollywood wedding songs which are most likely to be included in the playlist for every shaadi.
1. Punjabi Wedding Song
This is a full masala song with peppy music and romantic lyrics, for the entire family to dance together. Parineeti Chopra The bubbly actress, born on 22nd October 1988, lan >> Read More... wears a simple yellow lehenga in the song, which is perfect attire for a Sangeet function as wearing something lighter is fun. And Sidharth malhotra is also dressed in full desi style with a simple long Kurta in maroon and a perfectly fitted pajama.
2. Gal Mitthi Mitthi Bol
Its lyrics and music are so Indian and lively, it would make any bride just step up and enjoy her dance to the fullest. All the bridesmaids and the buddies of the groom must gang up in pairs, keeping the bride and groom in the center and have a solid performance in this song. Sonam Kapoor Sonam Kapoor, Daughter of Anil Kapoor and model Su >> Read More... , Lisa. and other girls in this song wear sleek white bordered sarees in coordination. And all men are in maroon kurtas, white pajamas with identical pagdis making it more beautiful. This whole concept is a good idea for your besties sangeet. Get coordinated for a performance and give the newly married couple a surprise that they will never forget.
...
3. Nachde Ne Saare
...
The best thing about this song is featuring , for sure. She looked extremely pretty in that floral crop top and maxi skirt. This is a very pretty, trending, and easily available outfit in the online stores. Sidharth, here again is in all his Punjabi munda avatar in a kurta, pajama, and a bandi in blue and white to look even hotter.
4. Iski Uski
...
2 States is a movie about love between two people from different states and culture. The song 'Iski Uski Kaun Kiski' is a Punjabi shaadi song and a must have song in every Punjabi's playlist because of its lyrics. This is a total dhamaal song for which you don't even need any kind of choreography; all you need is your group. The South Indian girls can steal the look of Alia Bhatt Alia Bhatt is a trendsetting actress from Mumbai, >> Read More... , where she is wearing a perfect and not so heavy South Indian saree, pleated very well. And Arjun Kapoor looks amazing in a shimmery striped kurta and pyjama, which suits him way too much.
...
5. Gallan Goodiyan
Are you still dancing and grooving to this song from ' Dil Dhadkne Do' all alone? Stop waiting and play this song in a wedding and enjoy watching your every family member on the dance floor. Priyanka Chopra's costume is very simple and classy; all you need to dress up like her is a nice maxi dress which is comfortable and decent. And for Ranveer Singh's look, just be all casual in your denim, basic tee, and a casual blazer.
...
6. Radha
...
Okay, now we have to agree that this song is every girl's favorite and every girl wants to dance to this song in her own sangeet function or anyone's. Everyone knows the steps by heart. Alia's outfit is a sexy lehenga in shimmery grey and pink with layers and bottom, a sexy blouse, and a beautiful dupatta. Sid is in his same kurta and pajama style and looks super sexy. Varun Dhawan is all stylish in kurta and a patiala in beige and golden mix. You simply can't ignore the song when you are preparing the wedding playlist.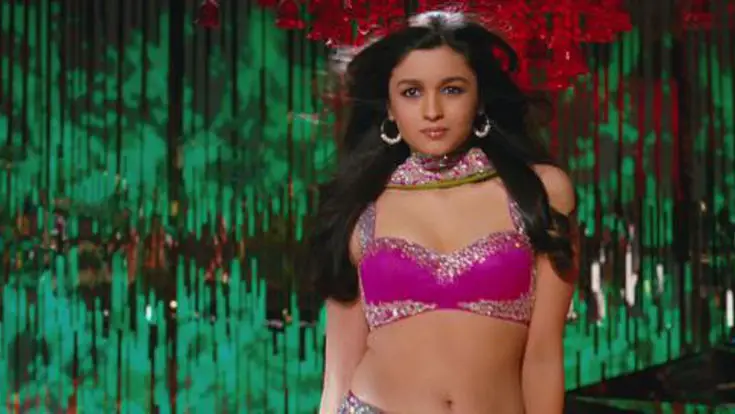 7. Kala Chashma
Whether played in parties or at shaadis, it has the most number of people shaking their legs on the dance floor. It is an apt song to make the bride and groom start dancing along with the family members, wearing their Kala Chashmas. Katrina looks so sexy in a golden blouse and red dhoti kind of lehenga and Sid again in full Desi boy look wearing an ethnic jacket and patiala. Sid is the rockstar when it comes to ethnics. But, the Kala chashma is the main attraction of the song apart from the hook step.
8. Ainvayi Ainvayi
We need such songs in the wedding. In fact the lyrics of this song is centered on love and fun. Make groups from the girls side and boys side and have a crazy but fun competition during this song. Anushka Sharma's suit is so pretty, even dulhan's can wear it on their sangeet function. Tri coloured small Kurti and patiala with a fancy and heavy dupatta. And Ranveer looks good with his denim, tee, and casual blazer again.
9. Tenu Le Ke
This is a perfect wedding song and must be included in the wedding playlists and every groom on the planet should as romantic as Salman Khan Salman Khan is a very famous Indian actor and a pr >> Read More... and sing and dance in this song for his bride. Nothing would be more special for her. It will be a memorable moment if the bride wears a red suit like Priyanka.
10. Khulke Dhulke
In this song, Vaani Kapoor Vaani is a model and an actress who was born in 23 >> Read More... is wearing a shimmery crop top and a maxi skirt paired with a sneaker. This is something you must try if you are a gutsy and a badass bride. Moreover, it would be so comfortable to dance in sneakers. And Ranveer is wearing something very different here, a golden ethnic jacket. and a patiala with sneakers too.