Bollywood is popular for novel and picturesque locations in its films. Be it beaches or deserts or mountains, Indian films depict nature in a beautiful way that weaves the story of the film together. Snowy peaks and pretty hill stations look great on the screen with beautiful actors the foreground. This list features ten Bollywood films that have depicted beautiful hill stations and grand mountain landscapes in all their glory.
1. Highway

 
Imitiaz Ali's road-trip film, Highway, had actors Randeep Hooda and Alia Bhatt. It was the story of a rich girl, Veera, who gets kidnapped by Mahabir and his gang and gets taken from place to place to escape being traced. During the journey, Veera finds a new perspective towards life and herself. The film showed a few mountainous regions and picturesque hill stations. Towards the end of the film, the characters stay in a house on a hilltop. Later, Veera leaves her home and goes to live in the mountains permanently, enjoying her closeness with nature.
2. Bang Bang

 
Bang Bang was an action film starring Katrina Kaif and Hrithik Roshan. The film was shot in various locations including Prague, Thailand, Greece, Abu Dhabi, Delhi, etc. Katrina's character is shown living in the beautiful Indian hill station, Shimla. The town has been shot expertly, with songs and action sequences choreographed in the streets. Another hill station, Manali, has also been shown in Bang Bang. Hrithik's house has been depicted as a pretty cottage-like structure situated amidst mountains and pristine white snow. The film was indeed a visual delight.
3. Lucky: No Time For Love

 
The film, Lucky: No Time For Love, was a romantic and action film featuring Salman Khan and Sneha Ullal. The film was shot in Russia. It depicted the story of Lucky and Aditya, who meet in Russia during a terrorist attack and have to stay together to survive and reach home. The film features many locations in Russia, showing its great landscape and severely cold winters. The country, its roads, houses, and people have been portrayed quite realistically in the film. The Russian winter has been shown in all its glory, and Salman and Sneha have made the scenery look even greater.
4. Fanaa

 
Kunal Kohli's film, Fanaa, was a suspense thriller cum romantic drama that featured actors Kajol and Aamir Khan. Kajol plays a blind girl in the film who later gains her eyesight. There, she meets Rehan, a tourist guide, and they grow to love each other. Kajol is shown as a Kashmiri woman in the film. She lives in Kashmir with her parents and later goes back there to live with her son and her father, played by Rishi Kapoor. Snow-laden peaks of Kashmir have been depicted grandly in the film, and quite a lot of the action takes place in the snow.
5. Haider

 
Haider is Vishal Bhardwaj's interpretation of William Shakespeare's Hamlet. Starring Tabu, Shraddha Kapoor, Shahid Kapoor, Kay Kay Menon, Irrfan Khan, etc, Haider was successful both critically and commercially. The film was set in Kashmir, in the 90s, during an atmosphere of political and military unrest. The Kashmiri landscape plays an important role in the action of the film. Certain iconic scenes like the one where Haider presents a show in front of his mother and uncle and the legendary grave-diggers scene are enhanced by the setting of the movie at such a beautiful and mysterious hill station.
6. Rockstar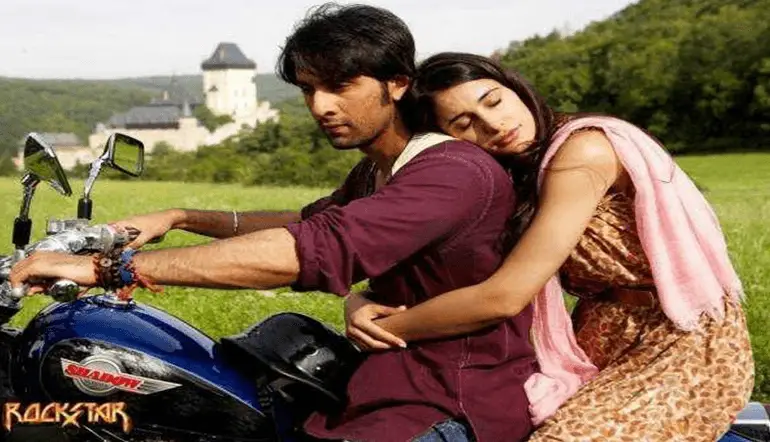 Imtiaz Ali's Rockstar depicts the journey of Jordan or Janardhan Jhakar as he transforms himself from a simple college boy to a popular rockstar. His personal life and his heartbreak push him along the path towards his fame and to the precipice of destruction. The film features one of the best acting performances of Ranbir Kapoor. It was also the debut film of Nargis Fakhri. Nargis's character, Heer, is a Kashmiri belle. Her home, marriage, and sickness are set in Kashmir, and the landscape is shown as Heer and Jordan go on rides together. Apart from Kashmir, the film has also been shot in Delhi and Prague.
7. Sanam Re
 

Divya Khosla Kumar's romantic film, Sanam Re, starred Yami Gautam, Pulkit Samrat, and Urvashi Rautela. Sanam Re was shot in several beautiful locations. They included Mumbai, Shimla, Ladakh, Chandigarh, Canada, etc. A major portion of the film was picturized in Shimla, and Divya even recreated a hilly street of Shimla in Mumbai to achieve the perfect look that was required for the film. Sanam Re was appreciated because of its beautiful songs, picturesque locales, and the chemistry between the lead couple. Many local spots of Shimla served as the backdrop for the film's scenes.
8. Jab We Met

 
Another Imtiaz Ali film, Jab We Met was a romantic comedy starring Kareena Kapoor Khan along with Shahid Kapoor. The film focused on Aditya and Geet, who meet during a train journey and are forced to travel together due to unavoidable circumstances. Geet is shown running away from her house to meet her boyfriend, Anshuman, in Manali. The city of Manali has been shown for a brief period in the film. After being rejected by Anshuman, Geet lives in the hill station to deal with her sorrow. Two of the film's songs, Aaoge Jab Tum and Yeh Ishq Haye, were shot in the mountains. Yeh Ishq Haye also features the popular location, Rohtang Pass, in Shimla.
9. Yeh Jawaani Hai Deewani

 
Ayan Mukherji's hit film, Yeh Jawaani Hai Deewani, featured Deepika Padukone, Kalki Koechlin, Ranbir Kapoor, and Aditya Roy Kapur. The film focuses of a friends' group and their lives. The first half of the film showed them going on a trekking trip to Manali. Several hill stations and interesting locations were shown in the film, including Naggar, Hamta, Banjaar, Gulaba, Hadimba Temple, Udaipur, etc. The cast and crew also traveled to Kashmir to shoot a song in the snow, namely in Kongdori, Gulmarg, Srinagar, and Pahalgam. Locations outside India were also shown as Bunny is seen working as a videographer in with the FOX Network.
10. Fitoor

 
Fitoor was Abhishek Kapoor's adaptation of the novel by Charles Dickens, Great Expectations. The story was based on the love between Noor and Firdaus who have grown up together but belong to very different social classes. Katrina Kaif and Aditya Roy Kapur play the lead characters, whereas Tabu appears in a pivotal role. The houses of Noor and Firdaus are situated in Kashmir. The film's initial scenes and the climax take place in the beautiful valley of Kashmir. Other locations include Delhi, London, and Poland.