1. Salman Khan Salman Khan is a very famous Indian actor and a pr >> Read More... :
The controversy king of Bollywood has been in headlines since he was accused of killing 2 endangered black bucks in 1998 along with a co-actor. He is also accused of death of a 28 year old man and injuring his friends in a hit and run case wherein he is said to have being under the influence of alcohol.
...
2. :
The Nawab Sahab of the film industry was the co-actor accused with Salman Khan in the blackbuck poaching case in a village near Jodhpur. The key witnesses and the running conspiracy theory states that it wasn't Salman, but Saif Ali Khan who killed the black buck. Also, a South African entrepreneur lodged a complaint against Saif for having broken his nose in a fight.
...
3. Shiney Ahuja Shiney Ahuja was born on May 15, 1975, to Suraj Pr >> Read More... :
...
The haze-eyed actor who sabotaged his Bollywood career by raping and molesting his own domestic work helper in the year 2009. The actor initially denied the blame but accepted his atrocious acts. He was released on bail but has not been allowed to live in Mumbai.
4. Shah Rukh Khan Shah Rukh Khan or also known as SRK is a prominent >> Read More... :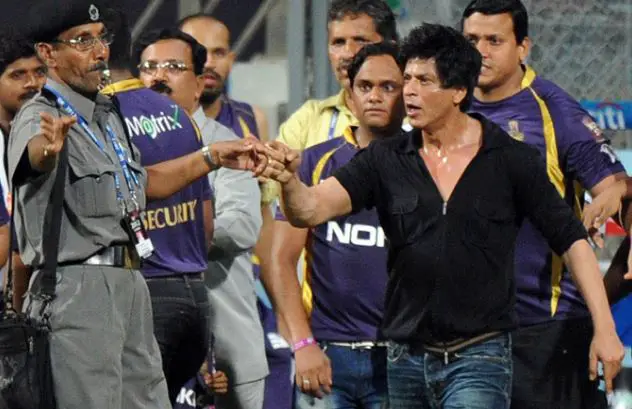 ...
The Badshah of b-town got into a word-war with the officials at Wankhede Stadium which got so filthy that the BCCI had decided to ban SRK from the stadium for 5 years. This ban has now been lifted in a BCCI meeting. He later on said in an interview that he was provoked to use abusive language but did not push anyone or abuse a female fan.
5. Madhur Bhandarkar Madhur Bhandarkar is an Indian film director, writ >> Read More... :
...
The ' Fashion Click to look into! >> Read More... ' director was charged for rape of the actress Preeti Jain Preeti Jain is a model who was born in a family wh >> Read More... . The struggling actress accused Bhandarkar of raping her 16 times and claims that she was also promised a film but later all the charges had to be dropped because of lack of evidence.
...
6. :
...
Shocking, but true! The superstar was accused of having a pistol at the airport without proper documentation. The officials stated that Big-B was carrying a gun whose digits were different from those in the license.
7. Monica Bedi A Punjabi girl born in small village of Hoshiarpur >> Read More... :
"" fame actress, Monica Bedi was arrested with lover, Abu Salem (Wanted for 1993 Mumbai Blasts) when they tried to enter into Portugal with forged documents. In 2006, this actress was held guilty for Criminal Planning and Document Forgery by the Special Court of CBI.
8. Fardeen Khan Fardeen Khan is a former film actor, known for doi >> Read More... :
Son of legendary actor Feroz Khan Feroz Khan is a legendary Indian film actor, edito >> Read More... , Fardeen Khan was caught purchasing drugs from a drug peddlar, Naseer Abdul Kareem Khan. They were caught with 9g of cocaine.
9. Sanjay Dutt July 29, 1959, was the day when the two legends of >> Read More... :
On account of holding illegal ammunition, which included a 9mm pistol and an AK-56, Sanjay Dutt was sentenced to 5 years of imprisonment under the Terrorist and Disruptive Activities Act. He was supposedly linked to Abu Salem, a member of Dawood Ibrahim group.
10. John Abraham Like some of our sexy stars, John Abraham has had >> Read More... :
The heartthrob of the industry and the b-town's fitness freak was accused of rash and negligent driving in 2006. He was arrested for a while due to a case filed against him but was later released on bail.