When it comes to relationships, Bollywood is an unusual place. We also refer to the on-screen personas they portray when we say this, not only the off-screen romantic equations. Bollywood films mainly center on romantic relationships. And because our Bollywood actors are so skilled and convincing in their roles, they can play any character. For actors to live up to the expectations of their fans, they must be extremely determined and passionate. It is expected that the actor duo who previously played lovers would also portray siblings in order to do both parts equal credit. Here are the Top 10 Bollywood actors who played siblings as well as lovers –
We all felt that Priyanka Chopra and Ranveer Singh, who also portrayed siblings in Dil Dhadakne Do Click to look into! >> Read More... , had hot chemistry in steamy scenes in Gunday and romantic scenes as husband and wife in Bajirao Mastani Click to look into! >> Read More... . Gunday was released in 2014, and Dil Dhadkne Do was released in 2015.
When they portrayed lovers in films like Mohabbatein, Devdas, and Ae Dil Hai Mushkil, Shah Rukh, and Aishwarya were among the most popular Bollywood couples. But don't forget that they also played fraternal twins in the popular movie Josh. Unexpectedly, 20 years later, we're still feeling the aftereffects of that shock! It's like seeing Shah Rukh and Kajol play brother and sister on screen, don't you think?
Arjun Rampal played her lover in Deepika Padukone Deepika Padukone is an Indian actress and model. S >> Read More... 's debut film Om Shanti Om Click to look into! >> Read More... in 2007; however, in the 2010 film Housefull, they appeared as brother and sister. Om Shanti Om was released in 2007, and Housefull was released in 2010. Both the actors played brother and sister and lovers within three years.
...
4. Juhi-Chawla-And-Akshay-Kumar
, the actor who made a name for himself in the business with the acclaimed Khiladi film series, was well-known for his on-screen chemistry with Juhi Chawla Juhi Chawla is a renowned Indian actress and produ >> Read More... , a fan favorite. But did you know that in the 2001 movie Ek Rishtaa, they also played siblings? We wish they would collaborate more often!
...
Kareena Kapoor Khan Kareena Kapoor is a super hit actress working in I >> Read More... and Tusshar Kapoor's on-screen romance in Mujhe Kucch Kehna Hai will always be our favorite memory of them. Still, in Golmaal Returns Click to look into! >> Read More... , they played siblings, which was quite amazing. We are still unsure of which was superior. The movie Mujhe Kucch Kehna Hai was released in 2001, and Golmal Returns was released in 2008.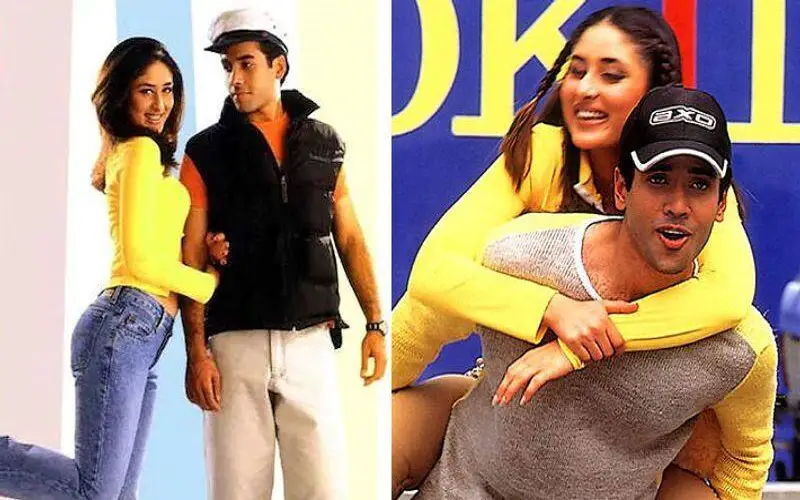 ...
In the romantic comedy Desi Boyz Click to look into! >> Read More... , Deepika Padukone, and John Abraham were shown passionate appearances on the big screen. The audiences adored their innovative pairing as well. Soon after, Deepika and John portrayed siblings in Race 2 by Abbas-Mustan. Desi Boyz was released in 2011, and Race 2 was released in 2013.
...
7. Hema-Malini-And-Amitabh-Bachchan
We were shocked to learn that Mr. , who frequently played Hema Malini's love interest in films like Veer Zaara, Desh Premee, and Baghban, played her brother in the 1973 film Gehri Chaal. Additionally, you can never forget Sholay from the lover's scene. But both the actors played their roles so beautifully that we never saw any difference.
...
In Jai Ho Click to look into! >> Read More... , where she played his lady love, Salman Khan first introduced Daisy Shah. However, in his most recent Eid release, Race 3, Daisy was portrayed as the sister of Salman Khan, who represents Sikander in the movie. Jai Ho was released in 2014, and Race 3 was released in 2018.
...
In Jhankaar Beats, which was released in 2003, Juhi Chawla and Sanjay Suri played the role of wife and husband. After two years, this duo was seen again on the big screen in the movie My Brother…Nikhil, but this time they were seen as brother and sister.
Salman Khan and Neelam Kothari were seen as a romantic duo in the movie Ek Ladka Ek Ladki, but the film could do much on the big screen. When this duo was seen again together on the big screen as brother and sister in the blockbuster movie Hum Saath Saath Hain, everyone loved them.