1. Arpita Khan Adorable and forever loving sister of Salman Khan >> Read More...
Salman Khan's sister Arpita's wedding was a grand affair. She was looking beautiful in a maroon and baby pink color lehenga on her mehendi ceremony. The photo below comes from her Mehendi ceremony. She is enjoying applying mehendi on her hands.
...
2. Soha Ali Khan Soha Ali Khan was born into a royal family. She is >> Read More...
Kunal Khemu Kunal Khemu is an Indian actor who was involved wi >> Read More... and Soha are happily married. They tied the knot after their long live-in relationship. She was excited on her mehndi ceremony. A pink salwar suit was looking beautiful on her. She shared many of her mehndi photos on social media. Arpita Khan and many more celebs attended Soha's Mehendi.
...
3. Hunar Hale
TV actress Hunar married actor . She was alluring in a green and yellow salwar suit. Her Mehndi ceremony was celebrated at a grand level. Lots of props were used to click photos on the ceremony day. Her mehndi pictures were amazing.
...
4. Kishwar Merchant Kishwar Merchant is a model turned actress from In >> Read More...
Miss Merchant looks like a very happy bride-to-be. She did something new on her mehendi day. An off-shoulder top and a dhoti style bottom is Kish chose to wear for her Mehendi. Flower jewelry added to her beauty. She made it stylish and cool by wearing matching shades.
...
5. Ahana Deol Ahana Deol is a part of the Deol family which is o >> Read More...
...
Hema Malini Hema Malini is perhaps the only dream girl of the >> Read More... and Dharmendra's daughter Ahana, wore a blue, green and pink color lehenga on her mehndi ceremony. Her look added an orchid tiara on her forehead. She was glowing. Her smile showed happiness in her heart. She enjoyed her day.
...
6. Kavita Kaushik Kavita Kaushik is an Indian Television popular act >> Read More...
Chandramukhi Chautala fame actress Kavita got married this year. She got married in a typical Marathi fashion. She shared her mehndi ceremony pictures. Also, in a picture, you can see mehndi on her hands. She was wearing a pink and golden color silk saree with a purple blouse.
...
7. Geeta Basra Geeta Basra is known for her multi-ethnic looks.Sh >> Read More...
Indian cricketer Harbhajan Singh Harbhajan Singh is a popular and most talented cri >> Read More... married actress Geeta Basra. She looked mesmerizing in a pink color lehenga embroidered with white color designs. Guests were mesmerized by her beauty. She killed it on her mehndi ceremony. She applied mehndi on her hands and legs. Social media was full of her wedding ceremonies photos.
8. Pooja Banerjee Pooja Banerjee is an Indian Television Actress. Po >> Read More...
Roadies winner Pooja also married this year. Her wedding was done in a Bengali fashion. She also had a mehndi ceremony. On her mehndi day, she wore a purple and pink color skirt and top set, and paired it with big earrings. Her hands were full of pretty mehndi designs.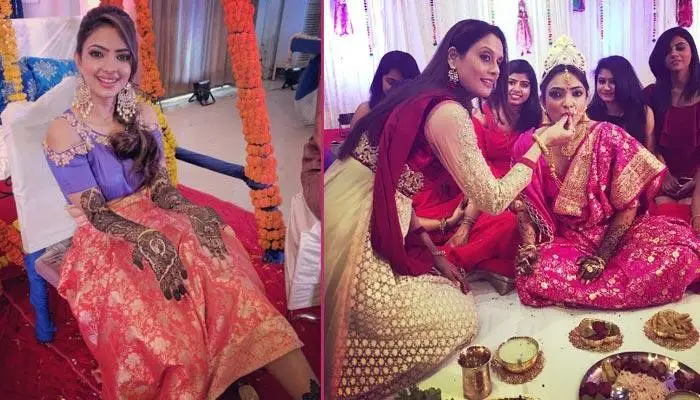 9. Bipasha Basu Bipasha Basu, born in January 7,1979 in Delhi, is >> Read More...
Bipasha's wedding ceremony photos flooded social media and media channels. Everyone was talking about her mehndi and sangeet pictures. She was wearing a baby pink color lehenga. Also a tiara on her forehead. Many Bollywood actors attended her mehndi ceremony. She posed with mehndi on hands.
10. Divyanka Tripathi Divyanka Tripathi was born in Bhopal India. She is >> Read More...
Vivek Dahiya Vivek Dahiya is a TV actor who has gained a great >> Read More... and Divyanka got married in July last year. She was looking beautiful in a baby pink color lehenga for her mehndi function. Her mehndi ceremony was done in her hometown Bhopal. All her wedding functions were performed in her hometown only. Her mehndi design was unique, mehndi artist designed Divayanka and Vivek faces on her hand.