Although many actors in Indian movies have played the role of police officers, there are some characters whose impact is very deep on our minds. In every film, we see the different methodologies used by other inspectors to solve the cases with their unique styles. In India, every movie in which a cop is starring gets the audience's love. The solid action, thrill, comedy, romance, brainy, knowledgeable intellectual performance of the actors enacting, Cops makes the movie an epic hit. Let's look at the amazing Top 10 Actors who performed as high-powered Cops in the films of India.
1. Ajay Devgn
When someone talks about police officers in the Indian movie industry, the first name that comes to mind is Ajay Devgn for his stunning act as "Bajirao Singham" in the film Singham. The dialogue from the movie Singham gets the most famous "Aata Majhi Satakli". In the film, Ajay Devgn is shown as the epitome of a trustworthy honest policeman who wins everyone's heart in Shivgarh Village, protects the people of Shivgarh from the atrocity and tyranny of Jaykant Shikre (criminal politician in Goa), and brings peace in the state.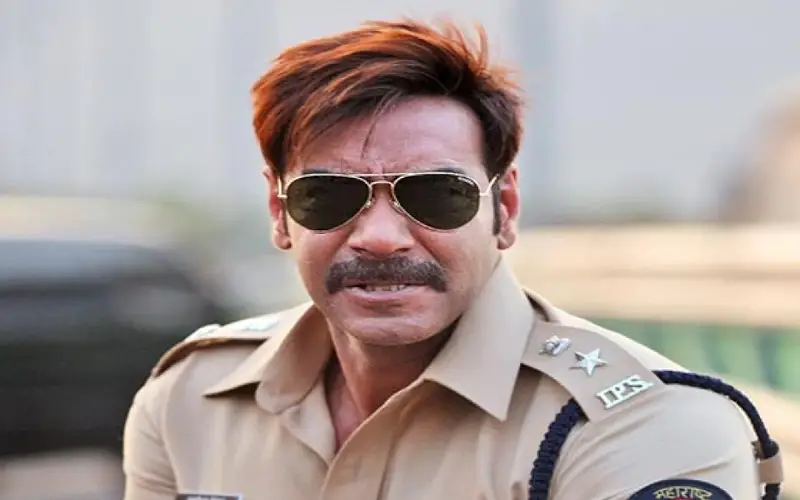 Inspector Chulbul Pandey does not know this name. Every child knows the song "Hud-Hud Dabbang." Chulbul Pandey is a bold, comedic, and baleful police officer in the film. The movie became a blockbuster in the theatres when it was released. After its first part, movies also came back again with sequels. Salman Khan played the amazing character of Chulbul Pandey in the film Dabbang.
3. Jagdish Raj
It is that personality; when someone hears this name, they can only imagine him in the costume of a police officer. He has done countless movies as a cop. Some of his films, like Madhumati, CID and 12'O Clock, are fabulous. He performed so lively that the audience got an image of him as an honest police officer. The young generation might not be able to recognize him, but if you have not seen any of his films yet, you must give it a try.
...
In today's world, who does not know Allu Arjun? He is very famous, especially amongst Children, for his Comedy roles, not only in a Cop role, whether it's a lover, villain, brother, or inspector. His every part is fantastic and memorable. Although he is a South movie actor, his movies are dubbed, throughout the world. You must watch ' Race Gurram Click to look into! >> Read More... ' by Allu Arjun, where he played the iconic character of 'Bunny' as a Police officer in the former movie.
...
This is certain whenever there is a talk of action in history, then "RRR", the movie will be mentioned with the incredible song Natu-Natu and the steps of this song. Everyone has a particular liking for it. In this movie, the character of Ram Charan as 'Alluri Sitaraman Raju' performing the role of a police officer of the British Era is Stunning. Ram Charan's surface shows the true epitome of friendship: idealist, high-powered, and a true patriot. After working as a cop in RRR, it is definite that Ram Charan has won everyone's hearts.
...
6. Akshay-Kumar
, also known as 'Khiladi Kumar' is well known for his fit personality, stunts done by him in reality, and his realistic acting ended up making everyone entertained. Akshay Kumar's role as an ATS Chief DCP Veer Sooryavanshi is worth watching. His excellent entry through a chopper over the sea left the audience whistling in the theatres. It is heard that Akshay Kumar does all her stunts by himself in his movies, still as a police officer, he also performed various breathtaking stunts and action scenes by himself in Sooryavanshi and Rowdy Rathore Click to look into! >> Read More... movies.
...
7. Vijay
Vijay is a South movie actor, Famous for his versatile acting roles and dialogue delivery. His performance of a police officer in the movies 'Theri and 'Vettaikaaran' are legendary. In the film Theri, it is very entertaining to watch when he, as a police officer, is on a mission to protect his daughter from enemies. His movie Theri earned Rs 150 Crore at the Box office and was a great hit. His film also gets dubbed in various languages, which is the reason behind his massive fan following. Their film is inspired from the the movie Chatriyan. The Budget of the film was Rs 75 crore. It is really worth to watch movie of such a big budget. Theri movie is a must to watch once in a lifetime.
...
A Hero who performed well in movies like Padmavat, Bajirao Mastani Click to look into! >> Read More... , Ramleela, 83 and Gully boy. I am talking about none other than Ranveer Singh, who served for the first time as a cop in the movie ' Simmba Click to look into! >> Read More... ' directed by Rohit Shetty Rohit Shetty is a famous Director in Bollywood who >> Read More... . The Character of Ranveer Singh as Inspector 'Sangram Bhalerao' Shows the transformation from a negative personality to a good ideal officer. Although Ranveer Singh's attires are unique, in this movie, he is styled as a simple, disciplined, fit police cop.
...
9. Tabu
After the release of Drishyam, everyone learned what happened on 2 October. Drishyam, is a tremendous successful thriller, suspense picture. One of the greatest actresses behind the success of Drishyam, was Tabu performing, 'IG Meera Deshmukh', who can go to any extent to find his son's body. Tabu's performance as a powerful cop was outstanding. In her recent interview, it was revealed that the audience could see her more enacting as a police officer in Bholaa, and in her latest release, Kuttey, she is also playing the role of Cop.
10. Rani Mukherjee
Hum-Tum, Ta Ra Rum Pum, Hichki, maybe, you must have understood whom I am talking about. None other than Rani Mukherjee. In Mardaani, the Audience could see her first time as a cop, which made everyone astound. Her character as a senior inspector, " Shivani Shivaji Roy",was fearless, bold, and courageous. After this movie's first part, the film sequel was also there. Rani Mukherjee's performance was so inspiring and powerful. Shivani is such an inspiring character for the world.