When it comes to Salman Khan Salman Khan is a very famous Indian actor and a pr >> Read More... , there is no doubt the movie is worth a watch. Sallu Bhai has this exceptional technique to tickle us as well as swell up our eyes. His movies are the correct synonym of "Family Movies." No denial that he is a great actor and has improved a lot with time, but in this journey, there are times that we just love him for his grooves. Salman has never failed to surprise us with his simple-but-signature dance steps like the "towel dance" from Mujhse Shadi krogi to the "collar dance" from Wanted. All his groves have become a trend and a must to follow when that particular song is played.
1. The Towel Dance
This step was one of the most popular ones among the youngsters. The song "Jeene ke hain char din" became the youth anthem of 90's.This movie had quite a plot where Sameer (played by Salman Khan) had anger issues ever since he was a little boy because of the death of his parents. Sameer had a hard luck in love, which was proved again and again by how many times he failed to impress Rani (played by Priyanka Chopra Born on 18 July 1982, Priyanka Chopra is an establ >> Read More... ). To add fuel to fire of his bad luck, Sunny (played by ) comes in his life and makes it more miserable. After a series of events, Sameer lost all hopes of proposing to Rani, but to his surprise, Sunny turned out to be his childhood friend Arun. Arun came to his life to solve his anger issues, and thus Sameer's bad luck seemed to have gone away like a poof. He now had his best friend as well as the love of his life.
...
2. Dhinka Chika
Bhaijaan made this step so famous that even little kids were seen performing it. Ready movie was all about action, romance, and comedy. Here Prem (played by Salman Khan) was enjoying his bachelorhood when his father put his wish of him getting married on the table. One day Prem came across Sanjanna (played by Asin Thottumkal Asin Thottumkal more famously known as Asin, is a >> Read More... ), who was a runaway bride and was running from her uncles who were hungry for her property and were forcefully making her tie the knot with their brother-in-law. Prem then realizes that he had fallen for Sanjanna and made a scheme with his family to take the beautiful bride home.
...
3. The Collar step
...
Bhaijan made sure everyone follows his collar step whenever the song "Jalwa" was played around. Here, the movie plot has a lot of action scenes. Radhe (played by Salman Khan) is a ruthless murderer who is under Ghani Bhai. There is a girl Jhanvi (played by Ayesha Takia Ayesha is a Bollywood film actress, born on 10th A >> Read More... ) who enters in his life and makes him fall for her, and later she grows feelings for him too. But the girl had a lot of troubles going on in her life and on realizing who Radhe was, she was shocked. But for his girl, he wanted to start from square one, so he eliminates all evils by killing Ghani Bhai and thus proving Jhanvi that he is worthy of her.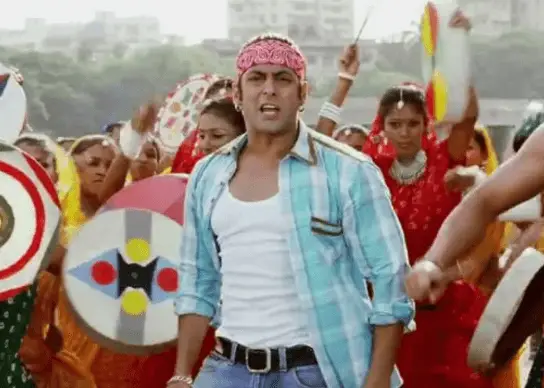 4. The Belt step
This dance step was no doubt a super blockbuster as everyone would be seen copying it. Also the song "Hud hud dabang" made it to the charts in top 10 Bollywood songs. Sallu Bhai, absolutely fitted in the Inspector role. The plot of the movie revolved around how Chulbul Pandey (played by Salman Khan) had the past with his half brother Makki (played by Arbaaz Khan Born in a family that has strong ties in the film >> Read More... ). Then comes Chedi Singh (played by Sonu Sood Sonu Sood is a famous Indian Cinema actor, model w >> Read More... ), who takes advantage of disputes between Chulbul and Makki but Chulbul's father solves the conflict. In middle of all this chaos, Chulbul falls for a girl Rajjo (played by Sonakshi Sinha Sonakshi Sinha is a well-known Indian Actress. She >> Read More... ) and marries her in an unscripted wedding. Dayal Babu (played by Anupam Kher Anupam Kher is a very popular actor, director, and >> Read More... ) enters the scenario as a political leader, and helped Chulbul destroy Chedi's breweries and unfairly frames Chedi for it. In revenge, Chedi burnt Makki's factory, enraged by this act Chulbul suffocates Chedi to death. Later Rajjo reveals that she is pregnant.
5. The Bum step.
How wonderfully Salman made sure his fans would just stick to the song for a long time and made the song enter peoples' party list. The step was well choreographed, to which Salman added his charm which made it reach heights.The movie too made an emotional connection with the audience and was very much appreciated. Here, Sultan had (played by Salman Khan) had a past. He had a special one in his life named Aarfa (played by Anushka Sharma Born in an army family to Col. Ajay Kumar and Ashi >> Read More... ) who was a wrestler and intended to marry someone of her level. Determined to win her heart, Sultan imbibed himself in wrestling and won state-level tournament. Later the two got engaged, and Aafra got pregnant. Sultan, after winning the gold medal in olympics, became egoistic and left for a championship, knowing that Aarfa was near her due date. On returning, he acknowledges that his son had died because of lack of Sultan's blood. Depressed, Aarfa leaves him. Sultan then makes up his mind to open a blood bank in the name of his son and finally does it by winning a huge championship and thus reunites with his wife. Later the couple had a baby girl.
6. The selfie step
The cuteness of this song is something to die for, no? There is no signature step as such, but this unsynchronised, unprofessional step did win many hearts. The song made sure to enroll itself in the party song list of the audience. The cuteness did not just stay limited to the song but can be seen throughout the movie. The plot was well knitted and made sure people stayed with it. The movie had a girl named Shahida (played by Harshaali Malhotra Harshaali Malhotra is a model and a child actress >> Read More... ) who could not speak. Her mother came to India for help but lost Shahida on way back to Pakistan. Shahida then meets Bajrangi (played by Salman ) who called her Munni from then on. He took her home and started a search for her parents but gets shocked to realize she belonged to Pakistan. The movie is all about how much ups and downs the two had to face to reach Munni's hometown. And the story had a great happy ending, Shahida, in the end, was able to speak.
7. Jumme ki raat Step
This popular step of Salman Khan in which he is dancing while holding Jacqueline's dress by his mouth. This song is from the movie Kick. Here Sallu Bhai played the role of of an angel, named Devi Lal aka Devil. He robbed the rich and used that money to help the needy children.
8. The Topless Step
This step of song "O O Jane jana" made its place in the youth anthem as soon as it was realeased. The movie that played this song was Pyaar kiya to Darna Kya, where Suraj (played by Salman) falls for Muskan (played by Kajol). One fine day, when Muskan's brother came for a visit, Suraj mistook him for her brother and bashed him up. Later on realizing his mistake he deeply apologizes but Vishal ( played by Arbaaz Khan as Muskan's elder brother) saw him as a distraction for Muskan and brought her back. The rest of the movie is how Suraj wins Vishal's heart and gets his dream girl.
9. The Bicep Step
The step belonged to the famous song which is also the title of the movie Bodyguard. Salman here showed off his toned body and his biceps and made some young men jealous. The plot of the movie was all about how Krishan (played by Salman) was appointed for Divya (Kareena Kapoor) to make sure she was safe from local goons who wanted revenge from her father. With time Divya fell for Krishna but could not confess it, and her best friend Maya (Played by Hazel Keech Hazel Keech or Rose Dawn is an actress and model. >> Read More... ) took a chance and ran off with Krishna. Later, Krishna realizes that his real lover was Divya and not Maya and they are eventually united.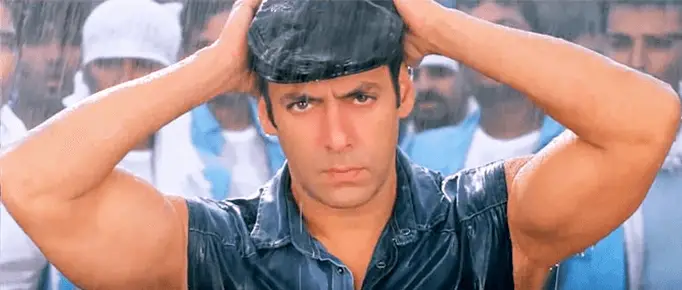 10. The Scarf Step
This step belonged to the song Mashalla from the moviee Ek Tha Tiger Click to look into! >> Read More... . The plot revolved around how love finds its ways. Here Tiger (played by Salman) was an Indian spy for RAW, and Zoya (played by ) worked for Pakistani Spy agency. They both were on a mission to observe a scientist but didn't know each other's profession. They both eventually fell for each other. Later on acknowledging the truth, they knew their love had no future. But, love had its way with them, and they broke all their rules which bounded them.