...
...
...
...
...
Most of us were curious and had a lot of expectation on the outcome of this movie and how well was it going to be, including myself who isn't much of a cricket fan; to be honest ever since the news about its making was announced. Topping the chart list of the best biopic from Bollywood, it hasn't failed to keep up with the anticipation level of the viewers as it has every element that an audience requires like romance, inspiration, emotion as well as captivation. Here is all you need to know about this flick so far.
1. Behind the camera.
...
...
Directed by Neeraj Pandey Neeraj Pandey is an Indian movie producer, directo >> Read More... , it portrays the life of Mahendra Singh Dhoni Mahendra Singh Dhoni Ak MS Dhoni or Dhoni was born >> Read More... , the most successful Indian Skipper who has gone deeper to the roots to reveal the untold personal life of Dhoni that we didn't know so far. It chronicles the journey of a lad from Ranchi who quits his job as a railway ticket collector and ends up as one of the Best Indian Cricket Player. About the dramatic moments in the film, Neeraj says that there would be enough such kind of drama if we intend to portray the tale of someone's life in less than 180 minutes. The reason why Sushant was chosen to play the role is because both Dhoni and he were from the same part of India which would help him in the dialect, as well as both of them had a good resemblance. Also, he had a great knowledge about cricket which helped them a lot better during the shoots. Instead of treating the movie as a biopic, Neeraj considered it as an inspiring story which is why he had made sure to show moments from the life of Dhoni that could inspire us.
2. How Sushant Singh nailed his role.
The famous Kai Po Che actor, Sushant Singh Rajput Sushant Singh Rajput is one of the famous Indian t >> Read More... is enacting the role of Mahendra Singh Dhoni, who with his determination for acting has not only undergone physical training but has also managed to do a wide research about the character to portray him exactly as he was. His performance was with such perfection that it helped everyone connect with Dhoni very well. He was also able to enact the trademark helicopter shot of M.S Dhoni. It was actually taught to him by his late childhood best friend, Santhosh.
3. Anupam Kher Anupam Kher is a very popular actor, director, and >> Read More... as his father
The veteran actor Anupam Kher is essaying the role of his father Paan Singh and has successfully managed to fit in very well. His father wanted him to continue his job at the railways as a ticket collector and was forcefully convinced to allow Dhoni to mark his career in cricket without whose faith, none of this would have been possible.
4. His tragic love story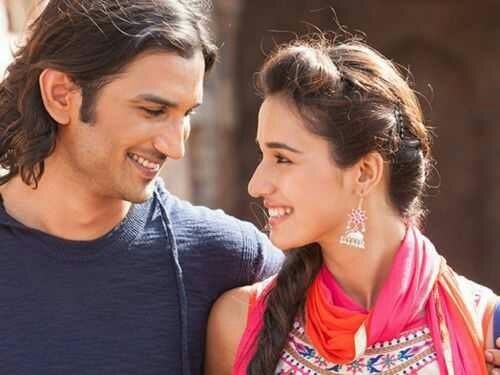 Disha Patani Disha is an India based model turned actress. She >> Read More... is playing the role of his ex-girlfriend Priyanka Jha who was killed in a tragic car accident during their love affair. It took him more than a year to overcome the sudden unexpected death of his lady love. It was in 2002, when he fell in love with her, during his 20s when he was struggling to get in the Indian team. People close to him were afraid that he was going to be shattered in a way that he wouldn't come back as he used to be, but his determination in cricket brought him back to the field even though as a silent and calm person.
 5.  How he tied the knot with his childhood friend.
Kiara Advani She is an Indian film star born on 31st July, 1992 >> Read More... is enacting the role of Dhoni's wife Sakshi Rawat in the movie. They used to be childhood friends, and both of their families were friends. But after leaving Dehradun, both of them didn't keep contact and met after a decade in Taj Hotel when she was working there as an intern. With the help of his manager, Dhoni found out her number and started texting her; she actually thought that it was a prank by someone disguising as Maahi. After a few years of their love affair, both of them privately got married in the presence of their friends and relatives.
6. Behind the title.
As the tagline of the movie says, we know who Maahi is, but we don't know much about the enthralling journey he has gone through which is why the film is titled as "M.S Dhoni: The untold story" as it unveils many personal  moments from his life that weren't known to many of us. Even though he has now retired from the test cricket, we can't forget him for winning us world cups both in 20 and 50 over format. The movie shows us from how he missed his flight to Kolkata for playing a match to how he was forced to take up the job of a railway ticket collector for the sake of his father. No one also knew about the death of his ex-girlfriend and how it took him months to recover from her sudden demise.
7. Dhoni has an elder brother too.
It must be strange to notice that he actually had a big brother who wasn't mentioned or shown purposely. Reports say that Paan Singh and his family hase cut the ties with his elder brother Narendra Singh Dhoni who is a famous politician at Ranchi, even though his sister Jayanthi is shown in the film. Now that is quite confusing and curious doubt for Dhoni fans.
8. Helicopter shot
We all know that the helicopter shot of Dhoni is his trademark one, and that was actually taught to him by his childhood best friend, Santhosh Lal. Back then, it was known as Thappad Back shot. It was Santhosh who used to accompany him to different places for playing the match. They both used to work in the railways, and Dhoni had always managed to maintain a close friendship with him and his other friends. But unfortunately, he passed away at the age of 32 due to pancreatitis, even though he had arranged an air ambulance to shift Santhosh to a better hospital.
9. What leads to the making of the movie?
It isn't just because of his skills and achievements in the Indian cricket team that made Arun and Neeraj plan to make a biopic, but because of the factors that lead him to who he is right now. The strangest part is that Dhoni wasn't involved in the writing of the script and it was with the help of a team of researchers, that the director had collected data and history. They have also managed to bring 98% real content from his life to the reel.
10. Final verdict
I am giving it a 4 out of 5 rating which is totally worth a watch of 3 hours with a gripping but predictable plot. The movie  still has untold stories about him. But through this film, he is a living man who is teaching us that it is easy to conquer anything if we aspire for it truly and with great determination.