Have you wondered why they are called celebrities? Well it is because they are stars of course. But outside that, they are very much beautiful. What is so alluring in these celebrities that people adore and try to imitate them? Well I guess the answer is their quest for perfect is never-ending. When we look at them, we feel they are perfect, but to them, they just need one more tiny surgery that will make them perfect. We will take a look at see some celebrities who have decided to become even more gorgeous than they already are by going under the knife. But again they would have never imagined in their wildest dreams that it would lead to something else they will never like.. Let's take a look at some of the celebrities who messed up with their surgeries thinking it will make them look better.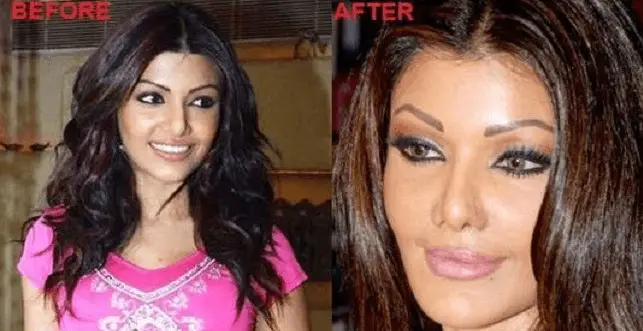 She is one of the celebrities who decided to go under the knife to get her nose done. This celebrity will be regretting why she ever did so because instead of the surgery making her nose better, it only made it worse. She had to stay away from the public for as much as six months. This was really costly.
Kangana Ranaut is a very beautiful Indian actress but she seemed not to be able to overcome the temptation of surgery. She decided to have a lip surgery and she ended up with a plump lip. But why will a stunning lady like her resort for a plastic surgery when she has drop-dead looks? Well that is left for her to answer.
The flamboyant actress also went under the knife only to make things worse. 
This is one actress who claims not to be into cosmetics but her looks are still stunning. This gorgeous actress Anushka Sharma decided to go under the knife for a lip enhancement but what she created was a show of laughter when she was seen on the season four of "Koffee with Karan". At that time, her critics could not help but make huge jokes about her.
 Before you decide to go under the knife, consider what you will gain and what you may lose.