Music Composers are the creators of a specific song; it takes them days, months and even years to get the right tune and sound perfectly, and it decides whether the song will be a hit or a flop. We have few musicians who make original and unique sounds which reach our heart, but there is a lot of music which is either copied or has taken as an inspiration from another. We bet you did not know some of such hit numbers which are unoriginal tracks taken from somewhere else, so bring you the list, from which you can at least find out the real song and listen to the original version.
1. Akele Hai Toh Kya Gham Hai - "Qayamat Se Qayamat Tak"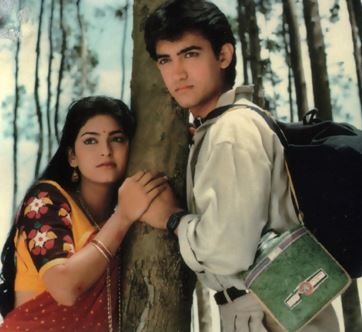 ...
The famous romantic song of 90's "Akele Hai To Kya Gham" is a copy of "Return To The Alamo," the beautiful number which we have sung since our childhood is not even original. 
2. Dil Na Diya – ' Krrish Click to look into! >> Read More... '
...
Music director Rajesh Roshan Being a renowned music composer of Hindi films, Ra >> Read More... is also another copy master, his composition Dil Na Diya from Krissh is stolen music from the "Turkish Military March." It is worst; he made people dance and romance in a marching sound.
3. Haseena Gori Gori - 'Tarazu' 
...
We all have heard the foot tapping dance number "In The Summertime" by 'Shaggy' which is a hit till today. And Rajesh Roshan has done it again by composing "Haseena Gori Gori" which did not work out, as the original is in our heads and a similar tune will never work out.
4. Mere Rang Me - Maine Pyar Kiya Click to look into! >> Read More...
Another classic and one of the oldest romantic ballad, "Mere Rang Me Rangne Wali" was also taken from the tune of "The Final Countdown." Even though the composition is original but the starting music is the same which is made by "Raam Laxman."
5. Pal Pal - Lage Raho Munna Bhai Click to look into! >> Read More...
The slow number "Pal Pal" from "Lage Raho Munna Bhai" is another so-called inspiration taken from "Cliff Richards," "Theme of my Dreams." Shantanu Moitra Shantanu Moitra is a music composer in Bollywood. >> Read More... has also ruined a classic track.
6. Tu Hi Meri Shab Hai – ' Gangster Click to look into! >> Read More... '
"Tu Hi Meri Shab Hai" is one of our favourite songs which is a composition of " Pritam Chakraborty When it comes to Bollywood music, Pritam Chakrabor >> Read More... " but this is not true. The original music "Sacral Nirvana" is a creation of "Oliver Shanti and Friends" which is the exact tune. Pritam just added the lyrics and the tracks are ready.
7. Ya Ali – Gangster
The song "Ya Ali" went super hit because of its alarming music and " Zubeen Garg Zubeen Garg or Zubeen Borthakur aka Goldie was bor >> Read More... "s voice just added more power. But this is also a copied version of "Ya Ghaly" by "Guitara."
8. Judaai – ' Jannat Jannat is an Indian family Hindi serial, which tel >> Read More... '
The hit track from Jannat, "Judaai" is not an original and it is just a modified version of the old classic song "Lambi Judai" sung by "Reshma." The lyrics were also same, but the mixing of tunes made it different, but even the mix is a rip off from "Bronski's Beat (1984)."
9. Pehli Nazar – ' Race Click to look into! >> Read More... '
" Atif Aslam Named Muhammad Atif Aslam when he was born, he is >> Read More... "s voice and Pritam created magic in "Pehli Nazar" from Race but this is not the truth as it is just a Hindi version of the Korean song "Sarang Hae Yo." Pritam can get his "Inspiration" from anywhere.
10. Zahreli Raatein -– ' Chocolate Click to look into! >> Read More... '
The song "Aadat" by Atif Aslam sang in 'Kalyug' is a classic favourite, which was a composition of the band " Jal Click to look into! >> Read More... ," where Atif was the lead singer. Later he started his solo singing and so this song is his as well, but the track "Zehreli Raatein" from Chocolate is a cheap imitation of the original. And it can never match up to it.