Parents and Kids many a time have differences due to 'Generation Gap'. Bollywood plays a significant role in defining the ideology of a person. Many times there are also such movies that lessen the gap one talks about. Today we take a look at ten such stories which will help parents to understand this generation better
1. 3 Idiots
This is one of the most important films of our generation. The movie challenges the education system of the country. It also raises the issue of how parents force their kids to pursue a career they want them to go for.
2. Udaan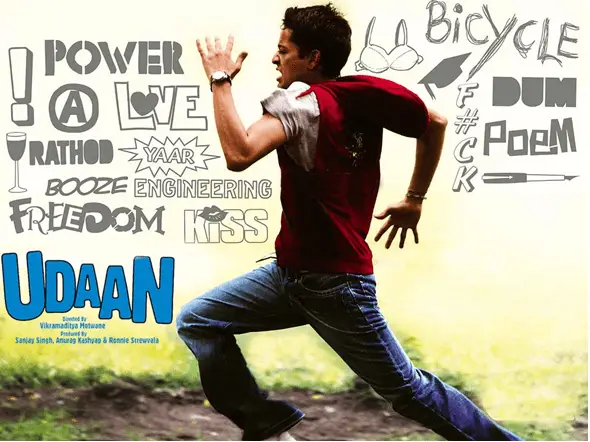 Vikramaditya Motwane's debut, starring a young Rajat Barmecha, Ram Kapoor, and Ronit Roy that followed the story of a kid dealing with his father. How he stands up to his abusive father is the rest of the story.
3. Jo Jeeta Wohi Sikander
Aamir Khan starrer Jo Jeeta Wohi Sikander deals with how a son works hard to achieve his father's dream. The heartwarming brothers bond is also what makes it a must watch.
4. Yeh Jawani Hai Deewani
Yeh Jawani Hai Deewani showed us the power of friendship, love, and passion all at the same time. It's a story where a Bunny leaves everything in his life to follow his dream.
5. Lakshya
 Just to prove a point in front of his father and the love of his life, Karan joins the army to prove himself. What follows next is a series of his struggle to prove his mettle.
6. Chak De India!
It's for all the parents out there who think that their daughter is just there to get married and go to her in-law's house. All the hockey players in the film showed the power of women who is not only meant for household work.
For all the 90s kids out there, it's their definition of a youth movie. Directorial debut for Farhan Akhtar connected with all the generations. A replacement for this film is still not found.
8. Wake Up Sid
This is a story of our kid, Siddharth Mehra whose life turns upside down when he falls in love with a budding writer Aisha.
Darsheel Safari became a household name after his play in Taare Zameen Par. He is thought to be a dumb child till his art teacher found out about his problem of suffering from dyslexia, which he later overcomes.
10. Queen
The meaning of feminism can be understood from this movie. How the family of a bride gets into depression if the marriage is called off, is contradicted in this film, where we see Rani going on her Honeymoon alone.