Bollywood has evolved since the day it was born from black and white to 3D movies, and HD photoshoots. But, there are some pictures from the past which will make you laugh hard. These photoshoots went wrong in many ways. These pictures do exist on the internet, and the celebs probably wouldn't appreciate themselves for doing them. The pictures have absurd poses, and some of them are really objectionable.
1. Closer than usual
This picture is of Sunny Deol Sunny Deol is a film actor, director and producer. >> Read More... , Sanjay Dutt July 29, 1959, was the day when the two legends of >> Read More... , and Chunkey Pandey. The picture shows them wearing multicolor tank tops, and high waist jeans, in which they are posing like a girls' group. They are standing shoulder to shoulder, and are looking proud of the picture.
...
2. The Literal Picture
This is the picture of Shahrukh Khan. Here, the metaphor was taken too seriously, and when he was in his early stage in Bollywood the photoshoot was done. The actor was clicked with make-believe pregnant belly, and he was smiling. This was a Filmfare cover photoshoot, shocked? I am sure; he won't like to see this picture now.
...
3. The Pizza Advertisement
...
Pizza is a daily requirement for the young people, but back in 90's it was a rare food and so to make their market big, the Dominos Pizza used Madhuri Dixit Madhuri Dixit is not just known as the also a smil >> Read More... as their brand ambassador. That was ok, till they made Madhuri wear a pizza dress, which she should have refused.
4. The Body Hair
...
It is good to be the way you are, but sometimes it is not very pleasant for the people watching. The Bollywood actors are ones whom everyone looks up to, and they must maintain clean and tidy pictures. Mithun, Vijendra Ghatke, and Ranjita are seen posing for the Star Dust, and it was not an eye-pleasing site.
...
5. Just One Sweater
This was quite a controversial photoshoot. Expecting two ladies in a photoshoot means elegance, and beauty. No doubt the two beauties pulled off well, but the photographer might be directed to keep it simple, and less costly. So, he wrapped the two in just one sweater.
...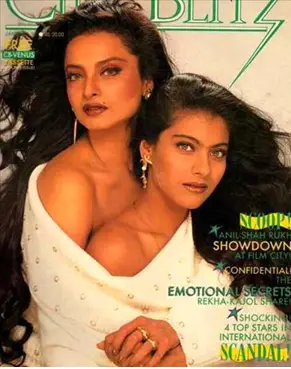 6. The Cabbage
...
In this photoshoot, the manager took Jaya's words very seriously, and by the expressions Jaya gave, I am sure she doesn't ever want to see these pictures again. But, on the brighter side, the cabbage got lucky.
7. The Gift Wrap
Govinda and Juhi Chawla Juhi Chawla is a renowned Indian actress and produ >> Read More... gave some hits, but after looking at this picture, we surely willl keep them in our mind forever. The photographer might be a sale freak, which is why he wrapped them up in aluminium, and wrappers instead of clothes. Cheap photography.
8. The Needy Picture
Back in 90's, there was a craze for being a star, and people had no limits to what they could do for being a star. One such person was Aditya Pancholi Aditya Pancholi is one of the well known actors o >> Read More... , who was ready to do a complete naked photoshoot behind cardboard.
9. The Crotch Grab
The most absurd idea a photographer can bring into reality is the picture where Akshay Khanna is holding the pant crotch of Karishma Kapoor. I am here getting no idea of what the photographer wanted to convey.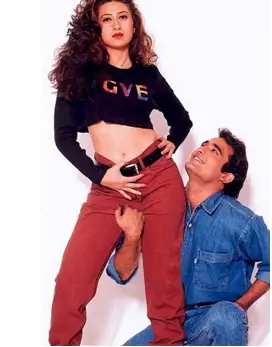 10. The Seductive
Shakti Kapoor Personal life: Shakti Kapoor was born in Delhi, In >> Read More... is the horniest villain in Bollywood. The photoshoot was to ensure that all the generations of Bollywood would know that he is still the sex machine.