We see many disputes between actors, actresses, family, and friends. When we don't like someone, we eventually start to keep distance from them, Because their presence cost our peace. Here are some Bollywood stars who don't want to work with each other ever.
1. SHAH RUKH KHAN AND AJAY DEVGAN
...
The King of Bollywood, Shah Rukh Khan Shah Rukh Khan or also known as SRK is a prominent >> Read More... , always goes well with Kajol. They have made so many romantic Films together. Being Kajol's Husband, Ajay Devgan Ajay Devgn is an Indian film actor. He is perhaps >> Read More... never liked them together. Also, there was a time where both Khan's and Devgan's movies were released together, and also This is one of the reasons they won't work together.
2. AISHWARYA RAI AND SALMAN KHAN
...
Salman Khan Salman Khan is a very famous Indian actor and a pr >> Read More... loved Aishwarya Rai Bachchan Aishwarya Rai Bachchan is a popular Indian actress >> Read More... . They fell in love during the shooting of Hum Dil De Chuke Sanam. Aishwarya Rai, one of the most beautiful ladies in the world, dated Salman Khan for two years. They were serious about their Relationship. But their relationship didn't work because of some nasty fight, and after that, they don't even wish to see their face.
3. AKSHAY KUMAR AND RANI MUKERJI
...
Rani Mukherji is an Indian film actor, and she works in the Bollywood industry. She is known as the queen of Romantic Films. Rani has always rejected working with . After knowing this, Akshay Kumar is not keen to work with her.
4. DEEPIKA PADUKONE AND SALMAN KHAN
...
The Beauty Queen, Deepika Padukone Deepika Padukone is an Indian actress and model. S >> Read More... has worked with many actors in B-town. When she was given a lead role in the movie Sultan, she refused immediately. Because of this, Salman got angry, and he decided not to work with her ever again.
...
5. RANBIR KAPOOR AND KANGANA RANAUT
...
Ranbir Kapoor Ranbir Kapoor is a noted Indian film actor. He was >> Read More... is one of the famous actors of Bollywood. He is also considered one of the highest-paid actors of Bollywood. Being a very famous actor Kangana and Ranbir started their silent fight when their films Rockstar and Revolver Rani Click to look into! >> Read More... got released on the same day. They still don't share a good bond.
6. JOHN ABRAHAM AND BIPASHA BASU
...
John Abraham Like some of our sexy stars, John Abraham has had >> Read More... is one of the hottest and finest actors of Bollywood. John Abraham and Bipasha Basu Bipasha Basu, born in January 7,1979 in Delhi, is >> Read More... dated for several years. But their relationship didn't go well. They broke up on a very bad note. After that, they never want to work together.
7. PRIYANKA CHOPRA AND KAREENA KAPOOR
Priyanka Chopra Born on 18 July 1982, Priyanka Chopra is an establ >> Read More... is very concerned with her roles and films. But in one of the movies, Kareena replaced Priyanka and took away the limelight, and after that, their fight never stopped. Kareena Kapoor Khan Kareena Kapoor is a super hit actress working in I >> Read More... and Priyanka Chopra were seen together on the Television show Coffee with Karan.
8. KARISMA KAPOOR AND ABHISHEK BACHCHAN
Abhishek Bachchan Abhishek Bachchan, or Abhishek Srivastava, is a ve >> Read More... is the son of the most popular star of Bollywood, . Karisma Kapoor Karisma Kapoor is a well known face from the famil >> Read More... and Abhishek Bachchan made many super hit films together. They were in a relationship for a long period, and got engaged. Their engagement broke and after that, they were never seen onscreen.
9. AKSHAY KUMAR AND SHILPA SHETTY
Akshay Kumar, one of the best actors of Bollywood, had many love affairs with Bollywood Queens. One of them was with Shilpa Shetty A model turned actress, producer, entrepreneur and >> Read More... . However, their love didn't work, and after that, Shilpa and Akshay were never seen together onscreen.
10. SHAH RUKH KHAN AND PRIYANKA CHOPRA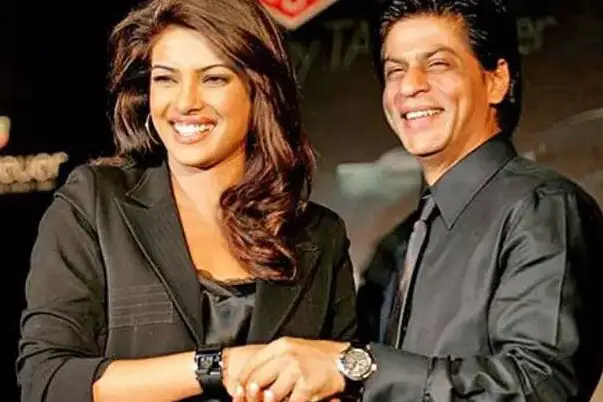 King Khan, Shahrukh Kahn, had a special bond with one of the beautiful actresses of the world, Priyanka Chopra. This bond was not seen good by his wife, Gauri Khan Born on Ocotber 8 1970, Gauri Khan (originally kno >> Read More... . She wanted Khan to part ways with her, and he did the same, and after that, they never worked again together.