Social Media these days has taken over the world. It has its pros and cons. But one of the best things social media has done recently is spreading awareness about Fitness. Fitness should be a way of life, and everyone should take care of their bodies. Thanks to social media for revealing the secret ingredient of a successful life. Everyone is motivated by their favorite celebrities and has started working out on daily basis. We all know Yoga and Workout are super important to keep ourselves in shape and enjoy a happy life. Here are a few celebrities who are particular about their workouts and are papped discussing their fitness regimes, inspiring their fans.
1. Shilpa Shetty Kundra
Shilpa is often practicing and promoting yoga. She believes yoga is a way of life that helps you to rejuvenate and stay healthy. The actress posts her morning Yoga session pictures. She practices different asanas and stretches. She often discusses the importance of a healthy diet along with regular workouts. She emphasizes core training revealing some posture correction stretches. The dance expert also regularly practices mind cleansing techniques like meditation, chanting and chakra cleansing stretches. The Hungama 2 actress is up for yoga lessons all the time and keeps on organizing different workout sessions and workshops for her followers.
When talking about workouts, stretches, and yoga, it's a blunder not to talk about him. The Student of the Year 2 actor is always on fire with his stunts. He is a taekwondo black belt and loves to dance. He is often setting the internet on fire with his gym workouts. The Heropanti actor follows a strict diet complementing it with hardcore workouts. He practices cardio, strength training, and martial arts. His Instagram is a great place to get the motivation to hit the gym. Tiger takes care of himself by sleeping on time properly and maintaining a healthy lifestyle. 
3.
Everyone knows how punctual and disciplined this man is. Akshay is up at 5:30 am and doses off at 9 pm. The actor avoids late-night parties and any odd hours shoots and is always on point with his routine. He exercises well, eats healthy, and remains positive. All the actors working with him reveal how particular he is about his lifestyle. He often heard stating the importance of working out regularly and practicing the art of self-discipline. His mantra of life is "Early to bed, early to rise makes a man Healthy wealthy, and wise". Follow him on social media platforms to get his workouts, diet, and his way of living updates.
...
4. Siddharth Malhotra
Since his debut, the actor has gained fame for his eye-pleasing looks, dashing personality, and well-maintained physique. The Shershaah actor works hard to stay in shape and perform all the action stunts in the movies we love watching. Sid is quite active on social platforms and frequently posts his workout pictures. From practicing yoga, hitting the gym, enjoying stretches in nature, and hanging on a tree. He does it all to make his workouts fun and adventurous. Mr. Malhotra revealed Kapil Sharma's Show that the actor is Punjabi Munda, and still avoids any Alcohol consumption. He is conscious of his health and the stuff he consumes. Workouts alone are not enough to get the desired bodies. Therefore, the Soty actor takes care of himself.
...
5. Rakul Preet
Rakul has transformed tremendously. All thanks to her regular pilates classes and her workout regimes. The actress is persistent when it comes to working out. She is spotted almost daily, either out of the gym or out of her pilates classes. The actress has maintained a well-toned body. Rakul also practices boxing, cycling, and stretching. She stated in an interview that " it is very important to work out daily in order to remove toxins from our body." The actress is committed to her exercise.
...
6.
Proving the phrase, 'Age is just a number' right, this yogini never fails to amuse us with her jaw-dropping fitness routine. She is active on the social platform and constantly engages with people to inspire and motivate them to make yoga part of their lives. Mala is a super mom who never puts her health as a second priority and is a zen Z mom who takes take of herself well. She has her yoga studio and an app where she learns and teaches yoga. Malaika has good eating habits and is conscious about what the actress has in her meals. She has her cheat meals but never forgets to burn the calories after having fun dines. She is a perfect example of a new-age woman who prioritizes their health and balances their work and family well.
...
VD has a massive fan base and knows how to make everyone his by his charming personality. Varun is vocal about his lifestyle and often impresses fans with his new workout reels and posts, inspiring them to stay healthy. The actor is spotted working out even on movie sets during his shoots. All this shows how keen he is on maintaining his body. His coach stated that Varun is very serious when it comes to training. He enjoys working out and follows a diet. Namrata said that the actor works out for around one and a half hours 4 to 6 times a week. Varun enjoys eating oatmeal, green vegetables, and whole grains. Varun has good fitness knowledge and works hard for his muscular physique.
...
A good routine, good sleep, and good food are what John believes. His body reflects the effort he puts in to be in shape. In his Times of India interview, the actor stated that he is addicted to fitness and workouts. All of us know how hardworking John is. Even today, he is one of the fittest actors in the industry. The kind of stunts he does requires a hefty and rough physique which he has successfully maintained. The Dhoom actor believes it is just 40% workout and the rest 60% is diet. And, the one who knows to keep up with carbs balance wins. He says that fueling our bodies is very important and inspires his fans to eat clean and clean. He avoids sugar and fried foods. Do follow his tips to get a sculpted body.
...
The Gangubai aces this regime too. The Radha of Bollywood has transformed a lot. It happened only because of her persistent hard work. She works out regularly. Follows a strict diet to maintain flawless skin and a perfect BMI. The actress avoids sugar and practice yoga regularly. She keeps taking short-term and long-term fitness challenges. It helps her to stay in shape and have fun. The Kalank actress is keen on eating healthy. She is one of those stars who not only takes care of their body but pays attention to her mind. She practices meditation and spends quality time with her loved ones.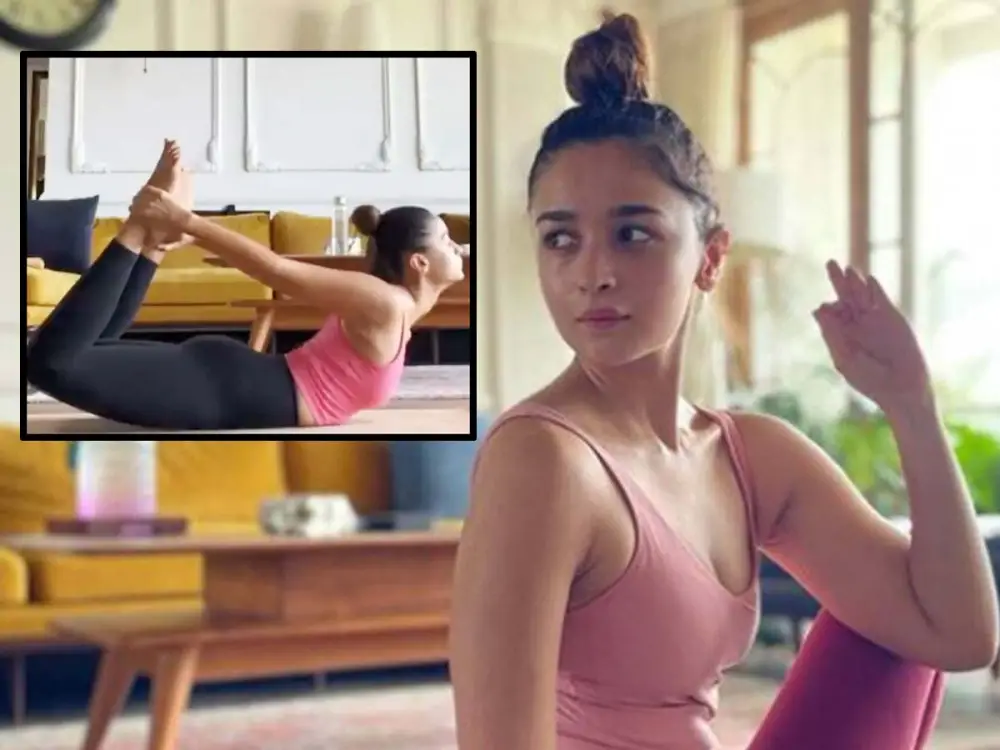 The super mom is commendable. She is particular when it comes to exercise and a healthy lifestyle. Just like the doting father of Inaaya, Kunal is a gym freak. Soha practices core training and believes in consuming clean food. She is spotted shedding sweat and working hard to stay fit. Both parents do several activities but never skip their workouts. Soha lives a healthy life and inspires her fans to do the same.