The Bollywood awards season has already started, and we recently saw our favorite B-town stars sizzle at the Star Screen Awards 2017. Our film industry had various kinds of films this year, some of which were incredibly super hit and some did not live up to our expectations. But definitely, this year was very great regarding variations in cinema. We saw some intense movies like Udta Punjab Click to look into! >> Read More... and " Kahaani 2 Click to look into! >> Read More... ", some women-centric movies like ' Pink Pink is an American Songwriter, Singer, and Actres >> Read More... ' and Dear Zindagi Click to look into! >> Read More... . ' Befikre Click to look into! >> Read More... ' and " Ae Dil Hai Mushkil Click to look into! >> Read More... " were our favorite romantic movies of the year. There were so many incredible performances and Star Screen Awards began the ceremony of awarding the best performances, with awards and appreciations.
Here, we bring a list of top 10 winners of the year, selected in this function.
1. Best Film - Pink:
This movie won so many hearts and especially of the girls. All the girls who saw the movie felt attached to it. The strong screenplay and the story made it win the best movie title of this year. ' Amitabh Bachchan Amitabh Bachchan was conceived on October 11, 1942 >> Read More... 's performance was enigmatic and flawless. Also, Taapsee Pannu Taapsee Pannu is an actress and model of Indian or >> Read More... and other actors did their best to make this movie, a memorable one. This film deserves to be the best movie of the year, hands down. The movie had great dialogues and also they won an award for it. Dialogues, were also a striking element of the movie.
2. Best Choreographer - Bosco Martis Born on 27 November 1974, Bosco Martis has complet >> Read More... - Caesar Gonsalves Caesar Gonsalves is a very famous Indian choreogra >> Read More... :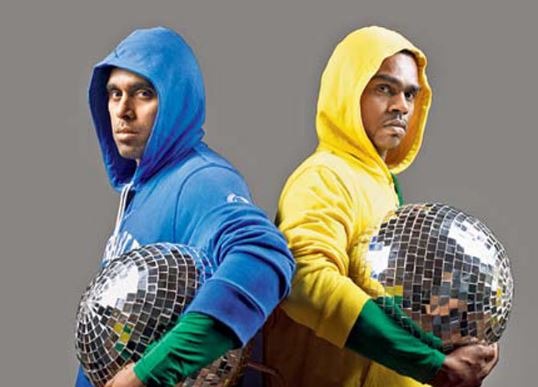 The duo of Bosco and Caesar won the Star Screen Award, this year, for the best choreographers for the movie Baar Baar Dekho Click to look into! >> Read More... . Their choreography in Kaala Chashma was actually the best. I mean we are still stuck on that hook step of the song, and we always will be. Katrina Kaif Latest Videos of Katrina Kaif >> Read More... and Sidharth Malhotra Sidharth Malhotra is an Indian actor who was born >> Read More... did those dance steps amazingly and made it the party song of the year. It was so catchy and filmy. Like all of the songs choreographed by Bosco and Caesar, this song is also awesome, and they deserved it.
3. Best Actor In A Comic Role - Varun Dhawan Varun Dhawan, a new comer entered Bollywood with h >> Read More... :
VD won the best actor in a comic role for the movie, ' Dishoom Click to look into! >> Read More... '. Varun played an energetic character of Junaid Ansari. Apart from many good things in the movie like John Abraham Like some of our sexy stars, John Abraham has had >> Read More... , Jacqueline Fernandez Jacqueline Fernandez is one of the top actresses i >> Read More... , and the songs, Varun made a different mark for himself by playing that cute role of the confused and not so serious cop. Varun stole the limelight in the movie with his acting skills and hence he has been rewarded for that. Varun was extremely overwhelmed receiving this award, and he Instagrammed a family photo of his with the award where he mentioned his father was most excited about his win.
4. Best Supporting Actress - Shabana Azmi Shabana Azmi is a film actress of Indian origin an >> Read More... :
' Neerja Click to look into! >> Read More... ' was a woman empowering movie which showcased the life of the flight attendant Neerja Bhanot. Sonam Kapoor Sonam Kapoor, Daughter of Anil Kapoor and model Su >> Read More... played the role of Neerja extremely well and showed us how she intelligently and bravely faced the terrorists and saved so many innocent lives. Shabana Azmi played the role of her loving and caring mother in an effortless way for which she achieved the best supporting actress award and made her daughter strong and helped her face any kind of situation in life with smile and bravery.
5. Style Icon Of The Year - Deepika Padukone Deepika Padukone is an Indian actress and model. S >> Read More... :
Even if there was no release of Deepika this year, in Bollywood, she made us proud globally with her Hollywood movie, XXX: The Return Of Xander Cage. She looked smoking hot in the trailers. Deepika was chosen the style icon of the year and she definitely proved herself everywhere that she is the most deserved woman for this category. She even graced the red carpet of this function in an elegant black gown and looked ravishing as ever. She has proved her style and fashion sense every time, and she is the most loved actress of the country, and so this award is well suited to her.
6. Best Debutant Male - Harshvardhan Kapoor Harshvardhan Kapoor is the youngest son of famous >> Read More... :
Harsh got the award for the best debut actor for his period movie, ' Mirzya Click to look into! >> Read More... '. Though the movie did not earn huge box office collection but Harsh won the hearts with his significant performance. He was perfect in both of his roles and left a remarkable performance in his first movie itself. He also looked more than handsome and did his job pretty well, and this made him win this award. Also, his tremendous efforts in the movie were seen in his acting. He was a decent choice for the winner under this category.
7. Best Debutant Female - Disha Patani Disha is an India based model turned actress. She >> Read More... :
The new pretty face of Bollywood, Disha Patani won the award for the most stunning performance amongst the new girls in the industry for her movie, M. S. Dhoni - The Untold Story. Besides looking gorgeous and dancing fantastically in the Befikra video and catching up the attention of the Paparazzi for being the rumored girlfriend of Tiger Shroff Jai Shroff or popularly known as Tiger Shroff is a >> Read More... , Disha acted decently in this movie and did full justice to the role of Priyanka. She played the role of a simple and attractive lover of MSD and won many hearts as well as her first award.
8. Best Actor in a Leading Role (Critics) - Sushant Singh Rajput Sushant Singh Rajput is one of the famous Indian t >> Read More... :
Sushant is a wonderful actor, and he has proved his acting abilities in all the movies he has done till date. The TV fame, Sushant got the biggest movie of his career to play the role of the Indian Cricket Captain, Mahendra Singh Dhoni Mahendra Singh Dhoni Ak MS Dhoni or Dhoni was born >> Read More... . After the immense success of the movie, we can say that Sushant was the best choice for this role. He enacted Dhoni in the best way, and it was difficult to believe that it's Sushant in the movie and not Dhoni, especially during the matches played in the movie. He should have been given an award for this performance, for sure.
9. Best Actor in a Leading Role - Amitabh Bachchan:
Amitabh Bachchan won the Star Screen Best Actor award for his incredible movie, Pink. Pink also won the best movie of the year, and Mr. Bachchan had obviously to win this award because of his impactful performance in the movie as that intense lawyer. He made those dialogue deliveries in his own style and made this movie a remarkable one.
10. Best Actress in a Leading Role - Alia Bhatt Alia Bhatt is a trendsetting actress from Mumbai, >> Read More... :
Amidst all those controversies of hurting the sentiments of Biharis and portraying them in a shabby way and the scenes of the movie which being leaked online and so much more problems before the release, Alia and all the other actors did their very best and made this movie a big hit and the youth loved it. Alia played her role of the Bihari girl very strongly by delivering her dialogues in that perfect Bihari accent. She is a wonderful actress and we don't have any doubt about it and this was definitely her year with her three powerful releases, and she was the best choice for the best actress award of the year.
We congratulate all the winners of the Star Screen Awards 2017. Every one of them did their best to reach there and win the awards, and we appreciate each one's efforts. However, this was just our preferred list of winners. We are looking forward to the TV premiere of the function to see our favorite stars receiving the award and delivering beautiful speeches. Kudos to the winners.