Shoes are a part of a personality. We often judge a person by their attire but also by their shoes. Bollywood stars are very much fond of wearing shoes, and no doubt they have enough money to pair different types of shoes with their outfit. Here are the top 10 Bollywood stars and their favorite shoe brand.
1. Shahid Kapoor Shahid Kapoor also identifies as the name Shahid K >> Read More...
...
Shahid Kapoor is a super hit actor in the Bollywood industry. His movie Kabir Singh hit the Box office and is one of the best movies of Shahid Kapoor. He likes to wear Dolce & Gabbana shoes. This brand is not from India. He usually likes to order his shoes from abroad.
2. Rakul Preet Singh Rakul Preet Singh is a famous Indian model working >> Read More...
...
Rakul Preet Singh likes to be very much classy with her shoes. She often likes to wear Nike Air Force-1with all her casual outfits. Lately, she was caught on the camera wearing a white Nike Air Force-1 with a pistachio green color frock and a denim jacket. No doubt the look was very classy.
3. Varun Dhawan Varun Dhawan, a new comer entered Bollywood with h >> Read More...
...
Recently Varun Dhawan tied knots with the Love of his life, Natasha. He is known for his powerful acting in the movies. He is also considered a very good dancer. He likes shoes a lot and usually chooses the brand Givenchy Tyson Hi-Top sneakers over all other brands.
4. Sonam Kapoor Sonam Kapoor, Daughter of Anil Kapoor and model Su >> Read More...
...
Sonam Kapoor is one of the underrated actresses of the Bollywood industry. She is the daughter of the famous actor, Anil Kapoor Anil Kapoor was born on 24th December 1956 in Mumb >> Read More... . She wanted to get famous like her dad, but she missed it. She was a Vogue feature, in which she wore Gucci 1953 horse-bit loafers which were in brown, and she paired them with a long white dress.
...
5. Ranbir Kapoor Ranbir Kapoor is a noted Indian film actor. He was >> Read More...
...
Ranbir Kapoor is the son of the great actor, Rishi Kapoor Rishi Kapoor is an actor born in the prominent Kap >> Read More... . He is a well-known actor in the Bollywood industry. He has made a lot of films which were super hit. He is stylish and fashionable. We have always seen him wearing varieties of shoes and sneakers with his outfit. Ylati is one of his favorite brands.
6. Ananya Panday
...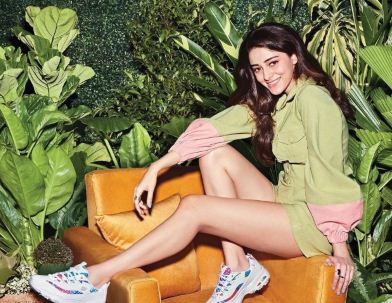 Ananya Pandey Bio coming soon... >> Read More... is the daughter of famous actor . She came into the Bollywood industry because of his dad and got her first role directed by Karan Johar Karan Johar is one among the top ten celebrities i >> Read More... in SOTY 2. She is a brand ambassador of big brand Skechers D'Lites. She loves to wear them because they look amazing with any outfit.
7. Kartik Aaryan His name is Karthik Tiwari, and he was born in Gwa >> Read More...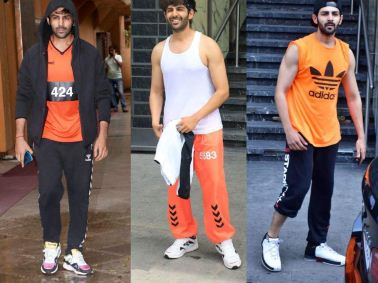 Kartik Aaryan is one of the favorite stars in the Bollywood industry. He is smart, and in no time, he gained many fans. His role in the movie Pyaar Ka Punchnama Click to look into! >> Read More... was impressive. He likes to pair all his outfits with the shoe brand Jimmy Choo's Diamond Trail Sneakers, as he feels it gives him a cool look.
8. Alia Bhatt Alia Bhatt is a trendsetting actress from Mumbai, >> Read More...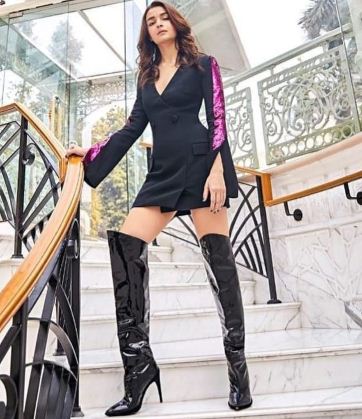 Alia Bhatt started working in the Bollywood industry when she was in her teenage. Her first movie was Students of the year, and the movie was directed by Karan Johar. She likes to wear high heels and high boots from Stella McCartney. She was seen pairing these amazing heels with her hot black and pink outfit.
9. Kiara Advani She is an Indian film star born on 31st July, 1992 >> Read More...
Kiara Advani is the most beautiful actresses in the Bollywood industry. Her role in the movie Kabir Singh was outstanding. She was seen wearing Prada's chunky high heel boots the other day. These heels were worn by Niki Minaj in one of her concerts too.
10. Janhvi Kapoor Jhanvi Boney Kapoor was born in the year 1997 Indi >> Read More...
Jhanvi Kapoor is the daughter of 'Sridevi.' She made her debut in the Bollywood industry with the movie 'Dhadak.' She featured in the hit movie Gunjan Saxena which was premiered on Netflix. She likes to wear Ugly Dad sneakers because she feels comfortable in them and it goes with any outfit.