Pune, the education hub of Maharashtra, not only has a rich history and good educational institutions but various cinema-worthy locations. Filmmakers have always been attracted to the big wadas and historical monuments. Though many Marathi films are shot in Pune, very few Bollywood movies are. It is good to see all those exotic locations from all over the world. It is a much prouder moment to see your city or a place you are familiar with. Even the Hollywood movie starring 'A Mighty Heart' set their base in Pune, no wonder Bollywood wanted a glimpse of this city. Here are the Top 10 Bollywood movies that have scenes shot in Pune:
1. Andhadhun
Directed by Sriram Raghavan Sriram Raghavan is an estimable film director and >> Read More... , this comedy and crime thriller will make you grip your seat till the very end. Ayushman has done fabulous acting as a blind man who plays piano and is a witness to the murder of the former actor, and things get complicated there. A significant part of this film was shooted in Pune city. The film shows MG Road, Shisha Jazz Cafe, Magarpatta, F.C Road, Cafe Good Luck, Koregaon Park, and Peth areas.
2. Mere Brother Ki Dulhan
Remember the song "Dil Se Dilli ho Woh Dhadkan Se ho London, Dhoondoon mein Dhoondoon, mere Brother ki Dulhan?" The airport shown in this song is the Pune Lohegaon Airport. This hit song starring Imran Khan Imran Khan is an Indian film actor, who is famous >> Read More... and had everyone grooving at the wedding. This song was shooted in an area restricted to the public, so the airport wasn't shut down for the shoot.
3. Tumbbad
You are missing out if you haven't watched this masterpiece and highly underrated movie of 2018. The storyline of this film follows a mythological character in the village of Tumbbad. This movie mentions Pune, and shooting is done in the Purandear Wada near Pune, but a proper set had to be created to showcase the British Raj era.
...
4. Badlapur
This action thriller is by far the best of Varun Dhawan's movies. This revenge saga will keep you on your toes all the time, and a big chunk of this movie was shot in Pune. The first car chase happens in the camp area. Yami tells about her pregnancy at cafe Columbia, and the couple's house is on Prabhat Road.
...
5. Munnabhai MBBS
The Sanjay Dutt and Arshad Warsi Arshad Warsi is most popular for his role as Circu >> Read More... starring film was filmed at the Agricultural College of Pune, the college we all dreamed of studying in. with its great classrooms and wide hallways. Pune is embedded in every essence of this film, Bas kya Bhidu?
...
Every time you watch English Vinglish, I am sure you are filled with pride and a heartwarming storyline. This story is a masterpiece in all its senses with superb acting, directing, and a smooth narrative. This film was shot at many places in Pune. The home of the Godboles is shown in the famous Model Colony of Pune. This iconic movie of the iconic Sri Devi Devi Sree was born on August 14th, 1990, in Hydera >> Read More... lives rent-free in all our hearts.
...
7. Hulchul
This 2004 film starring Kareena Kapoor, Akshaye Khanna Akshaye Khanna is a popular Indian film actor. He >> Read More... , and Arshad Warsi had shot many scenes in Pune. The Hostel scenes were from Law college and college scenes at Mahatma Phule Krishi Vidyapeeth College. Hulchul is a quirky comedy by Priyadarshan.
...
8. Ajab Prem Ki Gajab Kahani
This film had us rolling down with laughter and fulfilling our hearts with this warm love story. "Prem Ki Naiya Hai Ram Ke Bharose, Apni Bhi Naiya Ko Paar Tu Lagai De," this lovely and fun-spirited song was primarily recorded at the 11 East Street Café in Pune. If you visit Pune, don't forget to check out this café and click pictures to show off to your friends.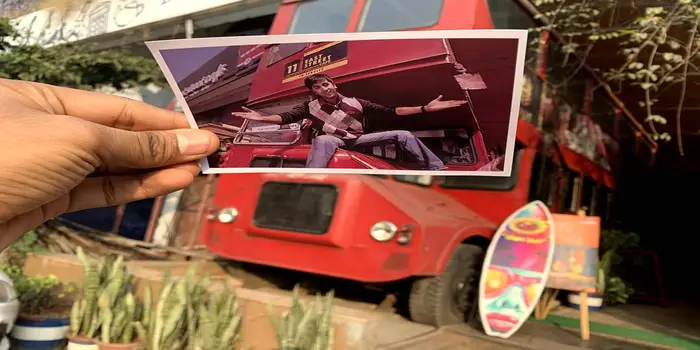 ...
9. Bodyguard
This Salman Khan, Kareena Kapoor starer 2011 film was shot in Symbiosis college Lavale campus. Many shots were filmed in their classroom, libraries, and many students from the college were used as an extra.
10. Dangal
Dangal is the story of the wrestlers Geeta and Babita Phogat. The principal shooting is done in Haryana and Punjab, but a few scenes from this movie were shot in Pune. The song 'Gilehriyaan' was shot at the girls' hostel of Symbiosis International College. Dangal not only did well in India but is appreciated worldwide.