Though westernization is hitting us hard, the traditional attire of our country is always going to be a saree. Do I need to mention that the Indian women look the most beautiful only in Indian Sarees. Isn't that great? I think it is. Indian attires have secured a place so unique that any gown, one piece, short skirts, and hot pants can't replace. Here, I have collected a list of top 10 actors who have taken the saree to International Film Festivals. It surely amazed me! I hope it moves you too!
1. Sonam Kapoor Sonam Kapoor, Daughter of Anil Kapoor and model Su >> Read More...
Though nowadays every celeb claims themselves as a trendsetter and fashion icon, I don't think there is any reason to mention that Sonam Kapoor is the ultimate Fashionista of Bollywood. Every party, every event that she goes to there is a new side to her that she portrays and we can do nothing but be amazed! The Neerja actress has donned designer sarees multiple times at the Cannes Film Festival.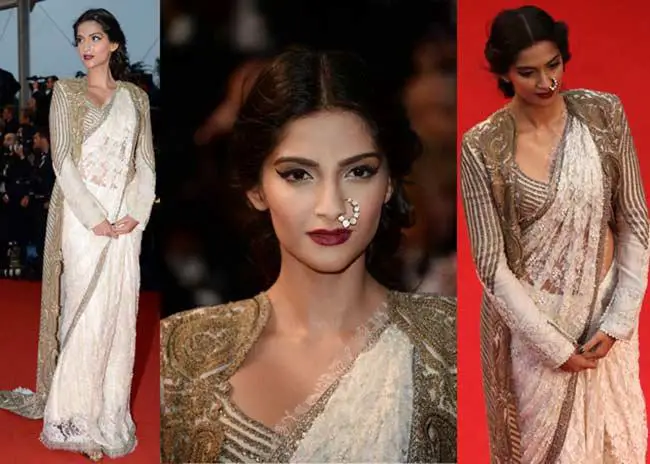 2. Vidya Balan Vidya Balan is an award winning Bollywood actress >> Read More...
Known for her excellent acting skills, Vidya Balan has always stood firmly on her beliefs, even if it means that she has to stand alone. She was one dazzling celebrity trying all types of clothes when she recognized that the Handloom Industry in the country is declining day after day. To show her support for the cause, she started wearing Handloom Sarees to most of the events she attends. She has been spotted sporting a saree even at the Cannes Film Festival too!
3. Nandita Das Nandita Das is an actress and director extremely p >> Read More...
Actors are people that others look up to as an inspiration, and it is so impressing if they try to encourage the portrayal of our traditional dresses at International Festivals. Here is Nandita Das wearing a saree at an International Film Festival.
4. Richa Chadda Richa Chadda is a new and sultry Indian actress. S >> Read More...
The ' Jia Aur Jia Click to look into! >> Read More... ' actress has always made a statement of her own, and she doesn't shy away from doing something different. Here is the actress looking all beautiful in a saree.
5. Deepika Padukone Deepika Padukone is an Indian actress and model. S >> Read More...
She is undoubtedly the queen of Bollywood and again no need to say, anything that she wears becomes a style statement for her fans and also others. Deepika wore a saree in Cannes Film Festival in the year 2010.
6. Aishwarya Rai Bachchan Aishwarya Rai Bachchan is a popular Indian actress >> Read More...
The epitome of beauty wearing such a beautiful traditional outfit! Nothing less than a visual treat, right? I hope you agree. She wore a white saree with a golden border in the year 2012.
7. Nimrat Kaur Bollywood actress Nimrat Kaur was born on 13th Mar >> Read More...
Another actress who has taken Bollywood by the storm with her versatility is Nimrat Kaur. The stunning actress sported a beautiful black saree for Cannes in the year 2013.
8. Shruti Haasan Shruti Hassan is an Indian film actress born on 28 >> Read More...
The amazingly talented diva has already stolen millions of hearts with her outstanding characters that she plays on the silver screen. Even when it comes to the events, the diva doesn't leave any stone unturned. Here is the look that Shruti has sported for the Cannes Festival in 2017.
9. Vishakha Singh Vishakha Singh, daughter of Mr. Jitendra Singh, is >> Read More...
Vishakha Singh appeared in South Indian films before she appeared in movies in Bollywood. She has appeared in the flick 'Fukrey.' The actress donned a beautiful saree at the Cannes Film Festival.
10. Chandini Sasha
The stunning actress, Chandini Sasha also ditched the western attire and sported a simple yet elegant saree portraying the beautiful tradition of India at the Cannes Film Festival.