Over the years, the Marvel Cinematic Universe (MCU) has grown to become not only successful but also the highest-grossing film franchise of all time. Its popularity can be estimated by the kind of craze people have regarding the release of their favorite superheroes and movies. Undoubtedly, even in India, we have seen how the Avengers: Endgame created a buzz among the audience when they saw an ensemble of heroes coming together to protect the Earth from the villains, most notably Thanos. When we watched them, all we could think of was how the movie would turn out if the characters were portrayed by our Bollywood actors and actresses.  Here, look at the top 10 Bollywood stars who would be perfect as Marvel's superheroes.
We can only imagine the Badshah of Bollywood playing the quick-witted, super strong character of Tony Stark. He can easily pull off the sassy, humorous side of Iron Man with the charm, and persona that everyone adores. Moreover, his acting skills, coupled with the combination of comedy, action and romance, would make him an apt choice for Iron Man.
Hrithik Roshan has everything that an Indian Thor would look like, be it his similar looks to an incredible physique, to a godly aura, as well as his charm and persona. There's no doubt in how wonderfully he would portray the character, and we genuinely feel that he's the only person who can hold the very famous hammer of Thor.
Steve Rogers is a US Army Soldier from World War II World War II is a Malayalam information TV show on >> Read More... who was injected with a serum that transformed him into a Super Soldier, giving him enormous strength and endurance. Sidharth Malhotra has quite that persona to be a Captain America, and we would love to see him in battle with his iconic shield.
...
We could only think of Priyanka Chopra playing one of the most influential female characters of Marvel, Natasha Romanoff, also known as Black Widow. An expert martial artist with incredible agility, her skills and techniques are unmatchable. Priyanka indeed has got the flexibility to portray such a strong character.
...
5. Hawkeye-
Akshay Kumar can fit into the role of Hawkeye better because both of them exhibit similarities in so many ways. The highly skilled Clint Barton is known for his dedication and solid values and morals. He loves his family immensely, and it's something Akshay Kumar can perfectly ace.
...
We can imagine Salman Khan as Hulk not just because of his muscular appearance, but also because he has the strength to be an extremely calm, emotionally reserved physicist, given all his previous performances. At the same time, he can gather up all his aggression to emerge as the Hulk if needed.
...
We have seen Sanjay Dutt play many complex characters in his filmography, portraying antagonists. He would ultimately justify the character of Thanos as the warlord who can do anything to obtain the six infinity stones, and represent one of Marvel's best villains through his impeccable acting.
...
8. Scarlet Witch-
Wanda Maximoff, also known as Scarlet Witch, has got the power of hypnosis and telekinesis, which gives her the ability to control others' minds, and move objects with her mind. We would love to see Katrina Kaif have that control over others, through her looks and power, and it would be a delight to watch her portray such a multidimensional character.
...
9. Spiderman- Ishaan Khatter
Peter Parker, also called Spiderman, is the superhero we all have heard of right from childhood. Ishaan Khatter is a performer, and we would love to see him as a superhero character, who has got enormous powers, be it his superhuman strength, speed, reflexes, balance, or ability to cling to solid surfaces.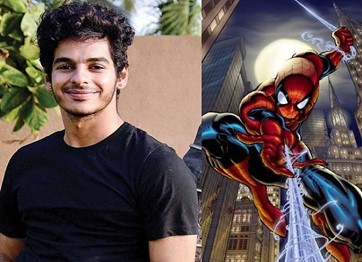 Vicky Kaushal exudes the talent and versatility required to play a complex character like Black Panther. The character is highly proficient and has superhuman strength, knowledge, and agility. We can think of Vicky Kaushal nailing the character and emerging as the king and protector of the fictional African nation of Wakanda.