Celebrities are the most influential beings. We follow their lifestyle, clothes, food choices, and much more.
Costumes play an important role in movies. For example - the outfit in the Hindi horror film Bulbul features an Indian saree with a Big Bindi and Indian accessories; which shows the theme of the movie Indian Desi academia. Similarly, the outfits in Kalank include Desi Lehengas, an Anarkali suit with Muslim Kundan for another character, Sonakshi in Hindu Sarees, Men in Pathani with Kajal, Aditya Roy Kapoor in Royal Indian Kurtas and Royal Pathanis and Kurtas for another character. The costumes were designed to show the atmosphere of the film.
We've all looked up to Bollywood characters for outfit ideas. From flowing chiffon sarees to mini dresses, Bollywood sets the trends. We are compiling a list of the most popular outfits from Bollywood. It will be a nostalgic ride from Rani Mukherjee's college outfit days to Alia Bhatt's casual wear from Dear Zindagi Click to look into! >> Read More... , from Kareena Kapoor's Y2k fashion from Kabhi Khushi Kabhi Gham to Deepika Padukone's monochromatic and solid-colored look in Piku.
...
Here is the list of the top 10 Bollywood movies with the best costumes-
1. Kareena Kapoor's costumes in Jab We Met
Geet are a vivacious girl character who sets the trend of harem pants and T-shirts. From her classic Punjabi salwar-kameez with Jhhumka to a stylish denim jacket with kurtas, all her outfits screamed ease and comfort. She made the foundations look fabulous! Bebo is a clothing icon, stunning on and off the screen!
...
2. Amrita Rao's Costumes in Main Hoon Na
Sanjana's carefree look in Main Hoon Na was so stylish. Her dressing style was like an emo kid's. The obvious wild look was so cool and classy. This wild look doesn't need any feminine makeover.
...
3. Deepika Padukone's costumes in Piku
Piku brought back the fashion of Pallazos, formerly known as parallels. Her soft kurta, ankle-length Pallazo, and black bindi look are classic. Her clothes were so comfortable yet so attractive. Deepika looked gorgeous in Piku.
4. Sonam Kapoor's Costumes in Aisha
Talking about fashion and not including Sonam feels illegal. Sonam in Aisha wears iconic outfits, from a low-cut lehenga to a Chanel tweed skirt to high-waisted gray trousers and silver pants. Simply iconic! Sonam is stunning, on and off-screen.
...
5. Aishwarya Rai Costumes in Dhoom 2
Another iconic outfit worn by Aishwarya in Dhoom 2. Crop tops and low-cut jeans/skirts were so chic and iconic. Her outfits are on-trend to this day, from bodysuits with a waist cut to makeup to accessories to hairstyles. Just trendy. Aish is a beauty, she looks stunning in both Indian and western outfits.
...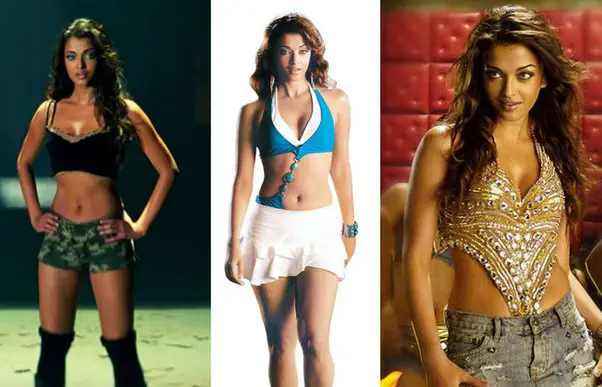 6. Alia Bhatt Costumes in Dear Zindagi
Alia's casual look from Dear Zindagi was so flawless and elegant. Her Boho fashion was spot on. From flowy boho print dresses to boho print tops to denim to plaid shirts, Dear Zindagi was the ultimate guide to dressing casually yet glamorous. Alia is a cute girl who looks cool and classy in every outfit.
...
7. Kareena Kapoor's costumes at K3G
Poo's outfit are every girl's dream! Her Y2K fashion is still on trend today, from crop tops to bootcut jeans. She wore faux fur, bralette tops, leather skirts, a sharara outfit, a co-ord outfit, and animal prints that are the chic trends of 2022! Bebo is stunning again.
...
8. Rani Mukherjee's Costumes in Kuchh Kuchh Hota Hai 
College Rani's outfits in KKHH were so iconic that we should sign a petition to design our uniform like them. She looked doll-like Tina Ahuja Narmada is an aspiring Indian Film heroine, she is >> Read More... . She rocked miniskirts, pantsuits, velvet dresses, and bike shorts. Indeed, fashion is coming back! Rani was a trendsetter of her time, love her!
9. Deepika Padukone's in Raamleela 
Deepika's lehenga choli from Raamleela is the prettiest lehenga choli. Her Indianness was reinforced in that view. She looked regal and classy. Deepika looked so beautiful in all of Sanjay Leela Bhansali's movies. She is made for them.
10. Kangana Ranaut Outfits in Queen
Kangana's blue kurta by Queen has a different fan base and her flowy sleeveless dress is what comfort with style looks like! Rani looked quite cute in all her pastel kurtas, Kurti tops, and flowy dresses with curly hair or loose braids.