The movie is directly inspired by an Olympian and an athlete Milkha Singh. A movie starring Farhan Akhtar as Mikha Singh, an Olympic winner is inspirational. Raykesh Omprakash Mehra directed the movie.
2. No One Killed Jessica
It's a film based on a real-life incident where a Delhi-based model Jessica Lal is brutally murdered. The film also has strong female leads like Rani Mukherjee and Vidya Balan who were amazing. It is a movie about the difficulties the victim's family has to face while getting justice for their daughter.
3. Mary Kom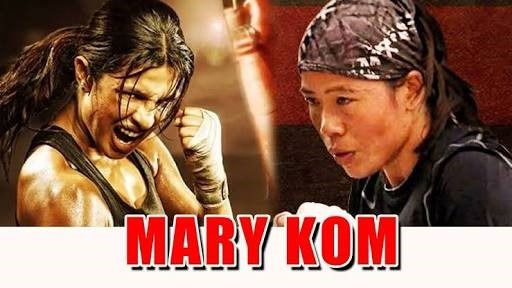 A truly inspiring and heart winning movie - Mary Kom is about the boxer named MC Mary Kom. Priyanka Chopra played the lead and through her acting, she efficiently managed to draw the attention of the audience towards the hardships the player had to face during her journey to the Olympics and beyond.
4. Chak de India
Another real life incident based movie Chak de India starring Shah Rukh Khan, the coach of the Indian women's hockey team is a keeper. Shah Rukh plays the role of a Muslim coach who had to suffer because of his alleged past deed. He trains 16 girls to play hockey and reach the finals.
Sanjay Leela Bhansali movie - Bajirao Mastani is about the Marathi Peshwa king Bajirao and his second wife, Mastani. The movie had a strong cast and was perfectly able to capture viewer's hearts.
​6. Neerja
A captivating movie featuring Sonam Kapoor as Neerja Bhanot, the flight in charge of the pan am flight 73. The flight got hijacked on its way from Karachi to New York. The film did justice to the incident which shook each viewer. Ram Madhvani directed the movie.
7. Bandit Queen
Director Shekhar Kapur created a film based on the life of Phulan Devi who had to go through number of hardships. The movie had Seema Biswas as the lead lady who portrayed Phulan Devi. She was forced to marry at a young age, was sexually abused and had hardships beyond imagination.
8. LOC Kargil
There are numerous movies based on wars and conflicts. LOC Kargil is one of them and is about the incidents that took place during the 1999 India-Pakistan war. The movie was released in 2003 and starred Sanjay Dutt, Ajay Devgan, Saif Ali Khan, Sunil Shetty, and Abhishek Bachchan.
It's based on the life of South Indian heroine, Silk Smitha. The film displayed how a D-grade movie actress rose to the limelight. The movie also portrays the difficulties she had to face before and after fame. Vidya Balan portrayed the role of Silk Smitha.
10. Border
Border is the very first movie of Bollywood which depicted the battle between India and Pakistan. The film mainly depicts the life of our Indian soldiers and their struggle.