1) ' Dil Chahta Hai'
Sameer, Akash, and Siddharth have an inseparable friendship but when Sid falls in love with a much older Tara, a divorcee and alcoholic, it causes their friendship to fade away slowly. All of them go their separate ways and eventually even Akash and Sameer get the love of their lives. Years later they meet again, being more understanding towards each other. This time, they are more matured and hence they can be a lot more understanding towards each other.
2) ' Zindagi Na Milegi Dobara'
Kabir gets engaged to Natasha after knowing her for six months. He decides that Spain would be the destination for his bachelor party with his two childhood buddies Imraan and Arjun. The road trip filled with adventures and road trips changes their lives and makes their perspectives on life a lot different.
3) ' Kal Ho Naa Ho'
Naina, whose father committed suicide and whose family can't stop fighting, falls in love with Aman when he moves next door and brings in a positive vibe to everything and everyone around him. But Aman has a secret of his own for which he can't marry Naina and decides to set her up with her best friend, Rohit.
4) ' New York'
New York revolves around the lives of three Indian college students studying at the New York University and how their lives change after the 9/11 took place.
5) 'Jaane Tu...Ya Jaane Na'
Aditi and Jai are best friends even after having opposing characters. According to their friends and families, they are meant to be together but to them, they are not, since they don't love each other and hence they search for each other's love. But like any other love story they end up with each other after all the drama.
6) ' Rock On!!'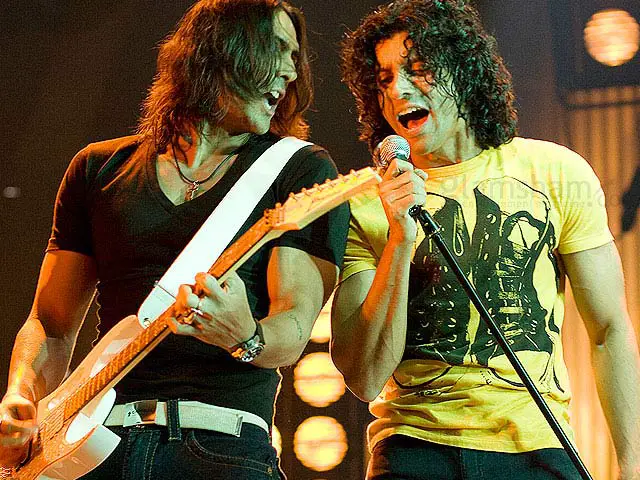 A band comprising of four friends fails after a misunderstanding between them but after many years they reunite to relive the glory days of their rock band.
7) ' Yeh Jawaani Hai Deewani'
Bunny and Naina fall in love with each other after a trekking trip, but Bunny has to go after his passion and leaves India. They re-unite again when one of their common friends gets engaged. In their late 20s they are all in their different paths and Bunny still prioritizes his job more than anything.
8) ' Ek Main Aur Ekk Tu'
Rahul lost his job, and Riana lost her boyfriend. They bond over a drink and the next day they found out that they are married to each other. This mistake unfolds the beginning of a beautiful love story and friendship between them which even leads them to come back to India together.
9) ' Kai Po Che'
Three friends open a cricket training academy to create a platform for the next generation of cricketers for which they have to give a fight back to religion and politics and even geographical conditions.
10) ' Rang De Basanti'
Sue comes to India from the UK to make a documentary on the freedom fighters of India and their legacy. Here she meets DJ, Karan, Sukhi , Sonia and Aslam, who are all carefree and have no idea about the real world except for the comfort zone they created in their university. Sue's project makes them think about how even they should carry on the legacy of their ancestors and hence awakens the rebel inside them.