Bollywood has been creating several genres of films. One such aspect is about cheating in relationships. These films highlight the love life and the hardships including trust issues faced by the individuals. Here is the list of films about betrayal.
1. Life In A Metro
The film Life In A Metro is about cheating and betrayal. Rahul lends his flat to people connected to his boss, Ranjit. Shruti meets Akash. He was a failed theatre performer. Rahul takes home a prostitute to save Neha. Shruti tells about her friendship with Akash. Monty waits for Shruti at the train station. They after spending time come to know that they are in love. At last, Akash is wandering the streets of Mumbai. Rahul and Neha are eating supper. Shikha and Ranjit marry. Shruti and Monty are waiting at a traffic light with their three-year-old child.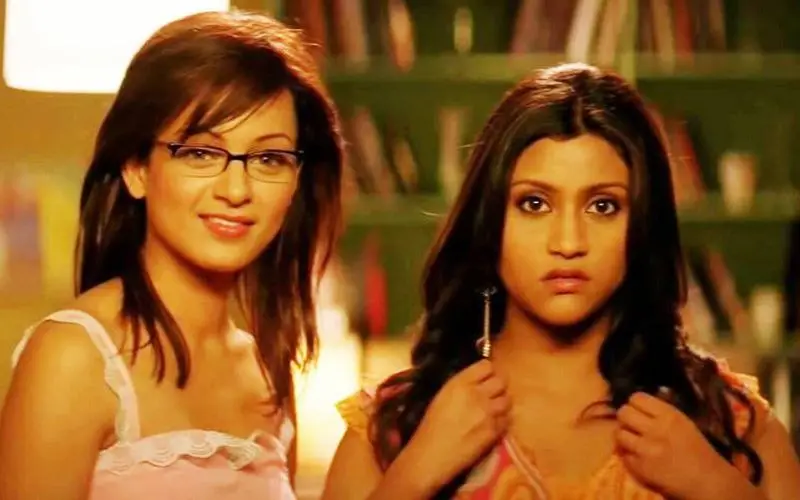 ...
2. Fanaa
The film Fanaa is about a blind woman from Kashmir. Her name is Zooni Ali Beg. She makes the trip to New Delhi with her friends to take part in a Republic Day ceremony. She falls in love with tour guide Rehan Khan Rehan Khan was born and brought up in Mumbai to Ri >> Read More... on her last night. Zooni comes to know that Rehan was killed in a bombing. Her parents fly to Delhi to plan their wedding. But this does not happen. A special intelligence agent named Malini Tyagi has been sent in to evaluate the bomb blast's threat. Rehan is found alive. He is on another mission with the IKF seven years later. He did this for his mission. Indian agent kills him. He dies in Zooni's arms. She explains to her son that his father did this for his mission.
3. Fida
The film Fida is about Vikram Singh Vikram Singh is an Indian born actor. He hails fro >> Read More... . He confesses that he is the hacker responsible for the thefts. Jai Malhotra chooses to help him to bear the blame. Jai Malhotra is in love with Neha Mehra. They try to rob a bank to get the money. There is a breakout in the flat. They think Jai is dead. Neha and Vikram find him alive. They now beat him up. Vikram is kidnapped by Jai. They forced them into turning himself in exchange for money. Neha is killed when Jai fires a bullet into her forehead. All of Babu Anna's money is donated to charity by Vikram.
...
4. Dilwale
The film Dilwale is about brothers Veer and Raj Bakshi. They are auto-tuners in Goa and Bulgaria. Raj falls in love with Meera. She later rejects him. She tells Randhir and Dev about their connection. In a gunfight, Dev wants to kill them. Raj runs away. He begins a new life with Veer. Raj finds out about their relationship after Veer asks the question to Ishita. Now Meera stops her from seeing Veer again. Raj is innocent. Says Raghav.  Meera invites Ishita to live with Raj and Ishita after saying Veer is allowed to do so.
...
5. Haseen Dilruba
The film Haseen Dilruba is about an extramarital affair and betrayal. Rishu and Rani are arranged marriages. They are unhappy. Neel Tripathi is their guest. She engages in sexual activity with him. Neel and Rani fall in love. Neel panics and runs away. She is saved by Rishu from others who criticize her behavior. Rishu and Rani fall in love now. He later turns into a sadist. He hurts Rani physically. He uses a mutton leg to kill Neel. She lied to the police. She was found not guilty. The couple comes together when the police inspector comes to know the truth five years later.
...
6. Rustom
The film Rustom is a true story. In 1959, twelve years after the country's independence from the British colonial authority, Officer Rustom Pavri marries Cynthia Pavri in a happy union. He comes to know that she is having an affair with his friend Vikram Makhija. Rustom meets Vikram after finding his love letters in Cynthia's cupboard. This results in Vikram's death. Rustom goes to police custody. He is fighting the matter on his own. She breaks up with Vikram. So, he slaps Cynthia. He shoots Vikram in self-defense. Rustom is found guilty. There is a jury of nine people. To cover up his corruption, Rustom shot Vikram. He gave Kamath half of the trunk call tape. The court and jury found him not guilty.
...
7. Biwi No. 1
The film Biwi No. 1 is about an extramarital affair and betrayal. Pooja Khanna and Prem Mehra are married. They have two kids. Prem and Rupali Walia fall in love when she comes to his office for a modeling interview. Prem moves in with Rupali. He leaves Pooja behind. Pooja receives a makeover from Prem's friend Lakhan. She also starts modeling jobs. When Rupali reunites with her ex-boyfriend Deepak, Lakhan makes friends with her. He makes her a sister. Lovely mistakes them and leaves. Lakhan follows her. They get together when she knows the truth. He refers to Lovely as "Biwi No. 1".
...
8. Gehraiyaan
The film Gehraiyaan is about cheating. Alisha Khanna and Zain Oberoi become close friends because of their similar pasts. Alisha breaks up with Karan. This happens when she comes to know that his book was rejected. He is unemployed. Tia comes to know about Alisha's anxiety medication. She asks Zain, who then admits to having an affair with her. To get rid of the proof, Jitesh uses drugs. Zain drowns in the sea. Alisha falls through. They get to know that her father had an affair with Sonali. From there Alisha was born. She improved relations with Vinod.
...
9. Kabhi Alvida Na Kehna
The film Kabhi Alvida Na Kehna is about a man named Dev, played by Shah Rukh Khan Shah Rukh Khan or also known as SRK is a prominent >> Read More... . He is an NRI living in New York City. He is a soccer player. He suffers a lifelong leg injury when he is hit by a car. Maya is battling with her infertility. She dislikes Rishi since she thinks he is immature. They cheat on each other. Dev and Maya become friends before falling in love. Sam and Kamal discover Dev and Maya's affair. They decide to leave and return to their wives after Sam's passing. Rhea and Maya are invited to Rishi's wedding. She confronts Maya about the relationship and tells her she split up with Dev.
10. Pati Patni Aur Woh
The film Pati Patni Aur Woh is about Abhinav. He is married to Vedika Tripathi. He is a middle-class Kanpur native. Tapasya Singh is an ambitious fashion designer. He tells her that Vedika is having an affair with Rakesh Yadav Rakesh Yadav is an Indian actor/casting director. >> Read More... in order to calm her. Vedika sees her ex-boyfriend Durgesh Kanojia at the wedding of her cousin Kanupriya. Chintu meets Tapasya's friends at her residence in Delhi. Vedika and Chintu walk out to a bar to party. When he goes to see Vedika's parents, he comes to know that she is eloping with Doga. Chintu and Fahim are beaten severely by Doga's men. Chintu sees Vedika, Tapasya, and Doga at the airport. He comes to know that it was Doga's idea to make him know Vedika's value.