1. Divya Bharti Divya Bharti was an Indian film actress and model, >> Read More...
Divya started her career with a Telegu movie, named "Bobbili Raja" at a very young age of 16. However, as we all know, one's birth and one's death is unknown to all. It was the night of April 5, 1993, when the dancing star of "Saat Samundar" left us all. As reported, she fell from the fifth floor of Tulsi Apartment in Versova, Mumbai. We are still unaware of the reason behind her death. Some say she committed suicide and some say, her husband, Sajid Nadiadwala's connection with the underworld caused her death. However, the Mumbai police, unable to find out any evidence closed the case in the year 1998 and her death remained a mystery till date.
...
2. Sanjeev Kumar Sanjeev Kumar was born on July 9th, 1938 in Mumbai >> Read More...
Born in a Gujarat family, Sanjeev Kumar stepped in Bollywood with a small role in " Hum Hindustani Story Coming Soon.... >> Read More... " in 1960. One of the renowned actors of the 60's, Sanjeevji never hesitated to play small roles in movies and was well known to all for bringing off-beat characters to life. The "Thakur" of Sholay left us for his final abode on November 6, 1985 at the age of 47 due to a cardiac arrest.
...
3. Vinod Mehra In the Indian film industry, Vinod Mehra is a name >> Read More...
...
Vinod started as a child artist by working in the movie, Raagni in 1958. He then played the lead role in the movie, Ek Thi Rita in 1971 and finally ended up becoming a producer and a director.But, this star too stopped shining in the galaxy of Bollywood at a very early age of 45. He got his first heart attack soon after his first marriage and bade us his final goodbye after his third marriage, due to his second heart attack on October 30, 1990 leaving his two children, Rohan and Soniya in their infancy.
4. Jiah Khan Jiah Khan was a British-American actress, singer >> Read More...
...
Another rising star of the industry bade us goodbye on June 3, 2013 leaving people shattered with the news of her suicide. Jiah's debut movie was " Nishabd Click to look into! >> Read More... " for which she was nominated for the Filmfare Award for Best Female Debut. She also earned a lot of fame with her movies, Ghajini and Housefull. But, Jiah ended her life by hanging herself from a fan in her Juhu residence, the reason being her boyfriend, Sooraj Pancholi's betrayal.
5. Guru Dutt Born on 9th July 1925, Guru Dutt was an Indian act >> Read More...
...
Another mysterious death of the industry was of Guru Dutt's. He was found sleeping in his bed forever, in the morning of October 10, 1964. Although his son, Arun Dutt claimed the death to be an overdose of sleeping pills mixed with alcohol, some say, it was a suicide while some claim it to be an accident. His last film was "Baharen Phir Bhi Aayengi," which was completed by Dharmendra as the lead after his death.
...
6. Nirmal Pandey Actor Nirmal Pandey was the first actor to play th >> Read More...
...
Another heart-breaking death of Bollywood was the death of Nirmal Pandey. Pandey was a graduate of the National School of Drama, Delhi. He made his way in the B-town through a transvestite role in Amol Palekar's film, "Daayra." Best known for his character of Vikram Mallah in the movie, Bandit Queen, Pandey started his acting career by performing stage shows with a theatre group called Tara and did almost 125 plays like Heer Ranjha Heer Ranjha is a Punjabi language serial on Zee Pu >> Read More... , Antigone, etc. But, unfortunately, Pandey could not see the release of his last film, Lahore and died on 18 February, 2010 at the age of 47 due to a heart-attack, few days before the release of "Lahore."
7.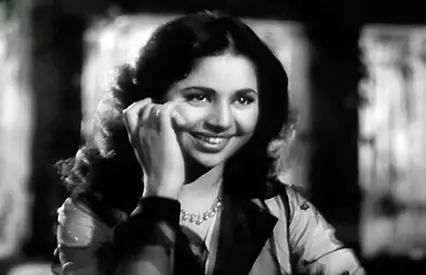 Geeta Bali was one of the very talented actors of her time. She started acting when she was only twelve years old and her debut film as a heroine was Badnaami in 1946. She married Shammi Kapoor Shammi Kapoor: - 'Elvis Presley' of India. >> Read More... on August 23, 1955 but, unlike other "bahus" of the Kapoor family, she did not quit acting and kept on performing until she took her last breath. While producing her last film, Rano, small pox got hold of her and she, unable to fight with it, passed away on January 21, 1965.
8. Meena Kumari Meena Kumari is a popular TV and film actress. She >> Read More...
Born as Mahjabeen Banu, Meena started earning bread for her family, only when she was four years old and worked in many movies as Baby Meena. She got the role of a heroine only when she was 14 in the film, Bachchon Ka Khel after which she came to be known as Meena Kumari. She did almost 90 films in about 30 years but, "The Tragedy Queen" of Bollywood fell severely ill on March 28, 1972, went into coma on the evening of March 30, 1972 and took her last breath on March 31, 1972 due to liver cirrhosis. 9)
9. Smita Patil This versatile actress was born on the 17th of Oct >> Read More...
Recipient of the Padma Shri Award, Patil was listed as the second greatest actress of all times by Rediff.com. She made her debut with the film, Charandas Chor in 1975 after graduating from the Film and Television Institute of India in Pune. She was a power packed performer and was married to Raj Babbarbut. As fate wanted, Patil bade us herfinal goodbye, only when she was 31, hardly two weeks after her delivery, due to childbirth complications on December 13, 1986. However, after two decades of her death, Mrinal Sen Mrinal Sen was a renowned and highly skilled India >> Read More... , one of the finest directors of the industry claimed that medical negligence caused her to die.
10.  Madhubala Madhubala is regarded as the Venus of Indian cinem >> Read More...
Madhubala ruled the silver screen in her times with her movies like Mahal, Mughal-e-Azam, etc. Popularly known as Madhubala, Mumtaz Jehan was born on February 14, 1933 in Delhi. She started acting at a tender age of 11. She hit the limelight with Kamal Amrohi's, "Mahal" which was the first reincarnation thriller movie of Bollywood and hence came to be known as "Madhubala" but more popularly she stole her fan's heart with the role of " Anarkali Click to look into! >> Read More... " from Mughal-e-Azam. But, while shooting for a movie in1954, a hole in her heart was detected. Unable to fight her illness, she left us in 1969 thereby leaving a void in the industry.