The utterly pampered kid of the Bachchan's probably had her greatest dream of all time fulfilled with the fairy-themed birthday party in 2014. With all of the glitz and glamor of Bollywood present in the best of their birthday regalia, the wonderland soiree must have been a truly surreal experience for the cute toddler. It goes without saying that the parents pulled out all stops to celebrate this milestone in their daughter's lives. Most kids would be really envious!
2. Shahran and Iqra Dutt
The parents left no stone unturned to celebrate the first birthday of their beautiful twins. The entire venue was converted into a massive jungle for the birthday, much to the little ones' delight. Several prominent members of the Hindi film industry were present with their kids and other family members to do justice to the special occasion. The venue was bursting with festoons and colorful posters and exciting gifts for the kids.
3. Anya, Czar and Diva Khan
Farah Khan's triplets were definitely in for an amazing treat when their mother ensured that they would have the most memorable birthday party of their lives. A massive bouncing platform lured kids in to revel in the fun of the party with delectable treats and other fun activities soon following.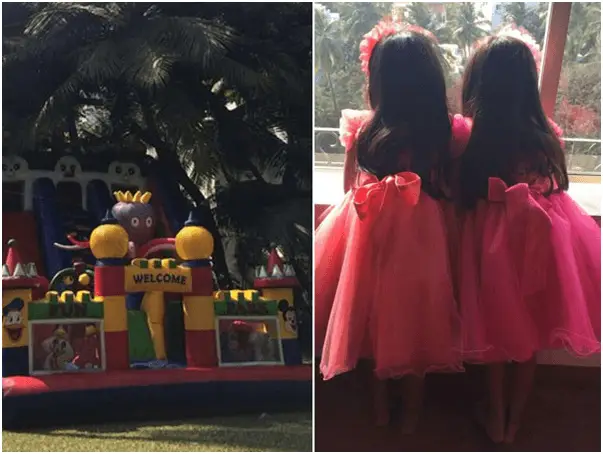 4. Azad Rao Khan
His parents invited many of the A-list members of Bollywood to wish their two-year-old son on his birthday. The mansion of the Khans was littered with festoons and goodies for kids and Aamir's son Junaid and daughter Ira Khan were also present on the star studded occasion. Karan Johar and Kunal Kapoor were some of the celebrities who graced the occasion.
5. AbRam Khan
He is the undisputed apple of the entire Khan household's eyes. And when it comes to celebrating his birthday, King Khan will certainly go to any lengths to make the occasion memorable. When little AbRam was stuck in a flight during his birthday, his dad booked the entire section and ensured that AbRam got his fill of cake and other birthday treats on the plane itself!
6. Ruhaan Kumar
This forest-themed birthday party of film and music producer Bhushan Kumar and former actress Divya Khosla's son featured multiple celebrities, forest-inspired decor and a very appetizing forest-themed cake.
7. Hrehaan Roshan
Hrehaan's parents came together despite their divorce to celebrate the momentous occasion when he turned ten. The event was a pool party for the entire Roshan family and Hrehaan was pampered with massive balloons, tasty treats and the love and blessings of all his friends and loved ones.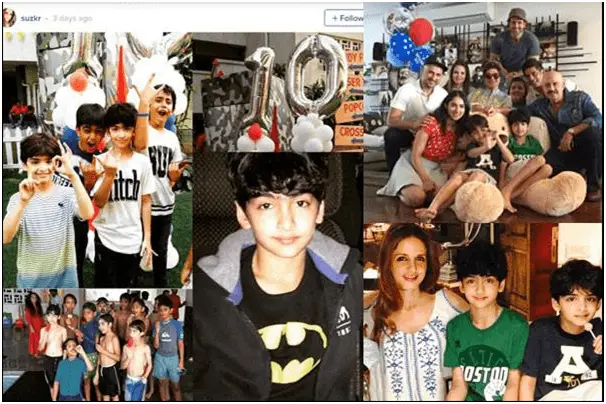 8. Viaan Kundra
This party was certainly one to remember considering it was based on the super-hit Gangnam Style song that also ended up being the most-watched video in YouTube history in the world. Guests were surprised and amused in equal measure on being greeted with a large poster of Viaan modeled on the video's famous stance.
9. Ava Nayla
Veteran actor Manoj Bajpai welcomed guests arriving at his toddler's first birthday to a party filled with a slew of kid's fun games, much to the other kid's delight.
10. Hridhaan Roshan
Hrithik Roshan flew down from Gujarat specially to ensure that his younger sons birthday was one to remember. The actor put his filming schedule of Mohenjo Daro on hold to attend the elaborate lunch organized by him at a five star hotel with his kids and then enjoy a special screening of Batman Vs Superman for the kids to enjoy.