is a legendary actor in Bollywood; he has done films of all genres, be it comedy, action, melodrama, emotional, or horror; he is an all-rounder. Today, we have specifically chosen a genre that was a turning point in his life. With action films, Amitabh Bachchan made a comeback in the industry. One after another, he gave many blockbuster action films; out of all those hit films, we have chosen the ones that were very famous among the people.
Thugs of Hindostan is a historical film based on the period of British Rule in India. The film came in 2018; a group of pirates fought the British army, of which Amitabh Bachchan was the leader. The film could not because of the poor plot, but it has good action scenes.
2. Khakee
Khakee is an old film, released in 2004. We can see many actors in the movie. The film is one of the best films in the action genre. It's the best combination of action and thriller. The movie doesn't disappoint the audience at all. Amitabh Bachchan is playing the role of a police officer, appointed to escort a terrorist to the court, but many people come in his way and try to stop him from doing so.
3. Eklavya
Eklavya is another old film, released in 2007. Amitabh Bachchan is playing the role of a royal guard. He is responsible for the safety of the royal family. And he tries his best to hide the dark secrets of the family. The film is about royal politics and Amitabh Bachchan, who sacrifices himself to fulfill his duties.
...
4. Buddha Hoga Terra Baap
Buddha Hoga Tera Baap is a 2011 action film. Amitabh Bhachchan played the role of Vijju. He lives a notorious life in Paris and is called to kill ACP Karan. But after coming back, he meets with his wife and decides to change. Amitabh Bachchan once again amazes the audience with his flawless action and fantastic acting in this film.
...
5. Aladin
Aladin is a supernatural fantasy action film. Amitabh Bachchan is seen playing the role of an Aladin. He is protecting a kid named Aladin, who was born with some magical powers. Throughout the film, we can see Aladin trying to pursue his love while trying to control and learn about his abilities.
...
6. Kaante
Kaante is an action crime film, released in 2002. Six Indian men were wrongly accused and locked up in Los Angeles; to seek revenge, they made a planed to rob the bank where police officer's money were kept. They meet up after getting released and execute the plan. The film was based on how they rob the bank, and flee. The was able to get good rating.
...
7. Sholay
Sholay is a historical film, released in 1975. It's the biggest hit of that time. The retired police officer takes the help of two prisoners to seek revenge and capture Gabbar Singh Click to look into! >> Read More... , who killed his entire family. While they are in the process of taking Gabbar down, we can see the duo developing a love interest.
...
Khuda Gawa is another popular film by Amitabh Bachchan and Sridevi. The film was released in 1992 and was trending in the theatre for a long time. Along with the action, cinematography, and outstanding story, the film is famous for its music. It's a story about Badshah Khan, who traveled to India to take revenge for his father's murder, and the story begins from there.
...
9. Shahenshah
Shehenshah was released in 1988 and is still known as one of the best films of Amitabh Bachchan. His action scenes and dialogue became popular during that time. He played the role of a police officer, Vijay, who lived a dual life of a police officer and a crime fighter to fight against injustice.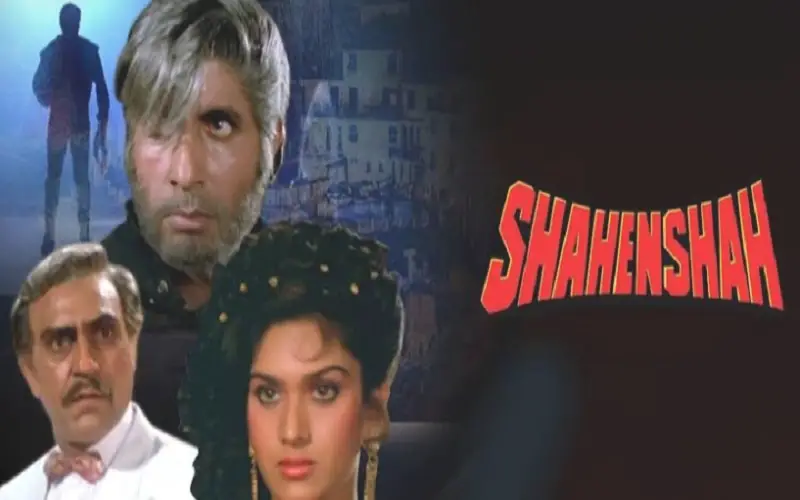 10. Agneepath
When it comes to action films, we all think of Agneepath. The film was released in 1990; it's a crime-action film. Amitabh Bachchan, known as Vijay in the movie, wanted to avenge Kancha, who killed his father. In the process, he becomes a gangster and takes many dark routes to reach his destination.