The most talented hero Bollywood has ever gotten is Ajay Devgan Ajay Devgn is an Indian film actor. He is perhaps >> Read More... . He has been in the industry for more than 25 years, and we have seen him, and his skills, grow with each movie he has done. He has both, great looks, and inbuilt acting skills. The great competition in the industry does not matter anymore as he knows his skills. His lovers wait eagerly for his new movies. Ajay has also earned his named as a well-known stunt professional, and has earned expertise in them. Over these years, this legend has won many hearts though some of his roles, and they are –
1) Vanraaj (Hum Dil De Chuke Sanam)
...
Every 90's kid has seen this movie, and fallen for Aishwarya. But Ajay Devgn did not go unnoticed. He came in the second half but stole the show. He was Aishwarya's husband, and they both were forced into a marriage. Vanraaj fell for Nandini (played by Aishwarya) but, Nandini did not. She already had someone else in her heart, so Vanraaj  dicided to get her back to the man she loved. Soon, she realized that Vanraaj truly loved her, and she came back to him. 
...
2) Puneet (Atithi Tum Kab Jaoge?)
This is an epic comic role Ajay did, where we laugh our hearts out. It is the story of a nuclear family avoiding any guests. But, then, one fine day, some unknown old man introduces himself as Puneet's uncle, and starts living with them. The story is how Punnet wants to get rid of the guest but at last understands the value of having elders in one's family.
...
3) Mallik (Company)
...
Ajay Devgn played a gangster here along with Vivek Oberoi Vivek Anand Oberoi's birth was on 3rd Septembe >> Read More... , and was very much appreciated for the role. His dialogue delivery and expressions were at their best. He, very well, imbibed the intensity, and displayed it with utmost grace.
...
4) Ashfaque Khan Story coming soon >> Read More... (Hallah Bol)       
...
This movie consisted of all the talented stars including our very own Devgn. Here Ajay Devgan played the role of a small town guy who is quick enough to climb the fame stairs to the Bollywood industry. Being in the industry, he has to face its dark side too, and comes face to face with murder. The role was quite challenging as it had too many variations but Ajay mastered in it.
...
5) Amit Kumar Being the offspring of a famous parent is always >> Read More... (Gangaajal)
Here we all loved the role of Ajay Devgn as a police officer. He then became our favourite police officer in B-town. The officer was on a mission to free the city of its corrupt officers. He soon realized the whole system is corrupt, and felt very helpless. The role was quite strong, and well performed.
6) Omkara (Omkara)
It was quite a tricky role but Ajay performed it with full perfection. It was all about how planning, and plotting run in the family, and anything could be done for power.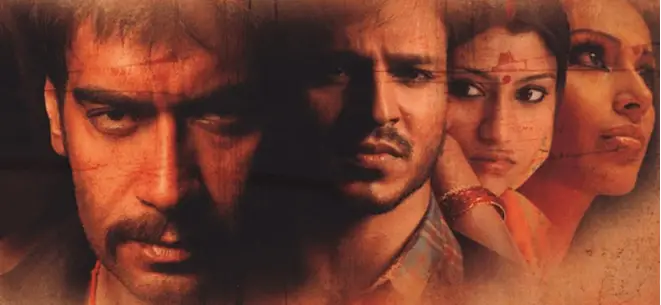 7) Bajirao Singham (Singham)
Well here is another police officer role by our hero. He has blown us away with his appearance here. The police officer here was fed up of politics involved in the way of justice, and wanted to end it all. Here he also murdered a minister with a full team, and made it look like a suicide. 
8) Sultan Mirja (Once Upon a Time in Mumbai)
Ajay played the role with the right amount of intensity, and was applauded for it. The audience was very impressed with Ajay's dialogue delivery and expressions that their minds were imprinted even after leaving the theatre. 
9) Vijay Salgaonkar (Drishyam)               
Here, Ajaya has a strong role where he is the defender of his family after they accidentally kill a police officer's son. The plot was quite interesting, and gave goose bumps but, the specialty of the movie was the intense yet calm character of Ajay.
10) Bhagat Singh (Legend of Bhagat Singh)    
We all knew the story of Bhagat Singh, and his sacrifice yet Ajay Devgan left us awestruck after his performance. He made the character alive with his intense performance, and made us relive the past again.