1) Dil Bechara (2020)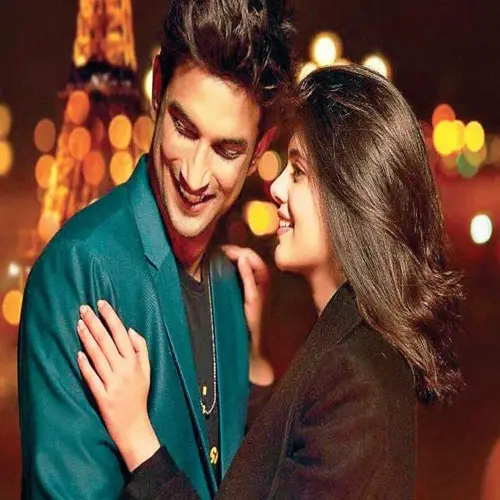 Kizie's wish of meeting her favorite musician, Abhimanyu Vaid, who sung an incomplete song and then completely disappeared, is fulfilled when Manny could track him down. They both go to Paris when he reveals that his cancer has reappeared and is now terminal. In the last scene, after Manny passes away, their movie is projected and brings a tear or two in our eyes. And under the blinking fairy lights and the glowing moon, his character in the screen looks at Kizie, thus breaking the fourth wall, and says "Seri." Kizie replies with her own "Seri," their never lasting and forever word. 
...
2) Student Of The Year (2012)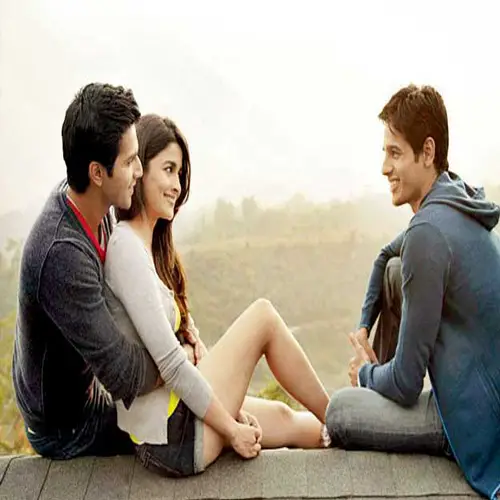 Said to be the wedding scene of the year, 2012 that is, we see Shanaya, Rohan, and Abhimanyu engulfed in a love triangle that neither of them is aware of until later. It was Rohan's elder brother's destination wedding wherein all of his classmates were guests. There, Tanya, Shanaya's arch-nemesis, regularly flirts with her boyfriend, Rohan, which leads to a fight. With the help of Abhimanyu, Rohan realizes the importance of love and apologizes to Shanaya. As a melodic piano tune plays in the background, we see Shanaya trying to bring Abhi to the mandap, but then Rohan comes and takes her hand. Abhi, who was holding her other hand, had to give her up. The transition of the scene is so beautiful that no amount of words could make that up.
...
3) 'Aashiqui 2' (2013)
...
A successful singer, Rahul Jaykar, who is quickly losing his status and respect due to his growing alcohol addiction, meets a budding bar singer, Aarohi. Enamored by her voice, he decides to make her a singing sensation. However, problems were soon to arise, and horrible rumors begin circulating. After an award show, Rahul, deeply perturbed by it, tells Aarohi to go on with her life without him. They have a heated discussion, and soon, Aarohi walks out alone and into the rain. Rahul follows her. In the heavy rain, they share a romantic moment as they stand under a jacket looking at each other with longing and passion, soon making out.
4) Rehna Hai Tere Dil Mein (2001)
...
Peak 90s and 2000s films seem to hit a soft spot right in our hearts. One of the key scenes in this film was when we saw Reena Malhotra's character for the first time. On a trip to Delhi, Maddy was stranded inside a phone booth when he sees a girl dancing with children on the street. It was raining, and when lightning flashed, he got a glimpse of the girl. He soon starts falling in love with her. The scene has been wonderfully shot and is known for being a typical Bollywood cheesy moment.
5) 'Shikara' (2020)
...
This film has a certain timelessness about it. Beautifully shot, this movie captures the darkness and the light of Kashmir. Though criticized for its slow narrative and the political issues of the Kashmiri Pandits pushed into the backdrop and only highlighting the couples' (Shanti and Shiv) problems and their homelessness, the film manages to capture the essence of Kashmir and all that it stands for. On their wedding night, Shiv takes Shanti on a shikara ride at dawn. He filled it with a bunch of flowers and in the middle of which nestled the couple. Deep in each other's gaze, the camera pans up and shows the deep blue lake.
...
6) Sanam Teri Kasam Click to look into! >> Read More... (2016)
...
Often rejected by suitors because of her old-fashioned way of dressing, Saraswati (Saru) wanted a much-needed change. Her neighbor, Inder, an ex-convict, is a regular visitor at the library she works. A series of unfortunate events transpasses, and Saru is suffering from a tumor. Over the next few months, Inder is seen by her side every second of every day. After being discharged from the hospital, Saru goes to the library. She discovers the hidden messages that Inder left her in the check-out slips of every book. It seemed she was Inder's first choice from the beginning.
7) Dilwale Dulhaniya Le Jayenge (1995)
When Raj comes following Simran to India after her father decides to shift there for her marriage, he professes his love for Simran in a mustard field. He strums a guitar and sings his heart out. It is a scene so iconic that people will look back on it for years and years to come. The mustard blooms became so epic filmmakers would always go for a scene involving it. This scene was the heart of the film and proved that NRI boy Raj had his heart in his roots and has finally returned home.
8) Rab Ne Bana Di Jodi (2008)
A shy and introverted officer, Surinder Sahni had to marry Taani, the daughter of his former Professor, upon his wishes on his deathbed. Determined to win his wife's affections, he disguises himself as Raj in a dance competition that she is also taking part in, and by chance, both of them become partners and soon enter the Finals. Taani, all along, had no idea that Raj was, in fact, her husband and soon starts falling for him. On the day of the Finals, when Surinder and Taani visit the Golden Temple, she realizes that it is God's divine wish that she should be with him. That night, she tells Raj that she cannot leave her husband. When it is time for their performance, instead of playing Raj, Surinder decides to show up as himself, and Taani puts it all together. After their dance, they confess their love for each other and win the competition too.
9) '3 Idiots' (2009)
Two friends, Raju, and Farhan go on a quest to find their long-lost friend who disappeared on the day of their graduation ten years ago without a trace. Pia, who still eats Dhoklas in Rancho's memory, elopes with them to go to Ladakh, where Rancho is said to reside now. They reach the place and soon get to know that Rancho is a renowned scientist who still keeps himself updated on his friends' works and careers after all these years. Pia rides down the beach of the scenic Pangong Lake in a trademark scooter and red helmet in her wedding lehenga and surprises him by kissing him on the lips, and thus proving that a nose does not come in between a kiss.
10) '2 States' (2014)
A story of 2 people whose families belong to two different states, Krish and Ananya, face the struggles that come along with in the form of language barriers, customs and practices, and dysfunctionality. Despite it all, both are willing to do what it takes to win over the respective parents of each other. Through the chaos and the breakup, Krish's egotistical and abusive father decides to act like a doting father for once. In the end, Krish makes up with him and marries Ananya. As the sun rose behind the temple casting its light, Krish comes wearing a mundu, and we see Ananya climbing the steps, and as their eyes meet, they smile at each other. With the backdrop of the wedding being the Mahabalipuram Shore Temple, it is a scene not many would forget.
11) Zindagi Na Milegi Dobara (2011)
A three-week long bachelor trip turned into weeks of passion, love, and finding oneself. Three friends, Kabir, Imran, and Arjun, had a lifelong pact of trying out an adventure sport during a road trip. Kabir chose underwater diving as the first sport. Laila was the driving instructor and helped Arjun to overcome his fears. They also take part in the Tomatina Festival. In the course of the period, Arjun and Laila start falling for each other. Soon it was time to part ways. After Arjun and his friends left, Laila soon chases their car on a bike, causing Arjun to pull over. She kisses him passionately and bids farewell one last time. This scene helped build up their relationship later on.
12) Hungama (2003)
Behind all the madness that ensued here was a lie, miscommunication, and deception. To get a job in Jeetu's place, Anjali lied about being the heir of a wealthy businessman. Jeetu faked being in love with her because of that and later developed true feelings while Anjali had a sham marriage with Nandu so that they could both find a house. In all this chaos, Anjali and Nandu grew close. When Jeetu gave an ultimatum to Anjali to choose either of the two, she took out a couple of chits from her bag and told Nandu to pick one. The name on the chit was his. Hand in hand, they go out on their way. Curious about the chits, Jeetu picks up one and gets Nandu's name. He picks another, and the same happens. His name was nowhere. It hits him that Anjali never loved him. All along, it was Nandu whom Anjali cared.
13) 'Barfi!' (2012)
Exploring the love between an autistic girl, Jhilmil, and a hearing and speech impaired man, Barfi (Murphy Johnson), this movie proves that love has no language nor barrier. There were several scenes when Barfi tried to test the loyalty of the people around him by making them stand under a lamp post and then chopping it off to make it fall on that person. According to calculations, the lamp post would fall nearly centimeters before a person. It was all about trust. When Barfi made Shruti stand under it, she stepped aside as the lamp post started to fall, after which he got frustrated. When it was Jhilmil's turn, she didn't move an inch and held on to his fingers. Barfi's company and love were all that she had and will forever have.
14) Dil Dhadakne Do Click to look into! >> Read More... (2015)
A 10-day cruise to celebrate the 30th marriage anniversary of Ayesha and Kabir's parents proved to be quite a whirlwind of a trip. Ayesha had a successful business going on, and yet her marriage made her unhappy. Her husband, Manav, was the epitome of a patriarchal family structure. Sunny, Ayesha's ex, comes over for the trip, and she realizes that she still loves him, and unlike Manav, he respected her as a woman and a business personality. When Kabir jumps off the ship to stop his lover, the family gathers on a lifeboat to rescue him. At that moment, as the lifeboat was slowly lowering down, Ayesha asks Sunny if he would wait for her. He replied, "forever."
15) Dum Laga Ke Haisha Click to look into! >> Read More... (2015)
Prem and Sandhya's marriage was an arranged one with parental pressure forced from Prem's side. At first, he was lowkey embarrassed about walking with her on the streets and was jealous of the pretty wife that his friend, Nirmal married. Their friendship hit the rocks when Nirmal's father opened a shop selling CDs, the same as Prem's family business. They had a spat, and Nirmal soon challenged Prem to participate and win the 'Dum Laga Ke Haisha' contest. Divorce was also looming in the distance. He knew that the only way he could stop his wife from leaving him was to win it. So, he tried his best and carried her on his back. They won the race, but he still kept running. He bore her weight on his back till their house and sealed their love with a kiss.
16) Jaane Tu… Ya Jaane Na (2008)
When Jai Singh Rathore rode a horse till the airport to stop Aditi, he became a true knight in shining armor. Without an ID, Jai jumps through security and dashes on with a line of police officers and airport security with guns after him. When they finally caught up with him, Jai starts singing, "Jaane Tu Ya Jaane Na." Through the scuffle and the shouts, he calls out to Aditi by her nickname Meow. She was almost going to check-in when she hears him and comes running. Both of them embrace in what could be the cheesiest yet cutest moment of all time.
17) Veer Zaara (2004)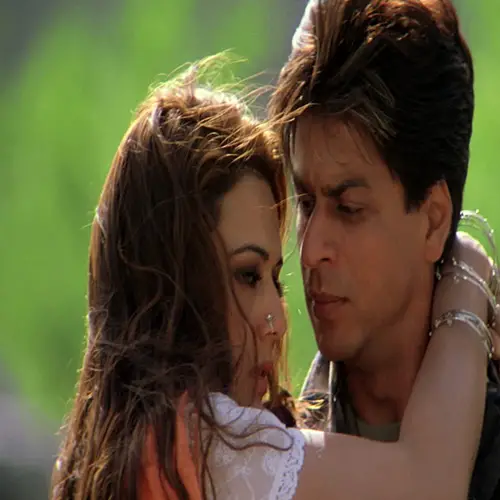 The government of Pakistan, to dissolve the tense conflict between them, had the cases of Indian prisoners reopened to find a way to solve them again. False charges by an old enemy brought Veer behind bars. He had spent 22 years, more than half of his life, in jail. Saamiya was assigned his court case. As a witness of his innocence and not being guilty of the crime accused of, she went to India and brought back Zaara, an old lover, as proof. From the pocket of his coat, Veer takes out the anklet belonging to Zaara that he had safely kept since they last departed. Together, they walk out of the Pakistan border and into India, spending the rest of their lives in peace.
18) Kuch Kuch Hota Hai (1998)
Rahul and Anjali became the best of friends ever since day one of college started. When Tina came into Rahul's life, Anjali's true feelings began blooming. Afraid of being the third person forever, she leaves him and college forever. After a decade, they meet again in a summer camp. They start falling for each other hard. One particular rainy night, they slow dance under a gazebo - a steamy affair starts and ends soon. Already engaged to Aman, Anjali goes through an internal conflict while still being in love with Rahul. Torn between doing the right thing while moving on and marrying Aman and following her heart, she chooses the first option and tries to distance herself from him.
19) Humpty Sharma Ki Dulhania (2014)
Disapproving of Humpty and his background, Kavya's father beats him and his friends up when they arrive at his house. However, he agrees on a five days deadline for Humpty to tell him one reason why he should be allowed to marry his daughter. In the end, with no reason to give, Kavya wanted Humpty to elope with her. But he refused. Misunderstanding the situation, her father sends Humpty back to his home. Dressed up in her wedding lehenga, Kavya tells her father that she will never be worthy of an expensive one. He soon gets it that she would be much happier with Humpty and takes everyone to Delhi. There, Kavya serenades Humpty in corny SRK style and wins his heart.
20) Break Ke Baad Click to look into! >> Read More... (2010)
All along the way to India from Australia, Aaliya kept on believing that she might lose the love of her life, Abhay if she is not able to stop him from marrying someone else. Overwhelmed by her emotions, she bents down on one knee and proposes to her boyfriend of almost a decade. Consoling her, he said that no one was and will ever be in his life the way she held his heart. She discovers that it was her name printed on the wedding invitation card as a ploy to get her back.